SECO Singles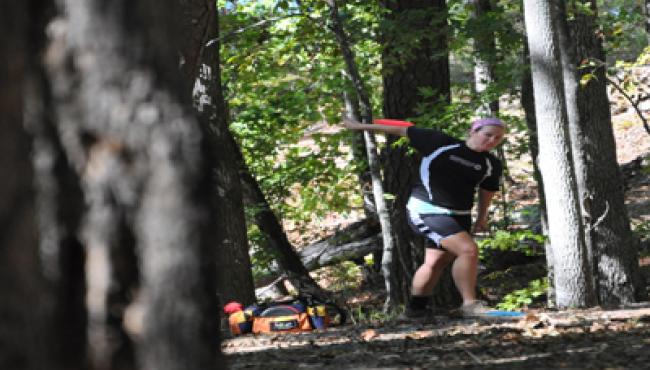 The singles rounds yesterday yielded some great scores and plays out for a heated competition during today's team doubles round. The best three of each team's four singles scores per round counted towards their cumulative team score. After everything was calculated, the race is extremely close. Arkansas and South Carolina are tied at the top with a one throw lead over East Tennessee State. Just two throws behind them is a three team tie among North Carolina State, Georgia, and Western Kentucky. Clemson sitting another two throws behind them and only five strokes out of the lead. The rest of the field has their work cut out for them. Catching these teams can be done, especially taking into account that anything can happen on the beautifully difficult W. R. Jackson Memorial course, but it's going to take great play from the whole team. 
In the singles competition, Kevin Lutz of Tennessee Tech finished on top one throw ahead of the Georgia's veteran and former individual Nation Champion, Nick Evans. South Carolina's Sara Lamberson ran out to a seven throw lead in the first round and increased the gap by six more in the second to take the top spot in the Women's Individual competition.
After an intense day of competition, the teams were ready for the player's party that featured a Dueling Rings of Fire competition and a nine-hole night golf round. The two Rings of Fire yielded two finalists who had to face off in a putting competition that came down to the last of their six putts. With a Grip Equipment Tour Bag on the line and crowd of spectators, these players were feeling the pressure. An early miss for Florida State's Matt Crews had left him three points behind East Tennessee State's, Matt Love before the last five point putt. Crews had to make his putt and hope for Love to miss. From 35 feet out both putts hit the center of the chains and dropped in. The crowd cheered as Love celebrated his win. 
Then, the players enjoyed the delicious provided meal and waited for the sun to set. The nine-hole night course was setup around some of the holes close to the clubhouse. 22 sets of partners played in the dark. With glow sticks marking the tees and LED lights in the baskets, it was quite the spectacle. Bear Faulkner and Ethan Warren of Mississippi State were the only pair to two every hole for the victory.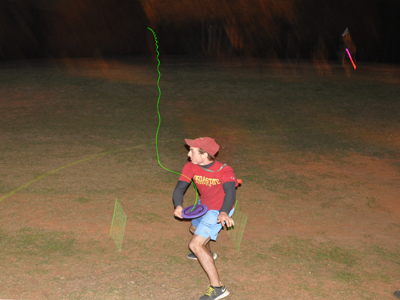 The day was finally done. Teams headed out to get some much needed rest. The Jackson course would be waiting for them.