USDGC Qualifying: Easy as 1-2-3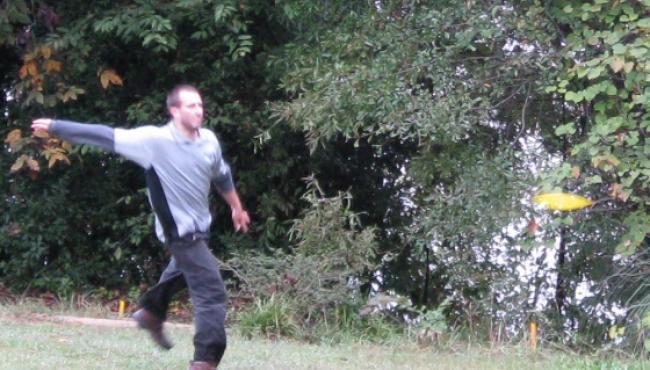 USDGC hosted by Innova - Qualifiers: Gregg Barsby 63, Will Schusterick 65, David Tucker 65, Henry Childres 67, John Murphy 67.
John Murphy of Levittown, PA was waiting on the 17th tee with his caddy. They needed to find someone to observe his score on the final two holes to make his qualifying round official. Everyone in his original group had either bailed completely or had returned to HQ for another try by then. The caddy asked if I would join them. At this point John was at +1 for the round. Last they heard, even par by Tim Barr was on the bubble to qualify. Murphy's drive barely clears the hay bales safe about 25 feet away from the pin. He makes a great putt for two and now lies even with the treacherous hole 18 remaining.
Hole 18 plays tough enough in good weather. But with the cool, unending drizzle all day, the left sloping fairway played that much slicker, especially for the righties who don't have a reliable 300 ft forehand. They have to throw that far and have the disc settle down quickly and not skip OB off to the left. John played it perfectly with the disc thrown up to the right nice and flat. Then, with a slight fade left, it settled down with a slow ending curl, sparking a quick shot of aderenaline as we watched, before it appeared to settle safely in the fairway.
ONE - Murphy drives safely on 18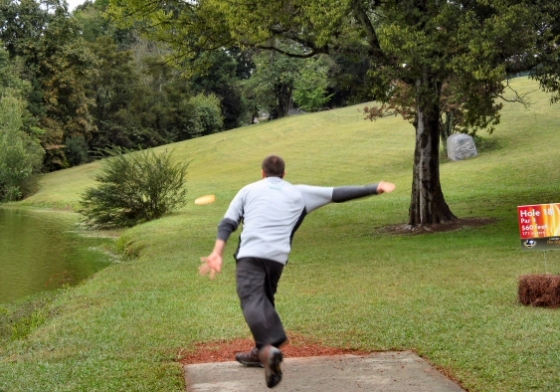 TWO - Murphy approaches up and around the corner to just above the pin
 THREE - Murphy cans this knee-knocker for a bird and a spot in the top five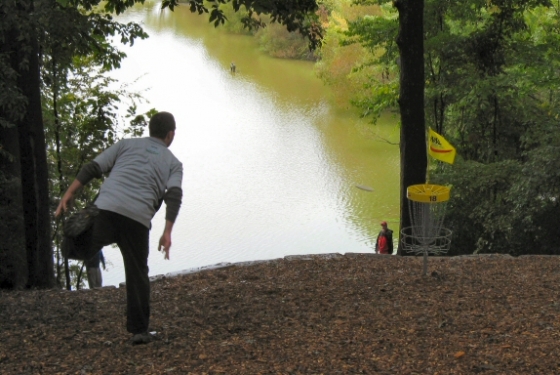 John's 67 placed him in the top five with several hours and several more players striving to reach 67 or better. The top dog still out there was Gregg Barsby who had won the Masters Cup back in May but not paid his entry fee in time and had to qualify. Gregg had a few bogeys out there along the way increasing the stress. But a few birds later, he came in with a solid 5 down 63 to top the qualifiers as many had expected. That still kept John in the top five, tied with one other for the fourth and fifth spots.
Watching from the clubhouse, it was hard to sense the tension on the course as the players worked hard to play their best and qualify. Early in the afternoon, I was watching around holes 8 and 9. In most cases, players bailed to take another try by the time they completed hole 7, since it's a longer walk after you head to play the 8 thru 14 loop. However, that's where more of the tough holes are located that can blow up a round. I watched a blow up on hole 9 where Bryan Motley and Mark Muren decided it was time for a do-over.
Several players were seeing the USDGC course for the first time and had no idea how tough it is to play well, even after playing it several times. You could tell from watching the body language of the players on the 18th if they were coming in with a good round. One player played short and safe on the tee shot. You figured he was playing for a "safe" 4 if there is such a thing here. His second shot was safe on the high side, far enough to make a safe upshot for a potential drop-in 4 but not in range for a hero putt birdie 3. Not sure, but I suspect he snagged a 67 putting him into a tie for that last spot.
David Tucker rated 917 came in with perhaps the round of his life with a 65 to secure a spot late in the day. Four players - Zac Newhouse,  Henry Childres, John Murphy and Chris Eads - had 67s forcing a playoff for two spots. Murphy and Childres birdie the tough 17 to win the two spots. So for John Murphy, it really was as "easy" as 1-2-3 on 18, but with the added spice of a playoff.