POY ROY 2010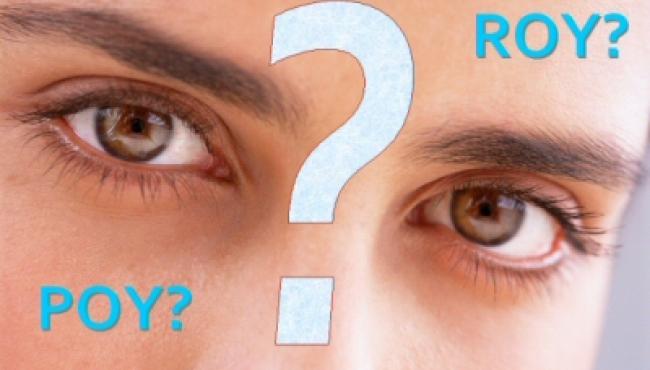 Did you make the list?
Our preliminary list of finalists for Player and Rookie of the Year awards is displayed below. This list becomes our finalists unless someone finds a problem that needs to be addressed before the final calculations are made. You have until Monday, February 14th to communicate any issues to the PDGA office. We plan post the winners a week later.
The POY and ROY details for these players and a few players just below the finalist cut-off line are available here so you can check to make sure we captured your best events based on event rating. Your event rating is the average of your round ratings in the event.
Player of the Year Finalist Candidates
Rookie of the Year Finalist Candidates
Here's what you are looking for. For POY, we take a player's two best Majors, NT or ET event ratings (excluding Worlds) and these are double weighted. Then, we take their five best event ratings in B-tiers (54 holes min) or higher tier events. All of these best event ratings are averaged to get the Average Rating shown in the table which determines the ranking of the Finalists. For ROY, it's the same process except there is only one best Major/NT/ET and then four other best event ratings among B-tiers or higher.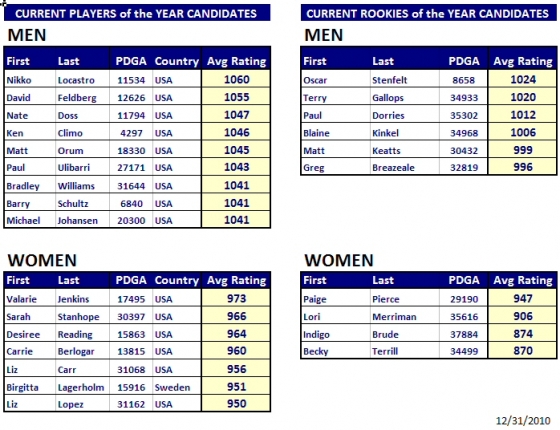 The race is still tight among the top men for POY and ROY and there are enough elements in the final calculations to shuffle the order. Among the women, Sarah Stanhope still has a chance for the top spot since Worlds is included in the final calculations. Look at Paige Pierce's stats and she pretty much has a lock on the ROY title but we'll still do the final calculations to see what happens. It looks like Pierce just missed the cut to be a finalist for POY in the same year.
For more information on the detailed calculations for finalists, check this link: