Portland's Next Adventure Amateur Championship another Great Success Story for Disc Golf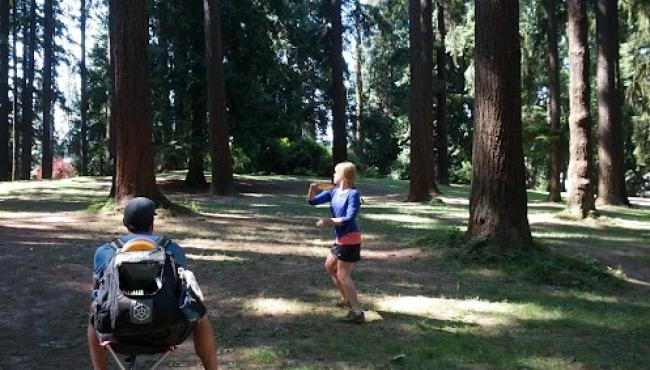 The 2012 Next Adventure Amateur Championship took place at the Pier Park Disc Golf Course in Portland, Oregon, and was yet another very successful event resulting in this remark to tournament director Steve Carson:
"Mr. Disc Golf has done it again! A fantastic tournament at the NACC. One of the best events in the country here in our community, ran by THE BEST EVENT STAFF in disc golf. I thank you for your hard work and what I know are long hours of dedication to our sport. You are quite possible the No. 1 advocate for disc golf in the Northwest if not the entire country...!"
With 71 disc golfers coming out to compete in this PDGA sanctioned A-tier event, it was Victor Cervantes of Mosier, Oregon who captured the victory in the Advanced Men's division with a final score of 16-under par. Eddie Florance of Portland followed at second place scoring 14-under par, and at third place there were three players who ended in a tie and had to duke it out for one trophy and two spots in the Final 9 skins match. 
Portland's Dusty Adkins, Justin Joers of Tualatin, Oregon and Travis Head of Vancouver, Washington all came out with a score of 13-under par. With a gallery of over 50 people watching, the three players battled it out in sudden-death style for their spot in the Final 9 skins match.
It was Adkins who just squeaked into the fourth spot in the final nine, sharing top honors in the skins match and winning $325 to use at Next Adventure.
The biggest story of the day came in the Advanced Women's division with Oregon City's Jackolyn Halstead (pictured above) who took her first win. She handily defeated the other women in her division with a final score of 7-over par, 17 throws ahead of the second place finisher, Cindy McMahan of Portland. 
Halstead shot personal bests and the highest rated rounds of her short career, with Carson noting, "She should be moving to Pro Women very soon."
In the Advanced Masters division, it was Sam Gibson of Portland who really crushed it, finishing with a final score of 8-under par to get the victory, 13 throws ahead of Nathan Kabza and Gawain Stern who tied for second place.
Written by: K.C. Dermody