Pierce Earns USDGC Spot, Wysocki Takes Down McMahon at Aussie Open
Pierce Earns USDGC Spot, Wysocki Takes Down McMahon at Aussie Open
Monday, January 30, 2017 - 03:12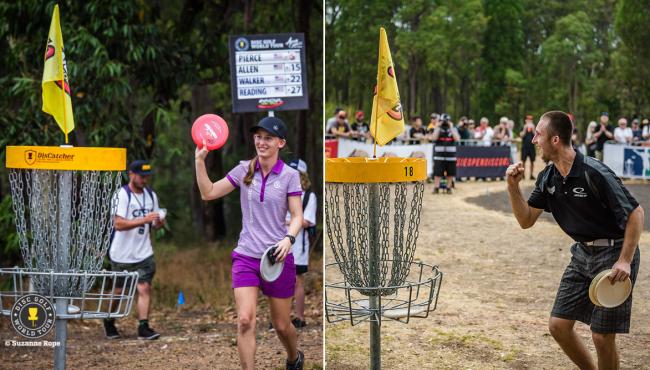 The 2017 Aussie Open came to a close this afternoon just outside of Perth, Australia at the beautiful and very difficult Mundaring DiscGolfPark. For the first time in several days, the competitors, staff, and volunteers were blessed with a break from the extreme heat that had been pushing a majority of players to their limits, both physically and mentally. It's been an extraordinary week and we couldn't have asked for a more exciting or dramatic finish.
Before we get into the details about the action from this morning and afternoon, we have to first apologize to several disc golf legends: Des Reading #15863, Elaine King #3090, and Juliana Korver #7438. In the article we posted after Round 3 came to an end, we falsely reported that Paige Pierce #29190 was on pace to become the first woman ever to qualify for the United States Disc Golf Championship (USDGC) based on a top 10 finish overall while competing against male competitors. We would like to reiterate that we were incorrect, as all three of the aforementioned women accomplished this previously over the years at different PDGA events.
With that being said, 14 years later, we are ecstatic to congratulate Paige for qualifying for a spot at the 2017 USDGC, finishing with a score of six under par (254) for the event, leaving her in 9th place overall against the USDGC eligible competitors. Because this event was so early in the year, all competitors other than Ricky Wysocki #38008 and Eagle McMahon #37817 had yet to qualify. In other words, Paige's score was the 11th best at the event against all players across all divisions.
Paige accomplished this feat by shooting under par for the first three rounds, including a 1003-rated Round 1 and a 1022-rated Round 3, both of which were played in temperatures exceeding 100°F (38°C). Paige finished the weekend shooting four over par (69) in her final round. Afterward, she anxiously awaited the rest of the Open divisions to finish, with multiple competitors in the hunt.
However, going into the final round 19 ahead of the next closest competitor, Paige had little to worry about as far as winning the event. Still, there was some excitement in the women's division with plenty of room for movement between the threesome of women below, including Jennifer Allen #15354 in 2nd, Madison Walker #59431 in 3rd, and Des Reading in 4th.
Teeing off early in the morning for the first time all week, the women faced a wet and chilly morning with a seemingly endless drizzle that was just heavy enough to make the discs, tee pads, and fairways slick. Despite the slippery conditions, most of the women threw rounds this afternoon that compared to the scores they had been finishing with in the days prior.
A strong round of two under par (63) shot by Jennifer during Round 3 gave her enough of a cushion over Madison to hold her off on the final day. Des rounded out the lead card for the final round in 4th place, and all four of the ladies would finish in the same position in which they started.
Wysocki Cards 16 Birdies, 2 Pars to Win in Dramatic Showdown
Watching the battle between Eagle McMahon and Ricky Wysocki this week was an epic experience. No one expected that the record-breaking insanity we witnessed during Round 2 followed by the back and forth drama of Round 3 could be combined into one of the most exciting final rounds a PDGA Major has seen since Wysocki's win on the last hole at the 2016 European Masters at Järva DiscGolfPark in Sweden.
Eagle entered the final round leading by three over Wysocki with a chance to not only take down a wire-to-wire win, but to win his first PDGA Major and his first Disc Golf World Tour event, and all this while being only 18 years old. Right out of the gates, it was clear that it was going to be another birdie-or-die round. And it wasn't just the two of them. Joined by Paul McBeth #27523 in 3rd and Japan's Manabu Kajiyama #8139, the course was about to get absolutely ripped to shreds.
In the front nine alone, the four of them carded no bogeys and 27 birdies. By the time the dynamic foursome finished hole 12, Wysocki had reduced his deficit to Eagle to just one. Keep in mind that at this point, 12 holes into the round, Ricky was at 11 under par with a birdie streak that started on hole 3, McMahon was at nine under par, and both McBeth and Manabu were at six under par.
Ricky and Eagle went birdie-for-birdie for the next three holes and then finally, with just three holes to go, Ricky uncharacteristically missed a birdie putt inside the circle, giving Eagle a lead of two with just two short par 3 holes to go. It was an intense moment, but those that know Ricky's game knew it was definitely not over.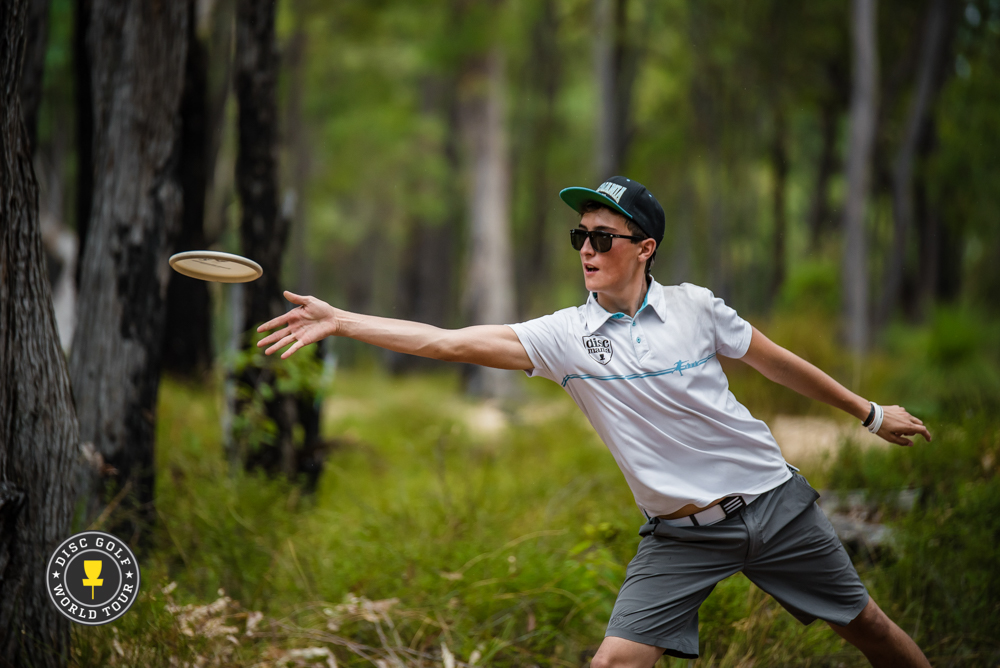 Hole 17 is a downhill 394 foot (120 meter) par 3 to a very small green surrounded by out-of-bounds (OB). To make a long story short, Eagle's drive didn't have enough power behind it, and it faded into the OB on the left. Ricky teed off last and parked it, forcing Eagle to have to make a 50 foot (15 meter) putt to save par and avoid a tie going into the 18th hole. With the pressure on, he nailed it, and we were off to the 18th tee pad with Ricky still one back.
Hole 18's green is very similar to Hole 17, surrounded by OB with a very small and risky landing area to secure a birdie putt. Unlike 17, it is much shorter at only 312 feet (95 meters) and plays uphill instead of down. Ricky teed ahead of Eagle this time and parked it. Once again, the pressure was on for Eagle, this time teeing off at the back of the box.
Eagle played a spike hyzer up the slope and out to the right. It landed out to the right of the green and never made its way back towards the basket. He was OB again, and was forced to putt from the drop zone, sitting roughly 65 feet (20 meters) from the pin. When he let it go, he knew it was over. It glided towards the basket but was fading left too soon, and it fell to the ground.
After the others cleaned up their putts, Ricky tapped in for the win to close out a nail-biting finish. It took an incredible 1096-rated round of 16 under par to catch Eagle, but he did it, and to be honest, not many were surprised.
Paul McBeth finished with an impressive 14 under par (51) that included a throw-in eagle on the par 5 hole 16, which bested his previous personal course record, a 52 at the 2015 Aussie Open. Manabu tapped in on 18 to finish at 12 down, firmly securing his 4th place position.
A special thank you goes out to all of the staff and volunteers that put so much time and effort into making this such a great event. We speak for all of the non-local players when we say it was truly a pleasure and an amazing experience being able to be a part of such an incredible disc golf Down Under!