No Disc Golf Course To Play? Teach It Instead.
No Disc Golf Course To Play? Teach It Instead.
Thursday, April 24, 2014 - 11:29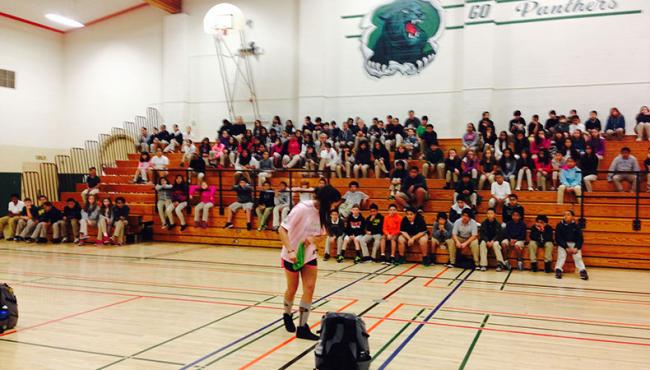 Michael Infusino #31277 has been living in the San Francisco Bay Area for the last 8 years, the last 4 of which have been in a suburb of San Francisco called San Bruno. Michael had only been playing disc golf for about a year or so when the San Francisco Disc Golf Club got approval from the city to install the Golden Gate Park Disc Golf Course. He volunteered some of his time to help with the manual labor involved in installing the course, but shortly after he would move on to San Bruno, a town with no disc golf courses at all.
After living in San Bruno for about a year, one of Michael's fellow San Francisco Disc Golf Club members saw an opportunity to install a course in a county park. Unfortunately, this idea was met with much resistance from a handful of the park's neighbors. The project slowly fizzled out over time but Michael didn't want to let the idea of disc golf in San Bruno die completely. He decided to promote disc golf as a great opportunity for the small community to provide its residents a new, fun, and affordable outdoor activity, as the area at the time offered very few options for kids and families to enjoy the outdoors without being involved in some sort of organized team sports/leagues.
He started his campaign by contacting school after school after school with the hope of making a connection with someone that would hear him out. After days of making phone calls, he was finally able to get in touch with Mrs. Christine Bowman, a Physical Education teacher at Parkside Intermediate School. She was very interested in having the Peninsula Disc Golf Club host a disc golf clinic during her classes. After speaking with her and working out some scheduling conflicts, they agreed on a date of March 4th, 2014 to do the first demonstration.
What Michael didn't know at the time was just large of a demonstration this would end up being. Parkside Intermediate School has several P.E. sessions per day, with an average of 200 kids in each class! Michael and his fellow club members were in for a serious challenge, but they were excited the opportunity regardless. Michael and his team were fortunate enough to work with some very generous clubs and individuals to help prepare for such a large disc golf demonstration. The Half Moon Bay Disc Golf Club donated two portable baskets and Golden Gate Park Disc Golf Course designer, Leonard Muise #3974, supplied them with 150+ discs for the kids to use. As the big day grew nearer, Michael became concerned about having enough people to help until three of his fellow club members stepped up; Matt Mcdonald, Doug Patey, and Tessa Tschantre.
The idea was to modify some of the information from the Educational Disc Golf Experience to accommodate for such a large group of kids. They began with a brief overview of the rules and equipment, and did some basic demonstrations of proper throwing forms for driving and putting. When the class first started, the kids resisted coming down in front of their 200 fellow classmates to give disc golf a try for the first time.
While Michael was speaking he started to notice a slight change in the attitudes of some of the kids. He could see some of them getting excited about something going on in the background. The team of volunteers were setting up the baskets in fun places in the gym, like the bleacher stands and were winging putters across the gym trying to make one in for the kids. They were even trying to throw putters into the basketball goals.
As Michael puts it, "We were kind of just figuring it out as we went along. This was our first time so it was a little bit of trial and error. I would ask the kids if they'd played disc golf before and about 15 hands would go up. When I asked them where they had played, they all had the same answer, on the Nintendo Wii!"
Tessa, one of the volunteers from the San Francisco Disc Golf Club showed some of the kids how to drive and then they began bringing them down from the bleachers in smaller groups to show them how to putt. They let the kids putt one at a time in a half circle, with the big finale being a "ring of fire" which got all the kids in the gym cheering and laughing. Disc golf was bringing a smile to the faces of anyone and everyone in the gym, boys and girls, special needs kids, teachers, and of course, Michael and his fellow club member volunteers. Michael knew they had stumbled onto something great. "At that point, we all kind of looked at each other and we could tell we were thinking, why haven't we been doing this before?", Michael said.
Michael is still working on introducing his disc golf demonstration to more schools in the San Bruno area, with a specific focus on high schools and elementary schools. He's well aware that teachers today are busier than ever, and he hopes to gain some interest from more and more as his efforts continue. Parkside Intermediate School has already invited them back to do more classes with the intention of getting them outside in smaller groups so the kids can try throwing drives. Thus far, the weather hasn't been very cooperative and they've been confined to the gym.
The plan for now is to keep looking for interested schools and to raise money for more equipment. Michael's also been in touch with the County of San Mateo Parks Department and is working towards getting an approval for a new course at Junipero Serra Park. It's in close proximity to a school and the hope would be that disc golf could be offered as a summer school class for the students. The city of San Bruno still does not have a disc golf course, but Michael will be in front of the County of San Mateo Parks Department to give his proposal for a course on June 5th, 2014.
Michael concluded by saying, "It's a work in progress and I'm sure years from now we will look back and laugh at ourselves and at that first day of standing in a gymnasium with 200 kids staring at us! I am very lucky to have so many people willing to assist me with this. The organization and pride of the San Francisco Disc Golf Club is certainly inspiring."
If you have any questions for Michael or you simply want to show your support, please feel free to email him at [email protected]. You can also find more information about the Peninsula Disc Golf Club on their Facebook page.