NCDGC - Day 1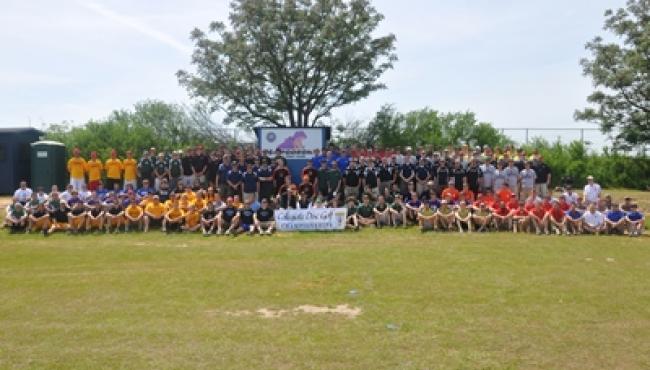 2011 National Collegiate Disc Golf Championships

On a beautiful day in North Augusta, South Carolina, 152 Students of 36 Colleges and Universities from across the United States gathered at the Hippodrome to compete for the honor of their school being named 2011 National Collegiate Disc Golf Champions.
The opening ceremony started with rousing speeches from NCDGC Tournament Director and Founder Pete May, NCDGC Organizer Alan Kane, and PDGA Executive Director Brian Graham, as well as other dignitaries.  As the National Anthem and a moment of silence for our fallen military heroes ended, the assemblage was treated to a fly-over by a sky-writing bi-plane.  As the cheers died down, thoughts turned to the upcoming round and the players started to get their game faces on.
The format for Day 1 was two rounds of alternate-shot doubles competition.  The first round was setup as a "Rivalry Round" where groupings were comprised of school teams with traditional, or perhaps not-so-traditional, rivalries.  Some examples are the 2010 champs, the Augusta State Jaguars, versus the 2010 Runner-up Oregon Ducks;  Kansas vs. Kansas State; Georgia vs. Georgia Tech;  Notre Dame vs. Penn State; and Florida vs. Florida State.  Despite the added pressure and excitement of the "Rivalry Round", the players were on their games as two Aces were recorded in Round 1: Indian Hills CC drained Hole 1 off the tee while Cal State-Monterey Bay carded a 1 on Hole 18.
After the first round, Alabama-Huntsville, Clemson, and Georgia were tied for the lead having turned in scores of 41.  Arkansas, Cal State–Monterey Bay, and Tennessee Tech were tied for fourth at 42, and Alabama-Birmingham, Kansas State, Penn State, Mississippi State, and San Diego State were all tied for seventh another throw back at 43.  In all, 18 teams (half the field) went into Round Two within 4 strokes of the lead.
In Round 2 the competitors were grouped by score, and only Alabama-Huntsville, shooting a 45, was able to hold onto the lead.  San Diego State had the hot round of 44 which propelled them up five spots in the rankings into a tie for second with Arkansas who shot a 45.  Mississippi State and Augusta State also carded a second round score of 45 leaving them in fourth and fifth place respectively.   Full scores may be viewed at:  http://www.pdga.com/tournament_results/68986
Doubles action now takes a hiatus until Sunday morning at 8 AM when the final round of Doubles will decide the 2011 National Collegiate Doubles Champions.
Friday's NCDGC action will be two rounds of Singles starting at 10AM EDST.
And remember, if you can't make it out to the Hippodrome in North Augusta SC to see these collegiate teams battle it out in person, then you can join fellow Disc Golf enthusiasts from around the world who will be tuning into all the action as it is broadcast LIVE via the Internet by discgolfplanet.tv at http://discgolfplanet.tv
Links:
http://www.pdga.com/tournament_results/68986
http://discgolfplanet.tv
http://ncdgu.com
http://ncdgc.com