Doss Wins Cup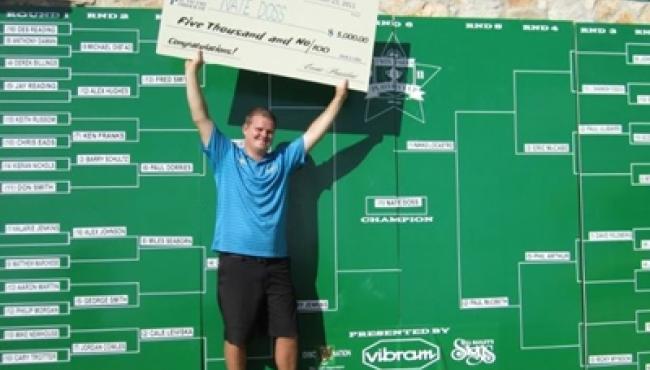 Nate Doss wins the 2011 Players Cup World Match Play Championship! After pushing the first hole, Nikko Locastro won holes two and three and looked ready to repeat as Players Cup champion. Nate Doss, as he did all year, steadied his ship and responded with a stellar performance. Nikkos's approach shot on hole 4 went OB left, and Nate took the hole and never looked back. After Nikko missed his 50 footer for birdie on hole 6, Nate drained his birdie putt and evened things up. On hole 8, Nikko's drive found the guardian pond and Nate was up one on the front nine.

Nate Doss got into the finals by defeating Avery Jenkins. They were tied going into the pro par four, 700+ foot, low ceiling, 18th hole. Nate threw a miraculous 350' second shot over the line of 30-40' protecting trees to land within the circle. Avery's second shot actually went past the hole, resting about 40' out. Avery's putt hit the top band of the basket and it was all over.

Nikko got into the finals by besting Paul McBeth. McBeth found himself four down with six holes to play, only to scratch his way back into the match. McBeth would win holes 13 and 15 to pull to within two with three holes to play. On hole 16, Nikko canned a 50+ footer to push with McBeth who had parked his drive. McBeth answered by parking again on 17 and he was just one down with one to go. Nikko had trouble on hole 18 and Paul McBeth was 35' from winning the hole and pushing into extra holes. His putt hit chains high left and rolled out of the basket, and Nikko had secured his 11th win in the two years of Players Cup match play.

Back to the finals: on the back nine, these two champions would trade blows with Nikko winning hole 12 and Nate answering back by taking hole 15. Both players missed the birdie on 16 and Nikko answered Nate's park job on 17 to push. So on we go to hole# 18, with Nikko trailing by one. Nate places his drive in the same spot as his match with Avery. If he can pull off one more miraculous approach to the well protected green, he will be the 2011 Players Cup champion. Nikko's drive on 18 lands wide right and he is looking into the barrel of a stocky cedar tree. The only saving grace is that he is closer to the pin that Nate and gets to see where Nate sits before deciding how aggressively to attack through the cedar.

Nate calmly lines up his shot, launches the disc, and the gallery holds its collective breath as it sails over the trees. The disc gently fades left towards the basket and spikes into the ground 20' from the pin. The crowd erupts and Nate has all but secured his title.

Nikko stares down the cedar tree three feet in front of his disc; it appears to us to be a virtual wall of wood. Nikko lines up his shot, about five feet up and right at the trunk of the tree. He clearly sees something there. I'm thinking to myself, "Unless I was testing discs, I would never launch a disc so hard right at a tree." The disc sails right through the trunk of the cedar and has a chance, but it gets caught in the next tree and Nate is our 2011 Players Cup Champion.

Thanks to all of our sponsors, especially Vibram Disc Golf, DGA, Disc Nation, Sun King Discs, the PDGA, Phenix Disc Sports and Paragon Disc Golf.