Masters Cup - Day 1
Nate Doss and Val Jenkins are on top of the world after day one at the Steady Ed Memorial Masters Cup in Santa Cruz, California.
---
One needs only to stand on the tee of hole 28 of the DeLaVeaga Disc Golf Course to understand why this course is a favorite of nearly every touring player who has ever been here. Named "Top of the World" for its spectacular view of Santa Cruz and Monterey Bay, the hole is truly one of the signature holes in the sport and a must play for any disc golfer.
---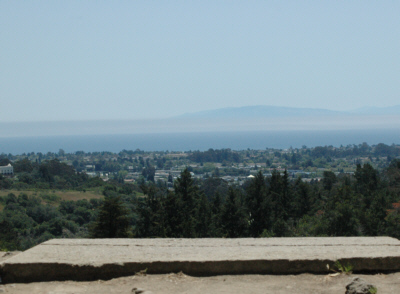 View from the tee pad of DeLeVeaga's Top of the World hole
---
Nate Doss showed his mastery of the world famous DeLaVeaga Course by posting a 77 (-7) on the ultra challenging 28 hole, par 84 layout, to jump out to an early one throw lead over Gregg Barsby (-6) and Nikko Locastro (-6) after day one. The two time world champ, and reigning United States champion lives in nearby Capitola and grew up learning the game and honing his skills at DeLaveaga.
Two time and reigning women's world champion Valarie Jenkins continued her strong play and posted an 88 (+4) to take an early two throw lead over Des Reading. Santa Cruz's own Carrie Berlogar sits four throws off the lead with Teresa Bellinger and Liz Lopez six off the pace. Val has won all three National Tour events thus far in 2009 and her strong and consistent play will make her very hard to beat.
Tournament director, Dave "Daviar" Thomas and the DeLaVeaga Disc Golf Club have the course looking its absolute best.and along with presenting sponsor, Disc Golf Association, look to be hosting yet another top notch event. The weather in Santa Cruz for round one could not have been more perfect but it is expected to be unseasonably warm over the next two days, which could challenge some of the competitors on this hilly course.
Round two on Saturday and the final round on Sunday will see the field play another 28 holes each day with tee times. Stay tuned to PDGA.com on Sunday for live scoring of the lead group.
---
PDGA Leader Board:
http://www.pdga.com/tournament-results?TournID=8765

Photo Galleries:
http:[email protected]/collections/72157618215025534/