|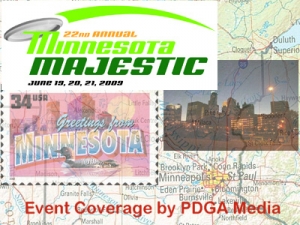 First and second round coverage of the Minnesota Majestic NT Event
---
Majestic Day 2
The weather and the golf heated up on Saturday at the Minnesota Majestic.  Saturday's play took place at Kaposia Park in South Saint Paul.  Nate Doss played a very solid round of golf, shooting 68 on the 27-hole layout, and carding no bogeys.  ?Nate's score propels him into the lead by four throws over Ken Climo, who shot a stellar 69 himself.  Local favorite Cale Leiviska shot a 73 and sits six throws back in third place, while Omaha's Ken "Tank" Franks, Steve Rico, and first-round leader Nikko Locastro are all seven shots back in 4th place. Nate certainly has a nice-sized lead,  but there's 36 holes of golf remaining today, so anything can still happen.
In the women's division, Val Jankins widened her lead to four shots over Des Reading.  Des Moines' Eddie McCulley shot a 76 at Kaposia, and moved into the lead in the masters division, two shots clear of Pete Johnson. Steve "Stimpi" Simmons takes a commading nine-throw lead into Sunday in the grandmasters division, and Peter Shive leads by only two shots over local player George Mlynarcyzk.
Sunday's play starts at 8:30AM at the Hyland Hills Snow and Skiboard Area. Hyland is a fun course traversing the big hills of the ski area, and there any many birdies to be had if you can judge the distance properly on those uphill and downhill shots. There'll be another 27-hole round Sunday morning, followed by a final 9 for the top four men and top three women at 2:00PM.  PDGA.COM will have video highlights of the Minnesota Majestic starting on Wednesday evening. Stay tuned for more details.
Minnesota Majestic Leader Board
---
Majestic Day 1
The Minnesota Majestic began under threat of some afternoon thunderstorms, but the rain held off and the players were able to play some hot golf. Day one was played at Blue Ribbon Pines in East Bethel, MN, a beautiful private course that is located about an hour north of downtown Minneapolis.  The unique 27-hole format in this event makes for some longer rounds (rounds averaged 5-5.5 hours), but gives the players a lot of opportunities to make up for earlier woes during the round.
The best score at Blue Ribbon Pines last year was a 72.  this year, 5 players matched or beat that score.  Young gun Nikko Locastro from St. Louis blistered the course with a 68, which is considered 20 under par on the par 88 layout.  Nate Doss posted a 70, local favorite Cale Leiviska is one more shot back at 71, and Barry Schultz and Moblie's Matt Orum were four behind the leader at 72.
In the women's division, two-time defending world champ Val Jenkins shot an 85, and took a 3 throw lead over Des Reading.  Liz Lopez was 4 throws back with an 89.  Pete Johnson from Massachusetts and Terry Parsons, who lives just a few miles from Blue Ribbon Pines, shared the lead in the masters division at 76.  Eddie McCulley and Doug Peyton, both Iowans, were three and four throws back respectively.  Paul Pazanin leads by one throw in the grandmasters division over St. Cloud's Rick Rentz.  Peter Shive holds a four-throw lead over George Mlynarcyzk in the senior grandmasters division.
Play starts Saturday at Kaposia Park in South Saint Paul at noon.