Sweet 16 Set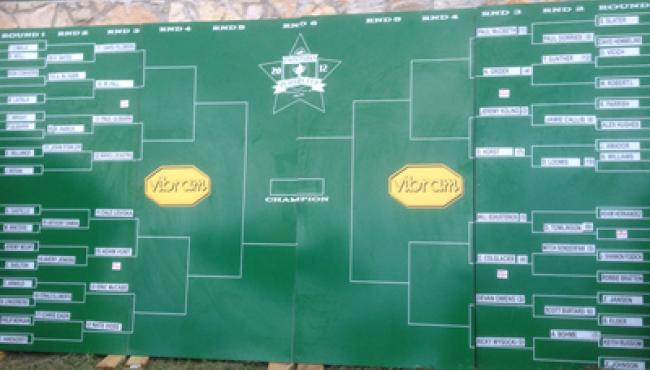 Today marks the first day the ladies side will compete in the World Match Play Championships. Eight ladies are set to compete with Valarie Jenkins, Catrina Allen, Paige Pierce, Des Reading, Liz Lopez, Brittany Blair, Danielle Vargas and Lara Coffey vying for the first ladies side championships.
The Players Cup started off with a bang as the Daniel Loomis (15) defeated Bradley Williams (2). Dan Loomis, a 973 rated journeyman discer from Kansas took down Austin's own 1032 rated Bradley Williams. Loomis hit several 50-70 foot putts to put the pressure on and a little bad luck and awkward lies managed to thwart Williams' attempts to get back in to the lead. Loomis wins 1 & 0.
Elsewhere, two 12 seeds defeated their 5 seeded competitors to advance to the Round of 32. Thaddaeus Gunther (12) took out Dana Vicich (5) and Austin McNabb (12) defeated Oklahoma's Ron Convers (5). Austin commented that Convers is an amazing player in the wind and if the wind, that is usually so predominant, had kicked up, he may not have been able to hold on. It is also worth mentioning that Taylor Cimala (16) took Dave Feldberg (1) to 18 holes. Feldberg recapped, "Taylor hit a 50 foot jump putt to force me to hit my 30 footer to secure the win." That was a battle.
Even with these huge upsets, all of the Cinderella stories fell by the way side in Round 2. 14 of the 16 top seeds advanced to the Sweet 16, with Adam Hunt (5) defeating Avery Jenkins (4) being the only upset of the 2nd round. Having said that, there was a lot more sweating to get into the Sweet 16. David Tomlinson took Will Schusterick to 18 holes, Paul Dorries took Paul McBeth the distance, and Dan Loomis hung with Dylan Horst (7) thru 17 holes.
Here is what is on the Sweet 16 Platter today:
Ascent Quadrant
Dave Feldberg (1) vs Matt Hall (4)
Nikko Locastro (2) vs Paul Ulibarri (3)
Ridge Quadrant
Cale Leiviska (1) vs Adam Hunt (5)
Nate Doss (2) vs Eric McCabe (3)
Ibex Quadrant
Paul McBeth (1) vs Nolan Grider (4)
Jeremy Koling (3) vs Dylan Horst (7)
Sole Quadrant
Will Schusterick (1) vs Cam Colglazier (4)
Ricky Wysocki (1) vs Devan Owens (3)
Looking forward to some amazing matches today, I can't help but wonder who is going to lay claim to the 2012 World Match Play Championship. Could Nikko repeat his 2010 magic? Over the three years, Nikko's won loss record is 13-1. Will Nate Doss repeat as Players Cup champ, his record in 8-0. But they both come in as 2 seeds. There is a lot of crazy good talent here with Vibram Open Champion Cale Leiviska playing well. 2x USDGC Champion Will Schusterick, current World Champion Paul McBeth and the hottest player on tour the last few months, Ricky Wysocki all in the hunt. Or will a new face emerge to claim their spot on the disc golf scene?
With a $0 buy in and over $20,000 payout, we've got to thank our sponsors: Vibram Disc Golf is our presenting sponsor, Twin Parks Country Club is our host sponsor, Paragon Disc Golf is our Final Four sponsor and DGA presents the Pick'em bracket.
If you would like to purchase some of the beautiful Players Cup fundraiser discs or the 2011 Players Cup DVD, they are available exclusively at our store sponsors: Disc Nation, Disc Golf Center, Prime Discs, and Sun King Discs, which is owned by Mike Barnett, who founded the Players Cup.
Keep track of the live scoring to see who will advance.
Steven Dodge
[email protected]