Jenkins & Feldberg win KCWO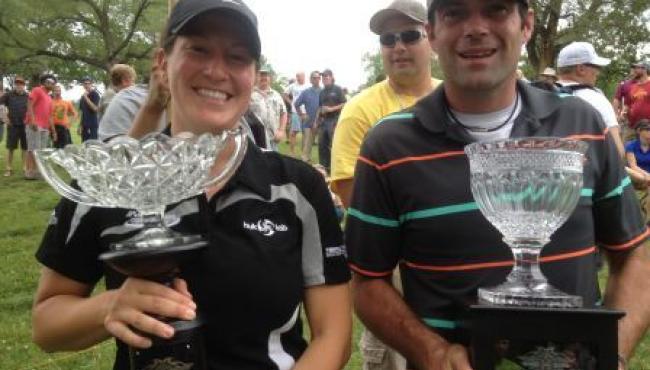 It was a beautiful day for disc golf here in Kansas City! The cloud cover kept the temperature down and there was practically no wind. The Kansas City Wide Open featured Swope Park's Gold Layout for the last round of the event, and it was here that we concluded the first half of the PDGA National Tour Elite Series presented by Vibram Disc Golf.
The extended layout made this the longest course of the tournament. Throw in all the out-of-bounds ropes and roads and the stage was set for high drama, however, the leaders must not have received that memo. Dave Feldberg started the last round with a four throw advantage and took that same lead into the final 9, and Valarie Jenkins did the same with her five throw lead, and neither let up in the Final 9, with both earning themselves another National Tour win.
For Feldberg, this was a statement win: it showed all the young guys that have been ending up at the top of all the leader boards lately that he's not just hanging with them, but that he aims to take home hardware. For Jenkins, she reinforced the fact that she is the one to beat out on tour. This is her second NT win of the year and will add to her lead in the National Tour Elite Series standings.
As the last putts were ringing chains, the music at the closing ceremonies was just getting started; the folks here in Kansas City and all of the Kansas City Flying Disc Club really know how to put on a show! The icing on the 30th birthday cake of this KCWO was a huge Frisbee, disc games, fun, and music extravaganza with an awards ceremony mixed in there somewhere. The majority of the players from the B-tier, the A-tier and, of course, the NT made it to the celebration. Dozens of ultimate lids and catch discs were flying all over the place as a live band belted out some old-school funk and rock tunes.
The crowd was also gathered under the huge PDGA tent where we had the recorded coverage of the tournament streaming in high definition on the big screen. Discgolfplanet.tv did an amazing job of broadcasting this great event.
Congratulations to all of this week's winners, all of the players, and, certainly, all of the event organizers. Here's to the last 30 years and we all hope for many more Kansas City Wide Opens.
We hope to see everyone in a couple weeks in Estacada, Oregon for the Beaver State Fling and the fourth National Tour event of 2012!