Final Fore!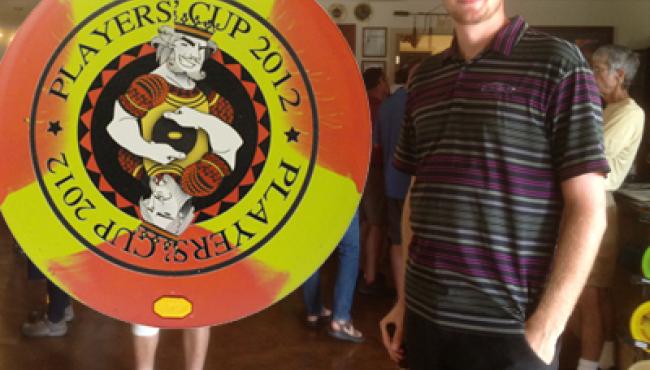 Catch live coverage starting Sunday at 9am Central/10am Eastern with Feldberg vs Leiviska & Wysocki vs Koling
Ascent Quadrant
The day began with Dave Feldberg and Matt Hall tied through the first six holes. Feldberg would go on to win five of the next nine holes to take the match 5 & 3. He would advance to play Paul Ulibarri who battled with Nikko Locastro and came out on top 3 & 2. According to reports, this was the hottest card during the Sweet 16 and Uli and Locastro had an epic battle.
Ridge Quadrant
Cale Leiviska handled Adam Hunt, losing only two of 14 holes and winning the match 5 & 4. Eric McCabe and Nate Doss battled through all 18 holes. McCabe won five of the holes while Doss managed to take four. McCabe moves 1 & 0 to take on Cale Leiviska in the Elite Eight.
Ibex Quadrant
Paul McBeth quickly found himself down two to Nolan Grider but fought back to take holes 5, 6 & 7. Through the next seven holes, McBeth would increase his lead to two with four holes to play, but Nolan came to play and would win three of the last four holes to take the match, including a birdie on hole 18 with a fifty footer into a strong Texas headwind. Jeremy Koling handled Dylan Horst 6 & 5 and would meet Nolan in the Elite Eight.
Sole Quadrant
Will Schusterick put the hammer down winning holes 13, 14 and 15 to beat Cameron Colglazier 5 & 3. Cameron put his mark on his first Players Cup making it to the Sweet 16 and I expect he'll get farther through the bracket in years to come. Devan Owens pushed Ricky Wysocki to hole 18 but did not have enough gas in the tank, losing 2 & 0. Wysocki and Schusterick, one of the most anticipated matches of the weekend, would come to fruition in the Elite Eight.
Elite Eight
Paul Ulibarri took three of the first six holes and was two up through six over Dave Feldberg, the overall #1 seed. Feldberg responded by taking holes 8, 10 and 13 to take the lead and sealed the deal by winning hole 16 and advancing 2 & 0.
Cale Leiviska had a fast start winning three of the first five holes over Eric McCabe. McCabe would battle but could not withstand the onslaught including caging out of the ace on hole 12. Cale advances 5 & 4.
Nolan Grider and Jeremy Koling established that they would have an amazing battle early, splitting the first six holes. Jeremy Koling took holes 8 & 9, Grider pulled it to within one on hole 10. There were some exciting pushes through 14. Then, Nolan faltered on hole 15, carding a bogey 4. Jeremy was up two with three to play. They pushed on hole 16 and then and Nolan found himself down two with two to go at which point he made some amazing drives to put the pressure on Jeremy to seal the deal. Hole 17, Jeremy found the cage on his putt to win the match. Hole 18, Jeremy again found the cage to win the match. Finally, on the first overtime hole, Jeremy's approach shot to within 15 feet sealed the deal and he advanced to the Final Four 1 & 0. Ricky Wysocki handled Will Schusterick, who never found his putting stroke, 6 & 4.
Ladies
On the ladies side in the first round, Valarie over Laura Coffey 4 & 3, Liz Lopez defeats Des Reading 3 & 1, Paige Pierce defeats Brittany Blair 3 & 2, and Catrina Allen defeats Danielle Vargas 6 & 4.
In the ladies Final Four, Valarie Jenkins won six of the first 11 holes over Liz Lopez and never looked back winning 6 & 5 and advancing to the inaugural ladies finals. On the other side, Catrina Allen pounced quickly taking the first two holes and three of the first six before Paige Pierce started fighting back. Over the next eight holes, they would trade blows and Catrina would be four up with five to go. Paige Pierce wins holes 14 and 16, but did not quite have enough to catch Catrina, who advances to the Finals 2 & 1 to battle with Valarie Jenkins.
Sunday's Schedule:
Final Four: 9:00 AM with live scoring and live audio coverage
Finals (MPO & FPO): 2:00 PM with live scoring and live audio coverage
Steven Dodge
[email protected]