Feldberg leads USDGC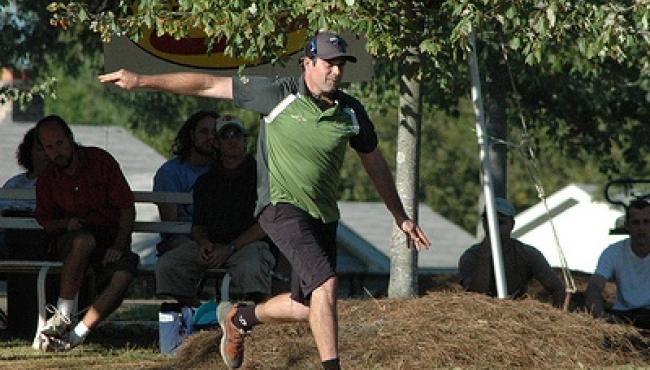 A Focused Feldberg Forges Four-throw Lead at USDGC
by Dr. John G. Duesler, Jr.
Under a warm sun and gentle winds, David Feldberg caught fire in his second round yesterday to extend his lead to a four-throw advantage at the 2009 United States Disc Golf Championship.
  Feldberg's second-round 57 (1070-rated) was only bested by Josh Anthon, who carded a 56 and moved to within 8-throws of the lead.  Thursday's final foursome was completed by first-round co-leader Brian Schweberger, who threw a 63, Michael Johansen (second-round 62), and Joe Mela (second-round 64). 
These scores in the low 60's resulted in a major shuffle at the top of the leaderboard, three new players have now moved into the leadgroup to join Feldberg.  2009 masters division World Champion, Phil Arthur, continued his outstanding play this year with a second round 59 on the Winthrop Gold course.  His 1058-rated round helped move Arthur into sole possession of second place.  The 2008 USDGC titlest, Nate Doss, regained championship form on Thursday carding a 58, which moved him into a third-place tie with Finland's Jussi Meresmaa. 
You can watch all the action from Winthrop University live, as third-round Internet broadcasting of the 2009 United States Disc Golf Championship will begin Friday at 12:15 pm ET and continue throughout the day. 
To watch disc golf's best players, you can
OR