European Open Day 3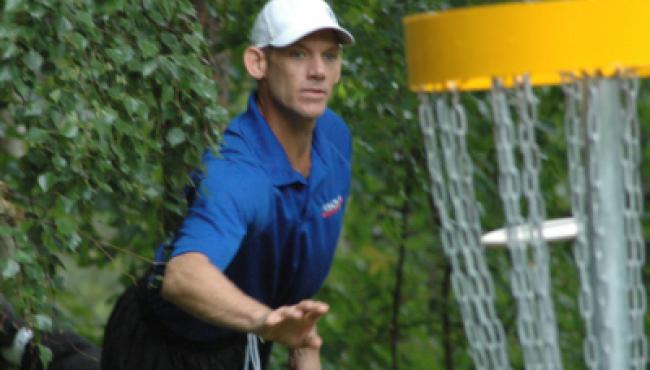 Americans Move Up On Moving Day
Saturday is known as moving day in golf and no one made a bigger move at the European Open in Finland today than Ken Climo. The Champ played a golden round, birdieing the first 5 holes and the last 4 en route to a course record 12 down 1080 rated 48. Kenny only slipped up once when his fairly routine approach on #14 was a little short and he failed to cash the elevated basket from 23'. KC moved from 6th to 3rd, and now sits two back of co-leaders 2008 World Champ Dave Feldberg and 2008 Scandinavian Open Champ Jesper Lundmark.
KCs score was almost matched by Feldberg who shot 49 after missing the hay bales on 1 and then falling heavily on his backside during the day's only rainy spell on 2. Dave then woke up, birdieing 2, 3, 5, 6 and 8 of the 9 holes between 9 and 17 (he "parred" the 179m/587' par 3 #14). The difference between his and KCs cards came on relatively easy #18 where KC left himself a dunk for the record, one group before Dave doinked his 22 footer.
Jesper played another super steady round, punctuated by 42' and 55' birdie putts on #s 13 and 16. After 54 holes of keep it inside the paint lines golf, his share of the lead at -28 is build on 31 birds and only 3 strokes dropped to par. Finishing in 4th spot for the 2nd day in a row is the 16 year old pheenom Simon Lizotte from Bremen, Germany, who was briefly tied after 6 holes for the lead with Jesper. While Simon was a little lucky at times, twice powering Rocs through trees when his shots were slightly off line to set up birdies, he continued to show remarkable skills, quiet composure, and a smooth putt under the pressure. At 3 strokes back of KC and 5 off the lead his chances of beating 3 of the world's greatest players are slim but still alive. At one point during the round Feldberg remarked that Simon is probably the best 16 year old player he's ever seen.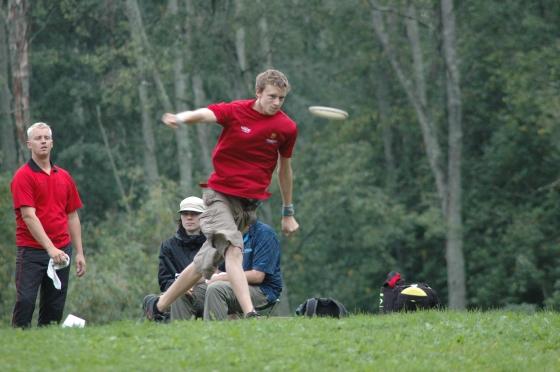 Simon Lizotte will play in his first final round lead group in a PDGA major
A stroke back of Simon at the top of the final round's 2nd card is home crowd favorite Timo Pursio. His hopes of winning were dashed when he bogeyed 17 after an OB left tee shot and then parred 18 to drop 3 strokes to KC on the last 2 holes. Masters aged Hasse Tegebeck played another solid round, shooting 7 under 53 to move up a spot into 6th. Fellow Swede Anders Swärd's super play came to an abrupt end on 17 when he twice drove OB right, never coming in-bounds, and then OB left from where he finished with a quintuple 9, dropping him from the lead card to 7th. Rounding out the 2nd group tomorrow will be Nate Doss whose 51 was joint 3rd best on the day.
In the ladies division 3rd time reigning World Champ Val Jenkins made her move, shooting 60 to make up 5 strokes on Burl and tie for the lead. At one point the Finns in the scoring booth were shouting Anna, Anna! when Ms Matilainen seized the lead but doubles on 13 and 14 left her 4 back in 3rd at day's end.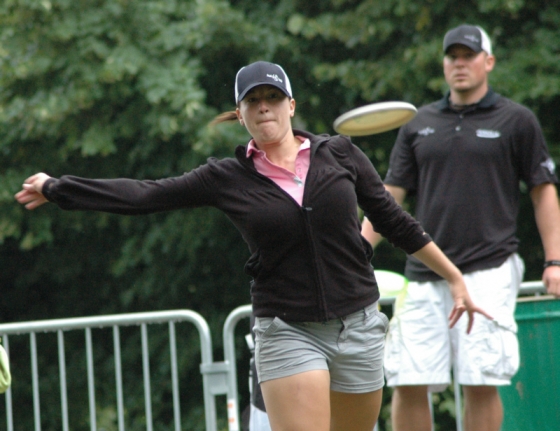 Valarie Jenkins moves into a tie for the lead with Carrie Berlogar
On the drive back to the hotel Feldberg announced "I don't care about the money here, I'm just playing for the title, I've won a Major each of the past 4 years and I need one for 2009." To which Kenny quipped "well, you better not miss the hay bales on 1 tomorrow, cause I'll be on your a** !!!" All we can say is good luck to the contenders and BRING IT ON!
Anders Swärd loses ground while Dave Feldberg and Jesper Lundmark lead
---
LINKS:
European Open Live Hole by Hole Scoring