European Open Day 2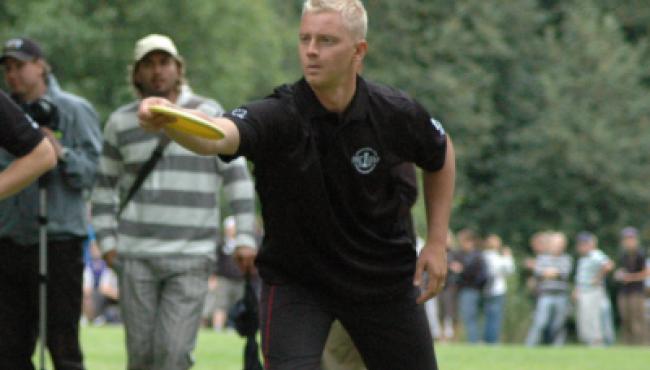 Swedes Seize the Day at Euro Open
Team Latitude's Jesper Lundmark shot a smoking round of -10 with 12 birdies and 2 bogeys to take a 2 throw lead at 19 down after Day 2 at the Euro Open. His sizzling 50 was matched by fellow Swede Anders Swärd who now sits tied 2nd with Team USA Captain Dave Feldberg. Swärd was on fire from the get-go - his opening drive hit dead center chains before being spit out, and he birdied the first 5 holes en route to a bogey-free round. Feldberg matched Anders' 10 birdies, but like yesterday his only blemish was a double, this time on the water hole #13.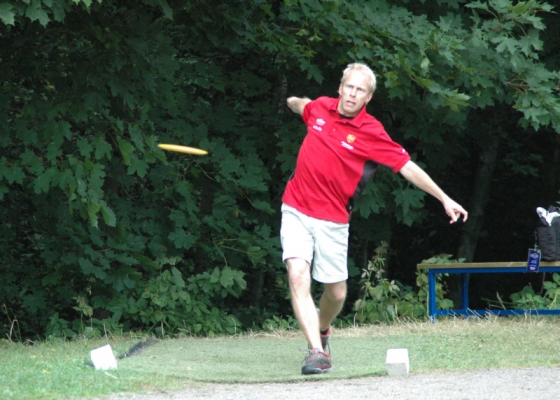 Anders Swärd of Sweden moves into the lead group for round 3 of the European Open
Joining them on the lead card tomorrow will be the German-Canadian teen sensation Simon Lizotte. His 9-under 51 included a tournament best 13 birds, and the first 2 on the 179m/587' #14 where his approach shot from 45m/150' was money.
The 2nd card will feature 10-time Finnish Champion Timo Pursio, 12-time World Champ Ken Climo, and Swedish Master Hans "Hasse" Tegeback whose card featured 7 birdies in a row. They each shot 8-down 52s – Kenny's was bogey-free, and sit 4, 5, and 6 throws off the pace respectively, with 36 holes to play. 2008 European Champion and tomahawk specialist Ville Piippo had the best round among the 3 players tied for 8th.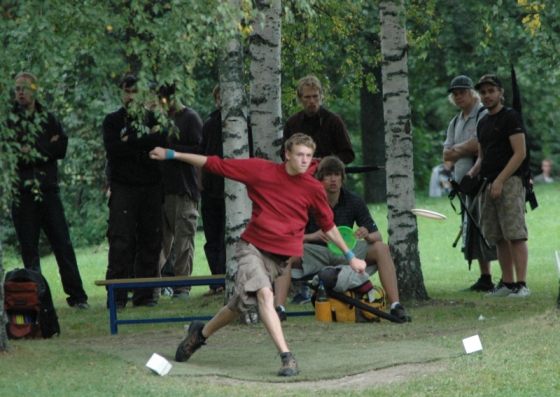 Simon Lizotte tees off on hole 4 at the Epila Disc Golf Course
In the Women's division, Burl increased her lead from 3 to 4, but her journey there was far from routine. On hole 3 she pulled her tee shot wide of the mando and settled for a triple bogey 7. Little did she know that Val Jenkins, playing several groups ahead of her, had already taken an unthinkable septuple 11 on the double mando #7, the same hole which derailed brother Avery in Round 1. Burl then settled down, following her 7 with 10 straight pars, to shoot 63 with 2 birds and 2 other throws dropped to par. 2nd place now belongs to Finland's Anne Matilainen, who like Burl birdied holes 1 and 18, but who dropped 5 throws to par on #s 6 & 7. Val is now 3rd, 1 back of Anne and 5 behind Burl.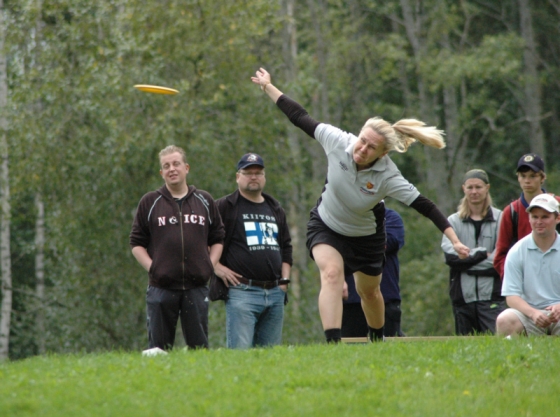 Helsinki Finland's Anne Matilainen moves into second place in the Women's division
Stay tuned for more coverage and excitement tomorrow as the tension builds towards Sunday's final with the European Open and PDGA Major titles at stake.
---
LINKS:
European Open Live Hole by Hole Scoring