European Open Day 1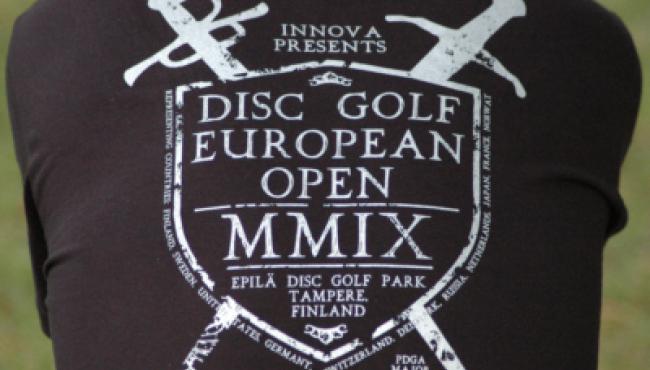 European Open Underway in Tampere Finland
Day 1 at the 2009 European Open ran very smoothly, with the gods of weather cooperating after a night of rain, despite a forecast that called for more showers. There were many stories from round 1 led by 2-time defending champ Carrie "Queen of Finland" Berlogar. Her 991-rated 2-under 58 featured a mere single bogey on the OB-strewn Epila Park Course, vaulting her into a 3 throw lead over World Champ Val Jenkins and Finland's top female disc golfer, Anne Matilainen. Burl's super steady play was reflected in the facts that only 2 of the event's 111 players went bogey-free, and only the top third of Open division turned in under par scores.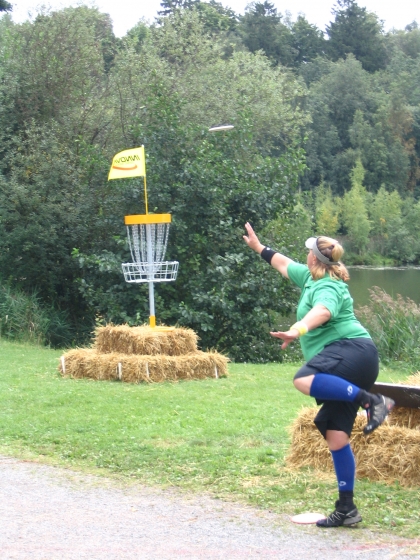 Carrie "Burl" Berlogar putts on hole 18
When the shooting was done, 2008 World Champ Dave Feldberg, and the current World's top rated player, Sweden's Jesper Lundmark, led with 1051-rated 9-under 51s, with Dave the only member of Team USA in the top 7. Finland's 988-rated Arttu Sikanen played sensationally, to tie Denmark's best player KJ Nybo at 52, one throw off the pace. Arttu and Jesper were the only players without a blemish on their scorecards. Feldberg had the most birdies on the day with 11, but he suffered a worst score of the day-tying double bogey 5 on the 91m/299' downhill #11 when his drive kicked off a tree into a brutal lie from where it took him 2 shots to get back to the fairway.
Tomorrow's 2nd card will feature Finland's top rated player Timo Pursio, steady Swede Anders Swärd, and the 1011-rated 16-year-old German sensation Simon Lizotte. They each had 9 birdies and 2 bogeys. The 5 players tied for 8th at -6 include defending Euro Open champ Ken Climo, the Japanese #1 Manabu Kajiyama, and Joonas Hynönen who "Finn-ished" with 10 birdies and 4 shots dropped to par.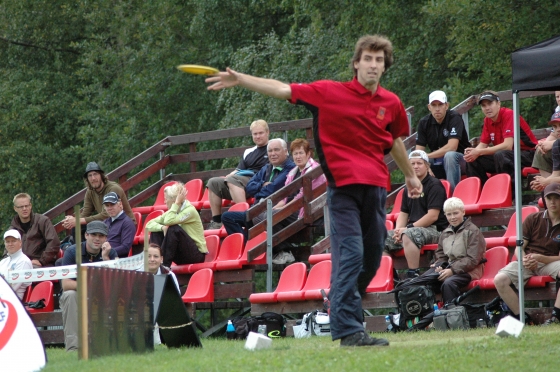 Mikhail Krivyy of Russia tees off on hole 1
As always is the case in golf, there was no shortage of players whose rounds could be termed disappointing. 2009 World Champ Avery Jenkins started off hot, with 4 birds on the 1st 5 holes, but they were all wiped out when he missed the mando twice on treacherous hole #7 and took a quad 8. He was joined at 58, 7 throws off the pace, by Nate Doss whose play was rather flat and whose card only included 5 birdies. However their misfortune paled in comparison to the Norwegian #1, amiable Espen Mokkelgjerd, who never recovered from an opening hole double circle 7 and shot 67. They all could've used Janne Lindberg's hole-in-one on the 75m/246' #15.
Be sure to check out the live scoring at the event website www.opendiscgolf.com as the play heats up tomorrow, and the Euros try to hold onto most of the top spots.
---
LINKS:
European Open Live Hole by Hole Scoring