Dynamic Discs Honored by Emporia Chamber of Commerce
Dynamic Discs Honored by Emporia Chamber of Commerce
Thursday, January 23, 2014 - 11:10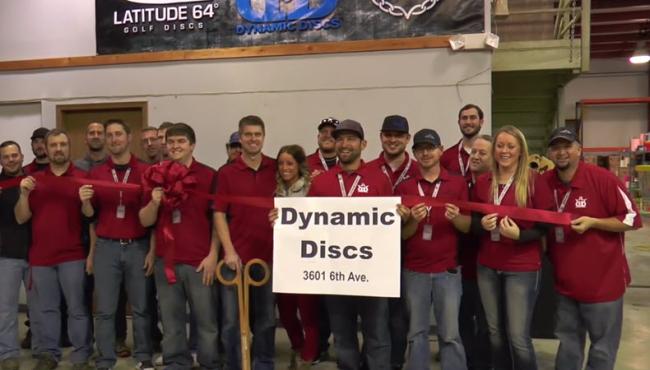 It seems like almost every week a new disc golf company appears out of no where. Whether it's a new blog, disc distribution website, apparel company, pro shop, or a completely new disc manufacturer, they just keep popping up all over the country. Dynamic Discs isn't exactly a new company, having started up in March of 2005, but considering they've been around for less than a decade, the fact that they've become such a mainstream name in the industry is no small feat.
On Thursday January 16th, the Chamber of Commerce for Emporia, KS held a ribbon cutting ceremony for the newly opened 10,000 square foot warehouse facility for Dynamic Distribution. This warehouse will serve as the wholesale facility for Dynamic Discs. During the ceremony officials from the Chamber said that with Dynamic Discs operations in Emporia and events such as the PDGA Amateur World Championships and the Dynamic Discs' Glass Blown Open disc golf has made a $2.5 million dollar impact on the city.
Dynamic Discs is the title sponsor for several PDGA sanctioned A-tier and B-tier events this year, including one of the most popular events on the tour, the 2014 Glass Blown Open. Check out their tournament schedule for more information about where they'll be during what should be the most exciting year the sport of disc golf has ever seen!
Thank you goes out to Bobby Brown (#39856) for providing us with information for this story.