DiscFest KIDS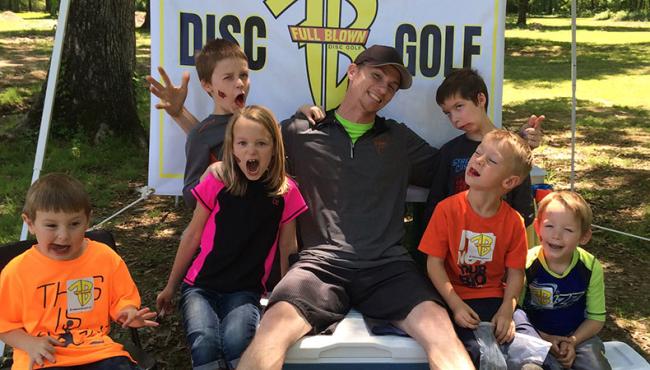 In the last few years, Doug Trantham #39739 and Matt Loyd #40462 have spent countless hours promoting the sport of disc golf in Arkansas and within their local communities.In 2012, they partnered up to form a new company, Full Blown Discs, and began working to improve their local disc golf scenes. Full Blown Discs focuses primarily on running tournaments and getting new courses installed, but in the early part of 2014, Doug began working on a new concept for an event he called DiscFest KIDS.
The city of Bryant, AR is working towards obtaining a new disc golf course at their premier facility Bishop Park. The park is loaded with things to do such as baseball, walking trails, fishing, indoor swimming, basketball, yoga, and the Saline County Boys and Girls club. Doug wanted a way to promote the sport of disc golf to a younger audience while also raising money for the new course at the same time. With this in mind, DiscFest KIDS was born. 
The event would take place on May 3rd, 2014 and would be played by kids aging 6-17. To even the playing field, the kids were split into multiple age groups: 6/7, 8/9, 10/11, 12/13, 14/15,and 16/17. Several activities were set up including a putting competition, the "I got Skillz" competition, long drive competition, and a 9-hole disc golf doubles competition. Before each activity began, Doug coached the young disc golfers, providing them with specific tips and techniques needed for the respective activity.

The kids were also taught the basic PDGA Rules , proper form and grip, safety tips, and how to have fun playing disc golf in general. One of the highlights of the day was when Doug's six year old son, Mayson, hit his very first ace! The crowd of parents and players went wild and cheered him on while he jumped in the air screaming with joy!
"I can't believe Doug was able to entertain all of these kids all day long. He did a great job and we loved having our kids taking part in something new!" said Char Parsley, one of the many parents in attendance.
Bryant Parks and Recreation with the help from Doug Trantham, Full Blown Discs, and the local disc golf community are raising money and awareness towards disc golf in a new town with new faces. The installment of the new course in Bishop Park is scheduled for the fall of 2014, or sooner if funds become available. The parks department has already raised money via 5K races and now DiscFest events like DiscFest KIDS and DiscFest Doubles are helping to accelerate the fundraising process. 
For more information about DiscFest events, contact Doug Trantham or stop by the Full Blown Discs Facebook page.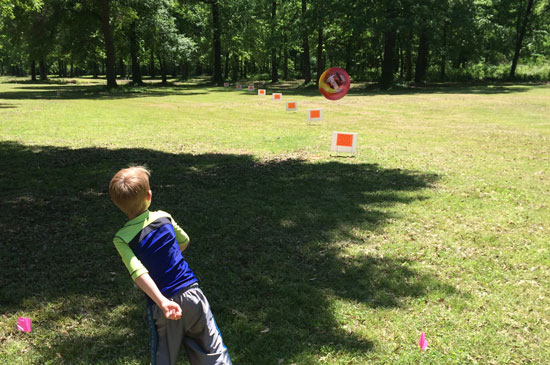 Comments
Way to grow/share/spread the sport. Good luck in your disc golf endeavors