Carolina Clash Warms the Worlds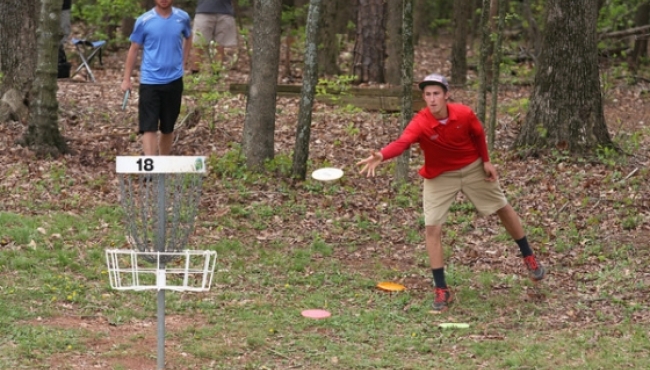 In an early warm up for the World Championships in Charlotte this July, Richard Wysocki bested current World Champ Nate Doss by one stroke at the Carolina Clash (March 24-25).
Playing a selection of the July Worlds courses, all of the divisions were stacked with players wanting an early crack at the Charlotte courses. Along with Doss, out-of-towners Eric McCabe of Kansas, Valarie Jenkins of California, pro master Joe Mela of Pennsylvania and others made their way to the Charlotte tournament presented by Dynamic Discs.
"Everybody came to get prepared," said Wysocki, 18, of Ft. Mill, S.C., who finished at (-31) and won the PDGA Championship last year (also over Doss) and looks to be in great shape for the Worlds.
Others finishing nicely in the pro open included Michael Johansen of North Carolina (-29), 2010 World Champ Eric McCabe (-29), and Jeremy Koling of Charlotte at (-27).
In the pro women's division, 2010 World Champ Sarah Stanhope of South Carolina (+4) came back from a six stroke deficit to beat former World Champions Elaine King of Durham, N.C., and Valarie Jenkins by four strokes.
Wysocki and Doss were deadlocked at (-22) after two rounds of Bradford Park on Saturday which included an hour-plus storm delay. Sunday's round at the formidable Renaissance Park, though muddy and at times windy, remained clear.
Through the tourney, Wysocki said patience was key especially during Saturday's storm delay and waiting for back-ups to clear up at Renaissance Park on Sunday. But it was safely navigating through Renny's back nine – some of the layout's nastiest holes - that won it for him, said Wysocki.
"You just gotta stay out of trouble and I did," said Wysocki, who was the only one on his card to birdie the tough par 4 hole 10.
His front nine performance was still impressive. Birdying the first three holes, Wysocki then cooled down until the par 4 hole 7 when he saved a birdie by flicking an understable disc from the right rough and impressively found the green that was partially bordered by OB.
"I knew I just gotta make that shot. There's no messing up because there's OB," said Wysocki after the round.
After falling behind early on hole 1, three-time World Champ Doss then tied it up with a sweet birdie on the tricky 257-foot par three that drops off after the basket. However, Wysocki gained a stroke on Doss the next hole and continued cruising until he met his only real trouble on hole 12, where an OB drive and later a short putt brought him a bogey. He righted himself after that and though he received pressure from Doss and for a period by McCabe, he never lost his lead again.
McCabe had battled throughout the day and was within one late into the round until he failed to birdie the 378-foot par 3 hole 15 and wasn't able to make up ground after. Koling stayed in the hunt for most of the round and amazed the group early with an eagle on hole 2 that put him within one. He pulled to within one again after a birdie on hole 5, but had limited birdie production afterward, losing by five strokes.
Playing in the second card, Michael Johansen made a run with the hot Renny round of 56 and jumped into third place.
Doss had a chance to tie it once more on the par 4 hole 17, but he missed his birdie putt and had to settle for par, while Wysocki also missed his birdie putt. For the final hole, Wysocki blasted a drive through two mando power towers and cruised for a birdie while Doss nearly went OB on his drive and had to work much harder for his birdie, which still left him one short.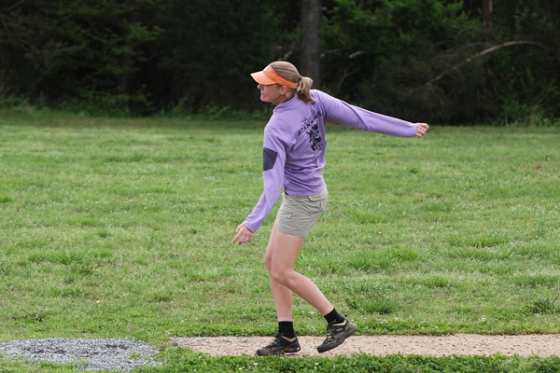 Stanhope credited her comeback to consistent putting and avoiding Renny's OB, which can often leave a bite. Stanhope, who also plans on playing the Worlds, said she appreciated the high level of competitors that were attracted to this local tournament. She said it's times like that when you really see where you're at.
"You can practice putt all day long but you can't practice with the nervousness of a tournament," said Stanhope, who shot a strong 68.
Other division winners include: Matt Peckham in the Open Masters division who won in extra holes over Joe Mela, Eric Vandenberg in Open Grandmaster, Brad Ramsey in Advanced Men, Sara Nicholson in Advanced Women, Jim Senior in Advanced Master, Jim Banbur in Advanced Grandmaster, Mike Crow in Intermediate Men, Donna Stanley in Intermediate Women, and Parker Martin in Recreational Men.
— Story by Todd Harrell; Photos by Sheri Tyler