Anthon Keeps Pace as three tie Course Record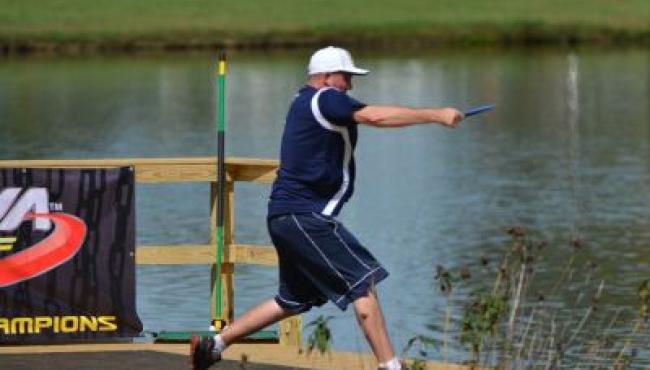 Josh Anthon of California is holding strong at -35 for the Championship, but now he's tied with 2010 US Champion Will Schusterick, who surged during Friday's third round with a course record tying 53 (-15).
Schusterick wasn't the only player to humble Winthrop Gold on Friday. Jumping into the United States Disc Golf Championship conversation with a blistering 53 were Steve Brinster of New York and Finn Jussi Meresmaa, who had a share of the lead after Round 1.
After Anthon and Schusterick are Ricky Wysocki of South Carolina (-33), Brinster and Meresmaa at (-31), and three others are tied at (-28).
When asked what winning the USDGC would mean to Anthon, he replied, "It would mean a lot. I've come out here for a lot of years."
However, Anthon said he isn't going to think about that during the next round or any of his competitors. He just wants his round to come to him and it'll work out.
After stepping away from the game for awhile this year, he picked it back up with intensity a month or so prior to the USDGC, practicing all those Winthrop shots he knew so well, he said.
Seeing Schusterick on top of the lead card, may remind many of 2010, when he kept 2009 US Champion Nikko Locastro from repeating. Now, it looks like Schusterick may be in line for a second helping of USDGC glory.
Schusterick said there really wasn't much to his record tying round.
"When you're feeling good and focused. Nothing else is going on," said Schusterick, who hit a clutch birdie putt on Hole 18 to deadlock the lead.
He said he plans on playing Saturday the same relaxed way he knows he's capable of.
"That's all I can do," said Schusterick, who said he's been able to gain maturity since his 2010 win at the age of 18.
Performance Flight
With one round left, Jared Neal of Alabama is in the driver's seat to win the USDGC Performance Flight. His 65 put him at a total of 32 strokes below his projected.
However, Kevin Tritten of North Carolina isn't throwing in the towel. Throwing a 69, which was 13 strokes better than his projected, Kevin has narrowed the gap to only 6.
"Let's play again tomorrow," Neal said to Tritten as they walked off the final hole.
Others hanging tough include: Roman Korol of Illinois, who is beating his projected by a total of 21 strokes; and Clayton Nash of Mississippi and Kyle Maute of Colorado are both beating their projected by a total of 16 after three rounds.
It took him a little while to get going, but from Hole 9 on Tritten beat his hole projection.
"The card was great. Everybody was relaxed. It wasn't even like we were playing in a tournament," said Tritten.
Nash, who was tied for second after Thursday, slipped to fourth with his 67, which was three better than his projection. He had high praise for Neal. "He makes it look like 65 is nothing," said Nash.
Prior to the Championship Neal sat down with Disc Golf Hall of Famer Lavone Wolfe, who also lives in Huntsville, AL, and they analyzed each Winthrop hole for the smartest landing zones. The preparation has evidently paid off.
Prior to the USDGC, The closest week-long tournament like this for Neal was the National Collegiate Championships, where he finished 18th.
Tritten is still within striking distance of Neal, but he's not worried about catching him. Sure, he'd like to shoot like he did on Friday, but he'll have fun regardless, he said.
The fun continued during the earlier Performance tee times as well.
Stephen Williams of Charlotte shot his best round on Friday.
"I messed up on fewer holes than I did yesterday," said Williams with a grin.
Though he's played Winthrop Gold before, this week has been the first time he's played between the yellow ropes. After Thursday's round he returned home to play with friends.
He said compared to Winthrop Gold, "It was like child's play."
Written By: Todd Harrell
Photograph By: John Whinery