AW2010: Tuesday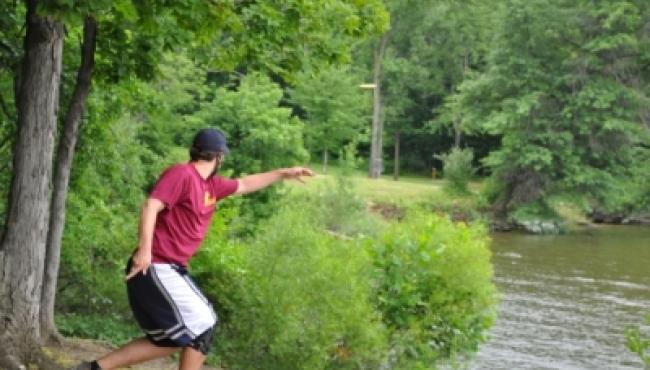 Six courses. Sixteen divisions. Over five hundred competitors focusing on the same prize – coming home a World Champion.
When that many people are pursuing the same dream, you know it's going to be an exciting week. The question is…who wants it bad enough?
Tuesday started off cool, windy, and cloudy, which was not expected. As the locals say, "if you don't like the weather, just wait a few hours. It will change." And right they were! The sun squeezed through the clouds and cranked up the heat around mid-day for an extremely pleasurable afternoon. Speaking of "cranking up the heat", Razor Ray Missy (MG1), Shawn Aschilman (MM1), Ken Glassman (MA1), and Scott McIntyre (MG1) each carded an ace on the first day of singles play. What a way to start!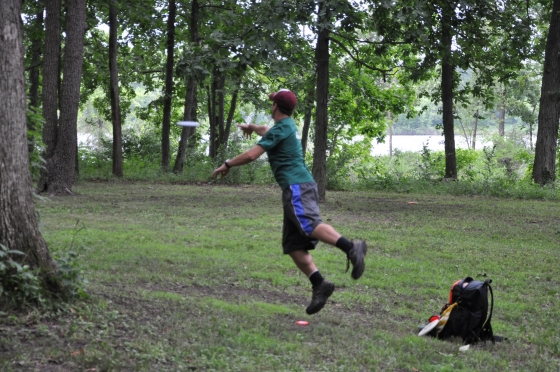 David Wiggins, Jr. (NC) and Chris Vandagriff (TX) are your current leaders in the Advanced division sitting at -14. Following close behind are Connor Thompson (SC) with a -12 and David Nelson (IL) with -11. Glassman's ace on #18 at Delaware put him at -6 for the day.
Bill Cary (MM1) is your leader in Advanced Masters. He'll be heading into day two sitting at -14. But don't look back, because Jack Hicks (FL) and Steven Parker (TX) are within two throws. Aschilman's ace on #6 at Upper Sandusky put him at -6 for the day, which ironically is where Glassman ended. Hmmm, a pattern perhaps with the ace makers today?
Not so fast…the pattern seems to be broken! Razor Ray Missey (OH) leads the pack of Advanced Grandmasters at -17. That ace paid off as he leads by one throw over John Schengber (OH). McIntyre's ace landed him in a comfortable position resting at -9.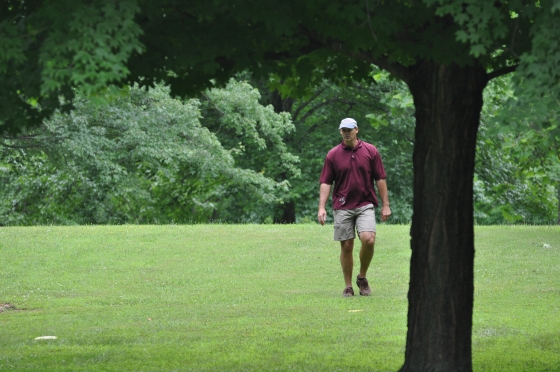 Chuck Hornsby (GA) has a 3 stroke lead over Bob Mohl (France) in the Advanced Senior Grandmasters division. First time offered Advanced Legends division is being led by Robert Burton (OR) with a -1. Bill Ball (SC) and Mel Jones (TN) join him in the competition for this historical Advanced Legends World title.
Sandra Frazer (IN) has a healthy lead of 4 and 5 throws over daughters Rebecca and Michelle. Look out, Mom! Kiralyn Brakel (MI) and Amber Senft (KS) want to jump past the Frazers as well. They, too, are 4 throws back.
Marie Fry (PA) is sitting pretty with a day ending in the single digits. She is at +9 with Dawn Osborn (OH) and Candy Roque (FL) 5 and 6 throws back, respectively.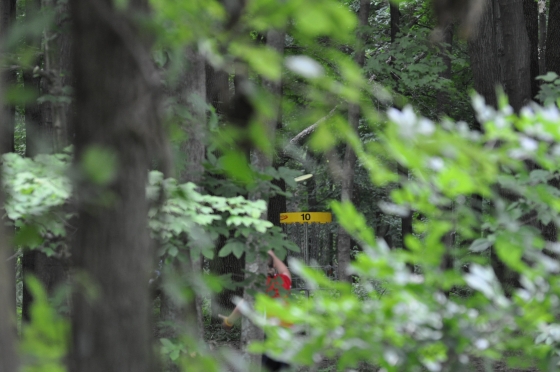 Advanced Grandmaster Women have an interesting scoring breakdown. They are almost all separated by 9 strokes from the place in front and behind them. Sue B Lande (CO) has the honors teeing off first tomorrow with a +16. Maureen Miller (OH) is 9 strokes back with a +25. Hope Zelinski (NJ) is 9 strokes back from Miller with a +34. Donna Dennis (MI) throws the irony out the window with a +42 which is only 8 strokes back from Zelinski. But wait! Penny Steele (VA) is currently in 5th place with a +51…yes, that's right; 9 strokes back from Dennis. Curious to know what tomorrow will bring!
The Junior division was split into two pools this year to accommodate the number of participants as well as choosing the right courses to showcase the talent of these young golfers. Boys 19 and under is led by Richard Wysocki (OH) with a -12. Grayson Dewey (IL) is at -11 and Dan Hastings (NY) and Joshua Morris (WA) both sitting at -9. Boys 16 and under is led by Seppo Paju (Finland), but only by one throw as Andrew Coggin (NC) also has his eyes on the title. Honorable mention, Danny Daniels III, aka Trey, (TN) raised money to fund his trip to Worlds by selling his discs he has been collecting. The selling price once all said and done? $864. Welcome to Worlds, Trey! Triston Covington (AZ) is the head of the pack for Boys 13 and under with a leaderboard reading -8. He and partner, Andrew Kaluk (MI), won Junior World Doubles for their division. Covington helped seal the deal with an ace during Sunday's round. Also wanting another title is Kaluk who is just one throw back from Covington. Joining him is Daichi Inoue (Japan) with another solid -7. We have a tie in the Boys 10 and under division between Robert Bryant III (OH) and Conall Stillwagon (TX) both at +36. Michael Fenner (ND) is currently in third at +55.
Your leader in Junior Girls 19 and under is Veronica "Roni" Diebert (OH) with a +41. Roni shared that she also plays disc golf on horseback. Her horse found one of her foam discs and took off running with it one day while circling the baskets. It is now a game they share galloping from basket to basket and putting from the saddle. Junior Girls 16 and under is currently being led by Paige Bjerkass (CO) with a +20. Bjerkass also won three World titles in field events. She will be one to watch! Junior Girls 13 and under competitor Katie Steinberger (OH) looks like she will take the title home sitting at +44. Last but not least, Kyra Colston (IN) carded a +62 for the day with Desiree Duran (AZ) currently in second.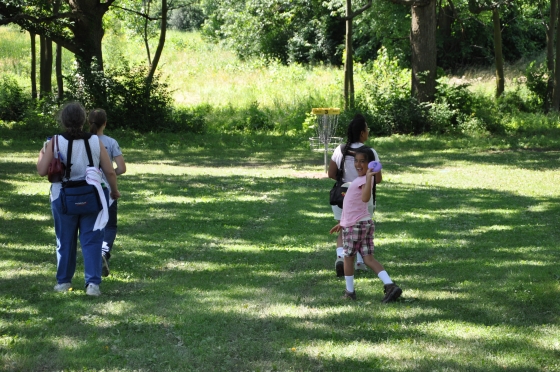 Today will begin day two of singles with the built-up anticipation of the "Great Shuffle" this evening. Competitors competing in "pooled" divisions will be shuffled and regrouped based on final scores after today's round(s). Watch closely as we bring you the latest news through our Worlds Media Page.  
---
Did You Know?
The Mayor of Bucyrus, OH visited the tournament yesterday and asked if someone can help him get the EDGE program into their schools
Firemen came to Bucyrus Park yesterday to learn more about disc golf. They were fascinated by the sport and were watching intently when a call came in for help. They left to answer the call (car accident - everyone was fine) and returned back to the course to continue watching. They will be coming back again on Friday to watch
Waldo has been found! Waldo, OH is approximately 8 miles from Marion, OH. There will be a picture posted in the next few days in the Worlds gallery to prove it
Fried Bologna sandwiches are a local favorite