Tight Races, Familiar Faces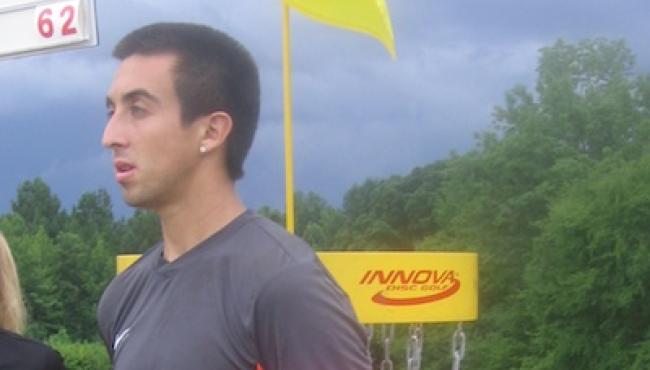 The Men's Open division remains almost anyone's to win at the end of the day on Friday, just before the semi-finals. After the 5th round at Nevin Park this morning, Paul McBeth and Michael Johansen were tied for first place at 53-under par, with Cale Leiviska was at one behind and Ricky Wysocki at just one behind him, making for one of the closest Disc Golf Worlds in history.  
Johansen is extremely easy going, and his calm demeanor seems to be a huge asset in the Worlds. He told me that it seems to really help that he can go home each night to relax and rest in familiar surroundings, living just 20 miles or so from many of the courses used during the 2012 World Championships at the edge of Lake Norman in Denver, North Carolina. He's also quite familiar with each and every course here and has a strong motivation to defend his home territory. It would be hard not to root for Johansen - he's extremely likeable with a carefree attitude and seems to always be cheering on his competitors.
Johansen really seemed to be on fire Friday morning and was excited to go into the second round at Bradford Park where he recently experienced a near perfect game. 
McBeth was running into trouble in the woods and Wysocki and Leiviska continued to play a solid game throughout both rounds on Friday. Leiviska has been called the "dark horse" by more than a few, and he's been right up in there throughout the tournament. Wysocki, at just 19 years old, has an advantage in being a young player who can withstand the tough climate as well as playing a consistent game throughout each round despite the extreme heat and humidity.
 McBeth had more trouble with the rock shots but was able to really pick things up in the second round. For Johansen, his luck seemed to turn in the afternoon round, having issues with not only with the trees, but the baskets themselves. On Hole #14, his disc went right into the heart of the basket, but somehow bounced right out, much to the dismay of the spectators. 
By the end of the second round, McBeth was in the lead at 64-under par with Wysocki in second place at two throws behind, while Cale Leiviska and Michael Johansen tied for third place at 61-under par. No matter how you look at it, this is a very tight battle that is expected to have a very dramatic finish on Saturday.
Over in the women's division, Sarah Hokom retains her six throw lead over Valarie Jenkins at 24-under par to Jenkins 18-under par, while Catrina Allen sits in third place at 13-under, and Courtney McCoy is in fourth place at 10-under par. 
Kenny Climo seems to have a lock on the Master's division. There is a reason Climo is called "The Champ," and it seems once he's determined to accomplish something, there's no stopping him. While Friday's scores have not been updated as of yet, it's been said that he's run away with the lead, with Barry Schultz and JohnE McCray in second and third respectively.
Saturday will be a day filled with drama, as we wait impatiently to find out which of the exceptional players will become the 2012 PDGA Disc Golf World Champions.
Written by: K.C. Dermody