Schusterick Leading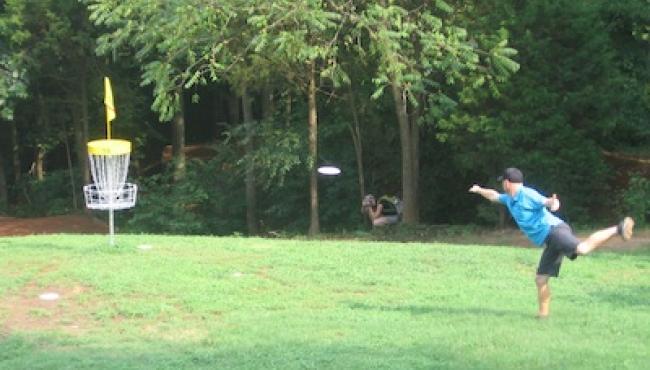 The 2012 PDGA Disc Golf World Championships are officially underway, with the men's open division taking to Renaissance Park to kick off the first round on Tuesday. The top card included four World Champions from the most recent four years, 2011's Disc Golf World Champion Nate Doss, 2010's Eric McCabe, 2009's Avery Jenkins and 2008's David Feldberg.
The men had it pretty rough with the temperatures in the 90s, and hot, muggy air to contend with as well as a wide variety of stinging insects becoming quite a nuisance when it came time to throw. McCabe's disc landed underneath a tree filled with wasps and he had the unfortunate task of trying to retrieve it without getting stung. He had a difficult day that seemed to improve as time went on, and ultimately ended the first round with a final score of 5-under par, placing him six strokes under the lead with lots of room to catch up later this week.
The heat may have affected Feldberg who is from the Pacific Northwest and seems to be having a difficult time acclimating to the humidity here in the south. He ended today's round with a score of 6-under par. 
Doss and Jenkins were neck and neck throughout; both making some rather extraordinary shots. By the end of the very long five hour round, they were tied at 8-under par and just three strokes out of the lead. 
The group had to stop several times to wait for the group in front of them to finish, and it gave many of the players and spectators a chance to catch their breath as well as to get out of the sun for a few minutes and into the shade of the trees.
I spoke with Nate Doss in regard to the heat, as the 2011 World Champion was born and raised in Capitola, a small beach town on the central coast of California, where the climate is not nearly as severe. I asked him how he was dealing with it, and he remarked, "There is really nothing you can do to prepare for this kind of weather," adding, "the most important thing for players to do is rest and hydrate in between rounds as much as possible."
Doss also said the fact that he's spent some time in the Charlotte area practicing in the high temperatures before the event began seems to have helped. Considering the outstanding shots he made today, it certainly shows.
One of the hottest pros this year has been Will Schusterick, and it may be no surprise that after the first round he is on top of the men's open division with a score of 11-par. Schusterick recently won the Fukui Open in Japan as well as the very difficult Dynamic Discs Glass Blown Open that took place amid horrific winds and even tornado warnings in addition to a number of other victories. 
In a three-way tie behind Shusterick for second place at just a stroke behind, is the 2011 PDGA Rookie of the Year, Ricky Wysocki, Devan Owens of Owasso, Oklahoma and two-time Memorial Champion, Paul McBeth. Wysocki has been mentioned as a possible "sleeper" player this year, and he's certainly got a good head start.
In the Master's Division, 12-time World Champion Ken Climo and JohnE McCray are tied for first place with both scoring 20-under par, while Patrick Brown and Jay "Yeti" Reading are just a stroke behind them at second place.
On Wednesday, the Men's Open Division rounds will take place at the Nevin Park and Bradford Park Disc Golf Courses, while the Men's Masters Division will head to Renaissance Park. 
Written by: K.C. Dermody