PDGA Champs Day 2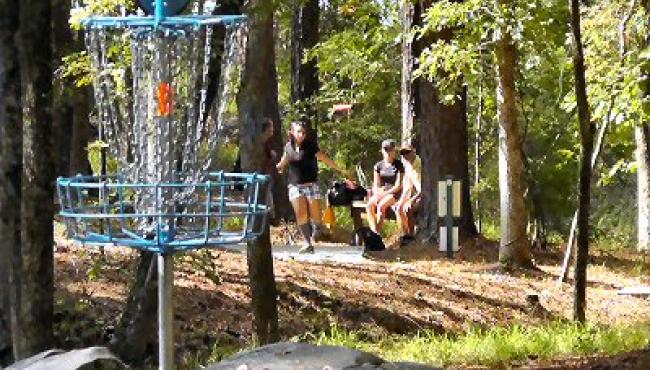 Steady Ed 8 provides a short break for these Pro Women.
Saturday started with a small weather scare in the region that fortunately didn't materialize at the IDGC all day. Under blue skies, puffy clouds and temps in the 80s the action was even hotter with new leaders in three of the four divisions. Only Heather Damron continued to pull away from the Advanced Women field staking an 8-throw lead over Sara Nicholson and 11 over Wendy Boutin. The battle for 4th is among youth, experience and world class coaching with Emily Landherr, Candy Roque and Leah Taylor within four of each other.
First day leader among Open, Avery Jenkins, hit a rough patch on Warner in the morning then bounced back on Steady Ed to sit in fifth just 3 back of Nate Doss and Ricky Wysocki tied for first. Dave Feldberg scorched a 51 on Warner, unofficial at 1068, followed by a slightly disappointing 54 on Steady Ed to sit tied for 3rd with Cameron Todd who shot an average round (for Cam) on Warner followed by a third best 51 on Steady Ed. The current top 5 includes four World champs along with the leading candidate for Rookie of the Year.
Ken Climo made a great bid to get back in the hunt with a course record 49 on Steady Ed unofficially rated 1069. There are eight players still ahead of Climo but only 6 shots to make up in the final 28 holes.
Page Pierce slipped a little on the Warner ceding the lead to Valarie Jenkins by 2 at mid-day with Sarah Hokom closing in from third. But Steady Ed proved Pierce's undoing with a tough round of 71 contrasted against rounds of 60 by Jenkins and Hokom. Stanhope made her move in the afternoon throwing her second round unofficially rated just over 1000 on Steady Ed bringing her within 2 of Hokom in second. Jenkins holds a 5-throw lead over Hokom. Valarie tossed this turnover shot from below the rocks in the basket for a deuce on Steady Ed hole 3.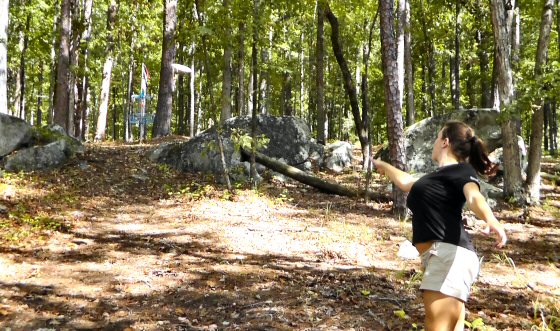 New Advanced leader Charlie Coleman jumped to the lead after a stunning 62 on the Jackson course in the morning rated unofficially at 1025. He tightened his grip on the lead in the afternoon shooting a 56 on the shorter Warner layout which was second best among Advanced men. He's checking to make sure his birdie putt on Warner 1 stays in.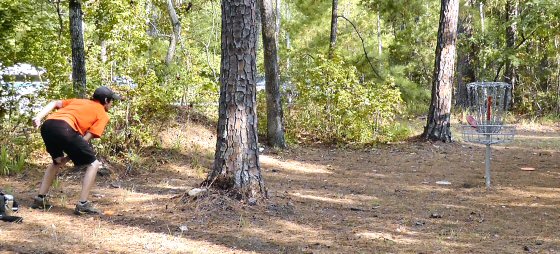 First round leader Bryan Gort continued to play well but sits 5 back of Coleman and 4 ahead of Willaim Taylor in third. Four players are tied just one more back. On Sunday morning, they will be competing on Steady Ed for a spot among the top players making the Final 10.
Two more aces today both in the Open division. Brian Miller nailed the blind 277 ft hole 17 on the Warner in the morning. Tony Ganger aced the 215 ft #14, easiest hole on Steady Ed. Ricky Wysocki shows the forehand route on hole 14 (see below) which normally is mostly over water. But with the drought, Steady Ed isn't putting up much of a fight on the water holes this weekend.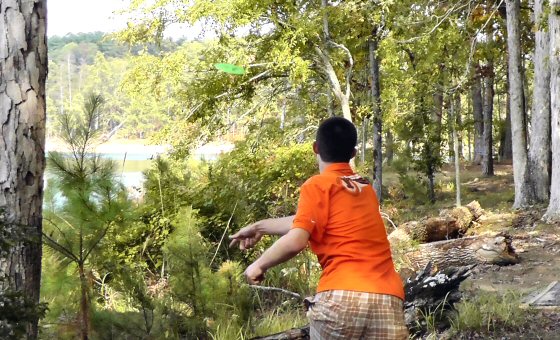 For more photos check out the PDGA Media link on Flickr. Watch for Live Scoring on Sunday.
Links
PDGA Championships Leaderboard
PDGA Championships Photo Galleries