Match Play Finals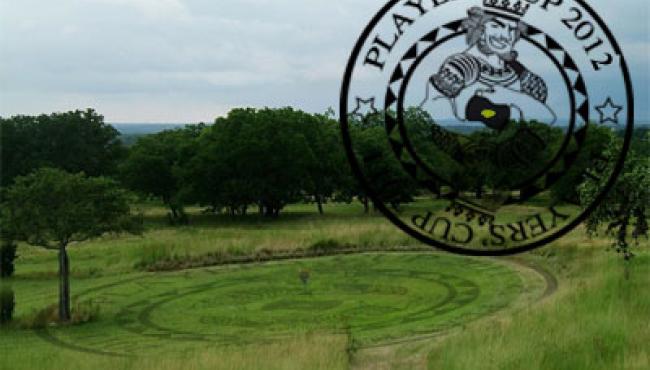 Live scoring and audio at 2pm Central/3pm Eastern of Leiviska vs Wysocki and Jenkins vs Allen
Historical Notes
In 2010, Nikko Locastro won the Vibram Open and the Players Cup.
In 2011, Nate Doss won the Vibram Open and the Players Cup.
In 2012, Cale Leiviska won the Vibram Open. He is in the finals.
Wysocki and Leiviska battled for the victory at the Vibram Open taking it to the final hole where Ricky Wysocki's upshot on hole 18 sailed wide while Cale Leiviska parked his approach to secure the birdie on 18 and the Vibram Open Championship.
Wysocki Advances:
Ricky Wysocki took a quick lead on Jeremy Koling, winning four of the first five holes before Jeremy (Big Jerm) found his groove. Jeremy came storming back with birdies on holes 7, 8 and 9 to pull within one. Wysocki got one back on hole 10 but missed his drive on hole 12 giving it back.
Six holes to play, Wysocki up one. A push on hole 13 and these two big drivers found themselves with exciting up shots on hole 14 over the water. Big Jerm went first and flew by pin high landing 40 feet past. Wysocki parked his upshot and forced a pressure putt which Koling put over the top of the pin. Wysocki up two with four to play. A couple of park job birdies on hole 15 takes us to the flick friendly hole 16 where Wysocki again lands his disc within 10 feet of the pin.
Jeremy Koling stepped up to the tee, knowing he needs to birdie to push and extend the match. He pushed his drive off to the left hitting an early tree leaving a 140 foot upshot to push the match. A gallant effort put his upshot two feet from the basket and Wysocki had secured his spot in the finals.
Leiviska Advances:
Dave Feldberg took the first drive of the morning and put it low and got a bad kick, ending out of bounds and giving an early gift to Cale Leiviska. Dave rebounded winning four of the next 10 holes with strong consistent play. He birdied to win holes 3, 6, 9 and 11. Cale birdied hole 8 so the lead was two after 11.
Cale watched Dave leave his drive well short on hole 12 and managed to hit the basket for the third day in a row, closing the lead to one. He parked his second shot on the par 4 hole 13 to even things up with five to play.
They both birdied hole 14 leading to the birdieable hole 15. Cale pulled his drive right opening the door for Dave to take back the lead. Dave pushed his drive left and the scrambling was on. Dave's second shot trailed left leaving a 20 footer for par. Cale laid it under for the easy par and Dave lined up for the putt for push. It hit center chains and squirreled its way through for what may have been the most dramatic cut through in Players Cup history.
They pushed on 16 and 17 with a par and a birdie and Cale parked his second shot on 18 - a 440 foot hyzer over the trees - to secure his birdie and his spot in the Players Cup Finals.
Steven Dodge
[email protected]