2 Down, 48 To Go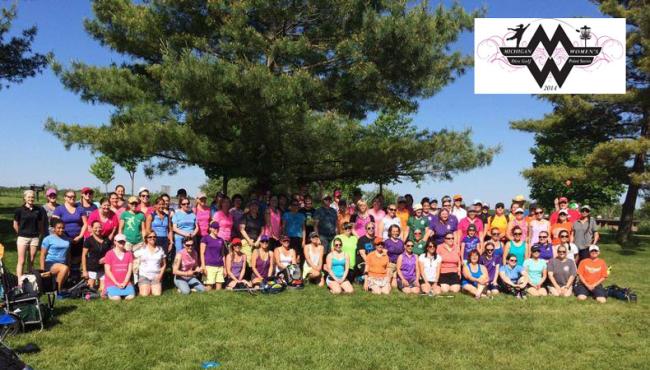 With each passing year, we see more and more signs that disc golf is growing in one of its most important demographics, women. More women are signing up for tournaments, playing in leagues, and getting out to disc golf courses in general. As with anything else, some places are making more of an effort to get women interested in the sport. And to no one's surprise, in those places, it's working.
Disc golf now has two states running women-only tournament series! Yes, series, not just a tournament or two. In 2013, the ladies of Northern California paved the way by hosting the very first women-only tournament series known as the Poppy Series. The women-only events involved were a big success, attracting bigger numbers than usual, due mostly to the camaraderie and friendly competition between the ladies. Knowing this, Michigan jumped on board and followed suit in 2014, creating the Michigan Women's Series.
"Starting the Michigan Women's Series was one of the best things to happen for women disc golfers in Michigan," declares Erin Oakley #17643, one of the masterminds behind the series. "While most of the girls, who were already tournament players, loved the idea knowing that that their divisions would be bigger at these women only events, it was really the new girls who had the most fun."
The Michigan Women's Series was a success right out of the gate as record numbers of women came out to these events throughout the summer. "A couple of players even told me that they never would have thought about competing in a tournament until they heard about the women's series", said Oakley. This included competitor Jean Mayes, who proclaimed "I probably would not be competing, if not for this series. I have met so many amazing people this summer. It is great to meet people who understand the desire to tramp through fields and woods throwing discs!" That statement is what tournament directors like Oakley work for. "When I heard those words from a first time tournament player, I knew I had accomplished my goal."
This Inaugural Michigan Women's Series included 7 events with players accumulating points determined by their place in the event. In their system, first place earned one point, second place earned two, third place earned three, and so on. In the case of a tie the points between the places were split evenly. To qualify for the overall series, players must have competed in at least four of the first six events. The woman with the lowest overall points total after the final series event is declared the winner.
This year's Michigan Women's Series concluded on August 16th at the J-Bird Women's Championships in Holt, MI. Winners included Liz Carr #31068 (Professional), Ashlee Jurski (Advanced), Michele Ramon #45363 (Advanced Masters), Rebecca Gilbert #29747 (Advanced Grandmasters), Nancy Wright #59790 (Advanced Senior Grandmasters), and Nancy Leat #58700 (Intermediate). Overall winners won either a mini basket from Innova Champion Discs or a new disc golf bag from Fade Gear along with other goodies from sponsors like Luna Disc and J-Bird. A separate prize of mini baskets were also given to three ladies: Ragine Hanson #41096, Nancy Leat and Ashley Jurski, all of which played in the first six events. The full point breakdown from the 2014 Michigan Women's Series can be found on their Facebook page.
While some are still working on getting women to show up at their local leagues, we know there are others out there ready to start up a women-only series of their own. According to Oakley, if you have the support, it may not be as difficult as you think. "Getting the series going was not that big of a struggle. I first contacted some well-known clubs around the state who have women that compete and asked them to be part of this series by running an event. They were on board and each club ran a women-only event to normal PDGA standards. Most of these events were able to use the PDGA's Competitive Endowment Program that offers a discount for the non-member and sanctioning fees because these events foster the growth of women players. With the lowers fees we were able to also keep the entry fees a little bit lower to make it possible for the women to play more events."
A huge thank you goes out to the Lansing crew: Matt Rinker and Keith Aten; Grand Rapids crew: Jen and Jeff Kuehle; Ypsilanti crew: Jessica Ferris and Mika Perez; Kalamazoo crew: Jennifer Sawyer and Larry Labond; and the Detroit area crew: Abbie Stoecker and John Minicuci for making this series possible!"
Oakley's favorite part of the series was seeing the new faces, making new friends, and seeing them all walk away with smiles. "It is such a different feeling when you attend women only events. You won't understand until you attend one, but the camaraderie is one of a kind!"
While the Michigan Women's Series has concluded, there are still two events left in the Poppy Series in Cali. Mama Bears will be held on September 6th in Truckee, CA, and the series finale, Monarch Migration, a few weeks later on September 27th and 28th in Sacramento. More information and current standings can be found on the Poppy Series website.