|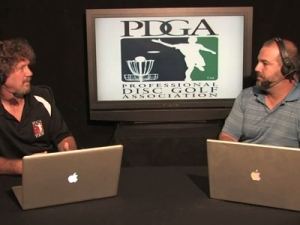 This show has come a long way to get to its 100th show. It all began in December 0f 2003 when original host Matt Ott and I made an hour long drive to the Tinicum Safari tournament. That show became a 19 minute instructional video on the rules and objectives of the game. From there the show moved on to cover tournament play from the Great Eastern AM Cup at Tyler Park in Newtown, PA to the Brent Hambrick Memorial in Columbus Ohio.
Up until December of 2005 the program was limited to air play on television access channels in Pennsylvania and New Jersey. In January of 2006 a demo was submitted to the Comcast and it was very well received and added to the channel lineup in five states NJ, Del, PA, MD, VA via the Comcast Video On Demand service and has been viewable to over 3 million subscribers ever since. Also in 2006 the program began to be uploaded to Youtube so that Disc Golfers around the world could view the program, since then the show had been viewed over 1 million times.
In the spring of 2010 Disc Golf Monthly began to be produced in HD and can be viewed in HD on Youtube. Currently Disc Golf Monthly on Youtube can be viewed on Apple TV on any HD television. At Disc Golf Monthly we are proud to have produced 100 shows and we look forward to producing the next 100.
Thank you for watching DIsc Golf Monthly the show that takes you one step closer to the exiting sport of Disc Golf.
Kevin McGorry
Executive Producer/Director
Disc Golf Monthly