Young Guns Gibson, McMahon Stay On Top Before GBO Final
Young Guns Gibson, McMahon Stay On Top Before GBO Final
Sexton shoots hot while Lizotte, Wysocki slip to third
Saturday, April 28, 2018 - 00:54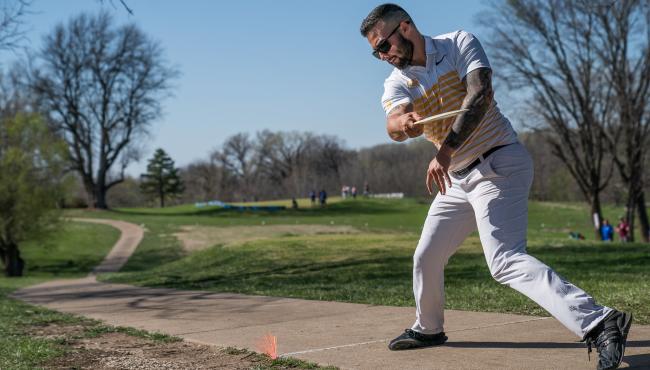 EMPORIA, Kan. – Disc golf is a game that can give as quickly as it can take. Never was that more apparent than during a raucous second round of the Dynamic Discs Glass Blown Open Friday afternoon at the Emporia Country Club, where each of the event's leaders experienced their own tumult.
Drew Gibson and Eagle McMahon ended the day with 7-under par 56s, leaving them tied for first place heading into Saturday's final round with 17-under par 109 totals. Simon Lizotte and Ricky Wysocki stumbled to third place with their matching 4-under par performances and sit at 14-under par overall, while reigning United States Disc Golf Champion Nate Sexton shot an 8-under par 55 hot round to climb five spots on the leaderboard and into fifth place.
Though he ended up falling two places in the standings, the early returns on the round pointed in Lizotte's favor. The German pro led a charmed life through the front nine, mixing some luck – his putt high into the chains on hole 5 bounced around before sticking for birdie, and his aggressive downhill drive on the 555-foot 8th managed to find a sliver of fairway to stay in bounds – and making his own with improved putting to take a commanding lead.
He was at 17-under par through hole 12 before he came crashing back to reality: His right-side drive on the OB-lined 13th never made it back in bounds, and he sailed his second attempt outside the lines, as well. By the time he tapped in for a triple-bogey 6 he was once again tied with McMahon and Gibson.
"The fire was rained on, somehow, and then I just parred the rest of the holes," Lizotte said. "…I gave the whole field basically three strokes on one hole which was kind of annoying, but I wasn't like, 'Oh god, what did I just do?'"
McMahon, who two-putted three times in the first 10 holes as winds whipped up to 15 mph, took that three-stroke swing from Lizotte on 13 and converted into a five-shot shift with the highlight of the tournament: a 380-foot forehand from hole 14's fairway that skipped into the chains for eagle. It was yet another emotional swing during a round replete with them, and the Colorado pro had seized an opportunity.
"Full connection, low line, skips right underneath the basket, up and in," McMahon said. "And luckily the basket was there, because if it wasn't there it was probably rocketing out of bounds.
"It just felt like – of course I was surprised and happy, but – I hate to sound like this – but it's about time it happened," McMahon continued. "I haven't had one of those shots in my life, like a throw-in eagle. It's always off a big drive and a putt, but nothing substantial like that."
That Rocky Mountain high was soon replaced by another shaky situation. McMahon, driving for the green on hole 16 that he's only landed once in his career, skipped off the water and left his PD2 perched on a rock just short of the island. The spotter gave him the green flag, but when the group reached the lie it deliberated for more than two minutes. Lizotte said McMahon should be given the benefit of the doubt, while Wysocki and Gibson felt the shot was surrounded by water and was out. McMahon yielded to the group and, after his provisional shot from the drop zone was counted, took a bogey.
"I'm not thinking about it," McMahon said. "I'm not thinking about – it's the group's decision, and two out of the three people said it was out of bounds, so I just gotta be OK for what it was. Honestly, if I took it safe I would think that it would affect them mentally, or whatever. I just think, fine, whatever – it doesn't matter. It's just one stroke. Actually, it could have been two strokes, but who cares?"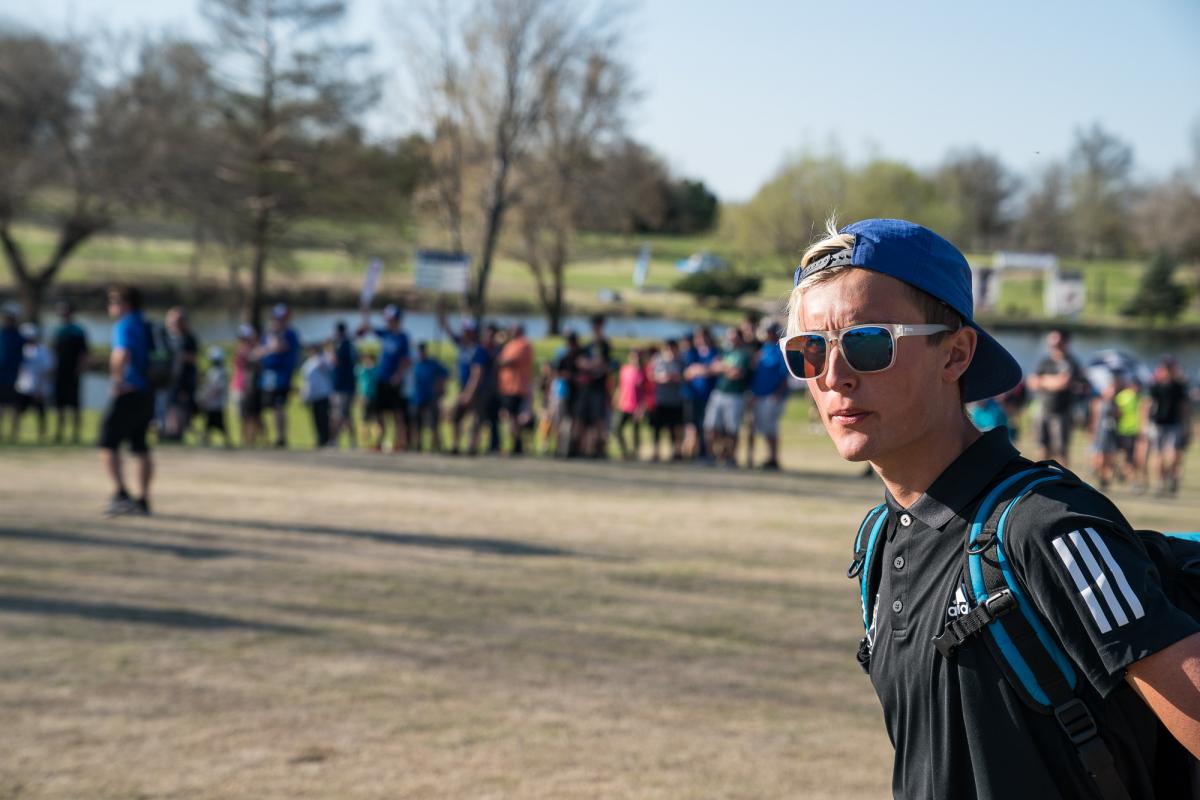 Still, McMahon displayed maturity despite the adversity, recovering from the mishap with consecutive birdies to close the round and cement his status on the lead card for a second straight day. That finish, and his level head among the round's other roller coaster moments, left him reflecting on the growth he's made since his early career.
"Looking back on young, naïve Eagle – young little Eagle – it probably would've affected him," McMahon said. "He probably wouldn't have bounced back or had the mental fortitude to continue through the round. Being in first place – a lot of the stuff happened today that could easily get me down or cause me to maybe push a little bit harder than I should. I stuck to my game plan and just chipped my way through the course, and at the end of the round it put me in a phenomenal position going into tomorrow."
Through all of the ups and downs, Gibson remained steady. The 22-year-old often outdrove the rest of the card, opting for power flex drives or hyzer flip-to-turnovers to take advantage of the Emporia Country Club's long fairways. Though he mixed in two OB shots in the middle of the round, he was generally the most accurate of the group: He led the lead card in both fairway hits (84 percent) and circle 2 in regulation (83 percent) and kept a clean sheet on the back nine to stay on top of the leaderboard.
"I only threw out of bounds once the whole first round, and I threw out of bounds twice in a row, so I was like, 'Alright, let's just keep it going,'" Gibson said. "'No one's playing that good, it's windy. If you just finish strong, you'll probably be in the lead or right there.' And I ended up being right."
For Sexton, the round came in his typical workmanlike fashion. He hit a 40-footer for birdie on hole 1 to start in fine fashion, then hit 94 percent of his attempts from inside 33 feet. He continues to do most of his damage on the Country Club's second nine, where he is 9-under par for the weekend.
"Overall I guess I was pretty solid," Sexton said. "I was happy with it for sure, but I wouldn't say it felt like a hot round. But that's often how it is with a lot of OB and a windy course."
With one penalty stroke and a missed putt to his detriment, Sexton was confident he could improve on his showing and make a push for the title on Saturday.
"I could definitely shoot four shots better than I shot today, so yeah, definitely," he said. "It's gonna take mistake-free golf for me, but I can absolutely shoot four or five better than today in the same conditions."
Gibson, who has 10 career victories to his name, enters the final seeking a signature win. He knew what was at stake heading into one more dance with the Country Club, but he said he would do his best to remain focused on the task at hand.
"Anything can happen out here," Gibson said. "No one's safe, no one – you've just got to play your game…You've kinda gotta focus on just yourself. That's all you can control. So going into tomorrow that's what I'm trying to focus on – me throwing my best shot, me making my best putt, and just – if I win, I win. If someone plays better than me, then kudos on them."
Lizotte, meanwhile, said he was ready to let it rip. The opportunity to chase from three shots back allows him more of a chance to entertain the crowd, and the experience differential between he and his younger competitors was also on his mind.
"Eagle and Drew leading?" Lizotte asked. "They can fall apart. We'll see. It's possible."
The Open lead card tees off at 3 p.m. local time Saturday, with real-time scoring and statistics available for all groups at UDisc Live.