World Rankings 2010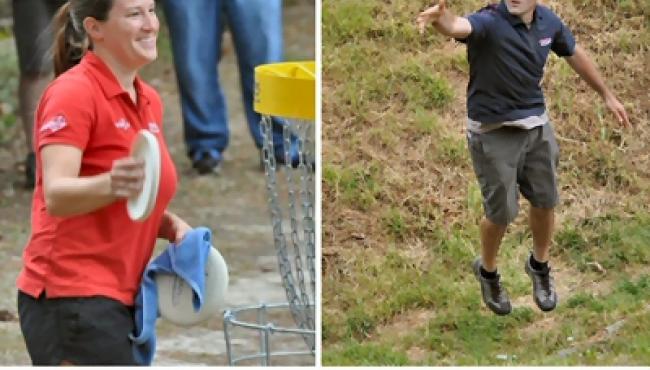 Valarie Jenkins and David Feldberg top the Yearend 2010 PDGA World Rankings
It was a close battle all year long between Nikko Locastro and David Feldberg. Feldberg squeaks past Nikko by two hundredths of a point to finish on top of the yearend PDGA World Rankings. Nikko had six hundredths of a point lead in the December World Rankings and only few events were processed since then. However, we calculate the yearend World Rankings a little differently from all of the others during the year.
The World Rankings updates during the year have a weighting factor that values more recent events a little more than older events used in the rankings. For yearend rankings, those weighting factors are removed so no event gets additional weight if it's more recent. That slight difference was enough to put Feldberg on top for yearend rankings. But Locastro will return to the top by five hundredths of a point when the first 2011 World Rankings to open the season are published just before the Memorial. We're talking a difference of two missed putts separating these two elite Champions. If either of them made two putts at the right time during the season, they would be tops for both December and Yearend rankings.
Even with Sarah Stanhope's big win at Worlds, Valarie Jenkins put together another excellent performance this season to top the yearend PDGA World Rankings for women. She finished 0.21 points ahead of Stanhope for these overall yearend rankings but was 0.45 points ahead using the time weighted calculations used for the December rankings.
Yearend 2010 PDGA World Rankings
We've been doing the World Rankings for five full years now. Here's a table showing the seven players who have been in the top 10 for their gender in all five years.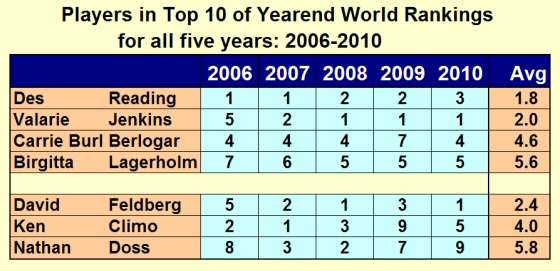 Des Reading leads the way among men and women with the best average finish position, a little better than second. Valarie Jenkins will need to finish ahead of Reading in 2011 to sneak ahead in the six year average. That sets the table for their ongoing rivalry heading into this season. Berlogar and Lagerholm deliver consistent high level performances year after year. Others have finished in the top 5 but have moved on (Tschiggfrie, King) or are newer on the scene (Stanhope, Carr). Jenkins has the lowest point total of all players at yearend with a 1.26 at the end of 2009. That means almost winning everything that counted that year.
Feldberg has been in the top five all five years and has had a pretty firm grip on the top spot. Time will tell if his wider array of interests in moving the sport forward thru his educational and PDGA Board efforts distract from his high level of play. The upcoming young stars like Locastro, Ulibarri and Orum are also making their moves. Ken Climo has continued his stellar play over the years. Anyone a bit ahead of him in a tournament will continue looking over their shoulder. Climo has the lowest point total for any year among the men at 2.30 for the end of 2007. Nathan Doss has shined during stretches in this five year period and overall continues a high level of play. All three of these men were dominant from 2007 thru 2008.