Women Pour into Denver for RMWDGC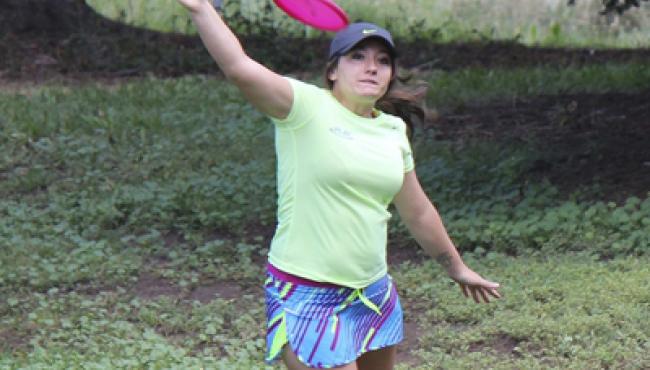 Playing in very damp and rainy conditions, 115 women disc golfers from 14 different states showed up in rain-soaked Denver for the 3rd Annual Rocky Mountain Women's Disc Golf Championships on September 14 and 15.  The tournament was played at both the Colorado Heights University Disc Golf Course and a special temp course at Ruby Hill Park.  The ladies were able to throw their discs into 18 powder-coated in pink DGA Mach-III baskets on the temp course at Ruby Hill.  The Open Women's division had 13 ladies competing for the champion trophy.  3-time World Champion Valarie Jenkins collected the first place prize money of $2,225.00.  Paige Pierce ($1,560.00), Sarah Hokom ($1,110.00), 2012 RMWDGC champ Catrina Allen ($815.00), and 2011 RMWDGC champ Paige Bjerkaas ($705.00) rounded out the top 5.  Des Reading won the Master's division trophy and $1,070.00.  Colorado's own Peggy Berry took second in the Master's division and claimed $640.00 for her great play.
Denver's Christy Mullins won the Advanced Women's Division by an eight stroke margin.  Noemi Bjerkaas became a two-time RMWDGC champion by winning a very competitive Advanced Master's division.  SueB Lande three-peated in the Advanced Grandmasters division.  Sarah Winfrey won Intermediate and Sammie George was crowned the champion in the 37-player Recreational division.
Seventeen junior girls came out and played for titles in three Junior divisions.  Kona Panis won the Under-16 division, Sisters Micaela and Meci Klein won the Under-13 and Under-10 divisions.
Krista Vohs, from Centennial, Colorado, recorded the first RMWDGC ace in history by carding a 1 on Hole 6 at the Colorado Heights University Disc Golf Course during her second round.
Over 140 caddies donated $25.00 each to serve as volunteers for the event!  Title sponsor of the RMWDGC was FADE Gear, Colorado Heights University, the Mile High Disc Golf Club, DGA, Prodigy Discs, Vibram, The Wright Life, Keen, The Foothill Flyers, Dynamic Discs, CherryBomm, Disc-Diva, Fly Green Disc Golf, Denver Sign and Banner, and Phenix Disc Sports were just a few of the 55+ sponsors that made this event possible.