Win a Trip to the Memorial
Win a Trip to the Memorial
Thursday, September 26, 2013 - 08:54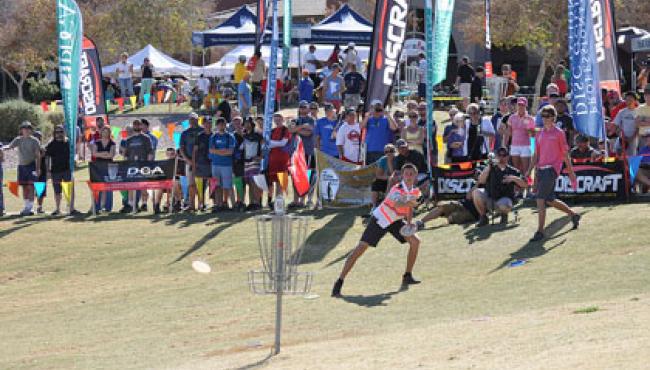 DiscGolfPlanet.tv will celebrate its 4-year Anniversary with the richest giveaway to date during the live Internet broadcast of the 2013 United States Disc Golf Championship starting on Wednesday, October 2nd and running through Saturday, October 5th. 
"We were looking for a way to give back to our dedicated and loyal DGPtv Liftetime members," explained John Duesler, Principal of DiscGolfPlanet.tv. "The idea to sponsor a player's travel to the prestigious Memorial Championships was floated last year, but we decided not to do it. But when it came time to show our gratitude towards our almost 2700 members, we knew this was the time to launch the giveaway," Duesler said.
With round-trip airfare and lodging at the beautiful Fountain Hills Holiday Inn in the offing, one lucky DGPtv Lifetime member will be heading to the Senora desert during the best time of year. It just so happens that the same February 26 to March 1 timeline is also when the 2014 Memorial Championships presented by Discraft will be happening too. Players are responsible for securing their own registration to the event if they plan on competing. Demand is high for this very popular event, so early registration is suggested.
"We have been going to this event since 2010, and it truly is one of the top events in all of disc golf," Duesler continued. "The combination of the Vista del Camino course in Scottsdale, and the Fountain Hills course are a great way for anyone to launch their disc golf season. By providing airfare and lodging to a lucky DGPtv member, we will make it much easier for one disc golfer to enjoy the tournament." Other prizes to be given away during this year's USDGC broadcast include:
Discatcher Portable Disc Golf Target
GripEQ A-Series Disc Golf Bag
Free Pair of Keen Footwear (any style)
Innova Champion Discs
DGPtv VIP Pack
Disc Golf Apparel
Many Other Prizes...
To become eligible for the giveaway, you must be a DGPtv Lifetime Member.