Rocket City Women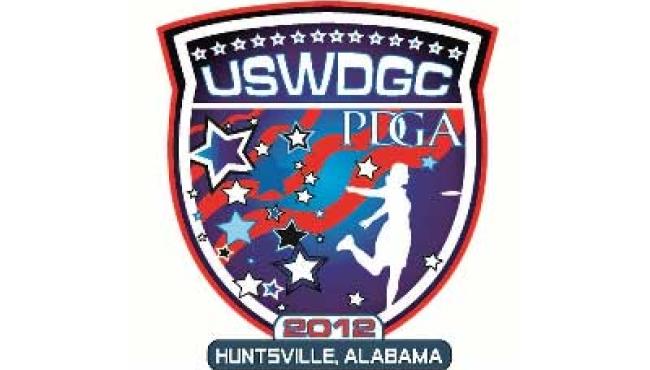 Day two at the United States Womens Disc Golf Championships launched beautiful and cool in Huntsville, Alabama today.  Although the mercury would reach an altitude in the low 80s, it didn't feel like it on the Brahan Springs DGC with the nice breezes and low humidity of only 50%.
The ladies are having a blast as TDs Chris Jaskolka and David Hunt, tournament staffers Chris Pierce (PDGA State Coordinator) and Kari Morris, and a galaxy of other volunteers from the Rocket City Chain Gang (and of course Mom and Old Man splashed down from Peoria) are getting it done and getting it done right.  The courses are well groomed and well marked with plenty of water coolers providing for great disc golf, and the other tournament amenities are simply out-of-this-world.  Each player received a stellar player's pack, a great lunch is provided each day between rounds, there are tons of CTPs and other prizes going out each round (yesterday even the losers on each card were treated to individually wrapped professional gourmet cupcakes that were rumored to contain a full stick of butter each, and were likely about 12,000 calories) and there are two, yes two, full player's parties within the tournament orbit.  On top of all this, the great early fall weather here in Alabama this weekend is simply icing on the cupcake!
2011 Rookie of the Year, and Ladies Pro Open leader, Catrina Allen served notice that she intends to be the 2012 National Champion by shooting the hot round 47 in the morning and then shooting an even hotter round of 45 in the afternoon that even included a 4 on Hole 10.  That's right, she had a 4, which means she carded ten deuces that round!  2011 World Champion Paige Pierce shared the hot round honors with Catrina in the morning also shooting a 47, and then although she ran into some trouble on the seemingly benign 291 ft. Hole 3 shooting a 5, she was still able to follow up her morning's performance with another 47 due to her lack of any other hole score above a 3 and her nine deuces!  This places Paige in second place seven throws behind Catrina.  Only a single throw further back in third place is current World Champion Sarah Hokom who shot a 50 in the morning round, and then improved her score by two with a 48 in the afternoon round, shooting a single 4 on Hole 18 but carding 7 dueces across the rest of the course.   Five-Time World Champion Elaine King rounds out the lead group in fourth place four throws behind Hokom having shot a sweet bogie-free morning round with 6 birds to come in one throw off the hot round pace with a 48, followed by an even par round of 54 in the afternoon.  2010 World Champion Sara Cunningham (nee Stanhope) leads off the second card 2 throws further back in fifth place, Brittany Blair is two throws back in sixth place, with Liz Lopez and Three-Time World Champion Val Jenkins another throw back tied for seventh filling out the card.
For the Masters ladies, Three-Time World Champion Des Reading is trying to run away with it holding eleven throws on her competition going into Sunday's final round.  Sheila Kirkam is in second place with Barrett White another throw back in third place.  Local player Karen Jaskolka shot the hot round 52 in the fourth amongst the Masters to jump up off the second card and fill out the lead card in fourth place.
In the Grandmasters action, Sandy Gast holds on to the second largest lead in the competition going into the division's last round of 18 holes holding a 23 stroke advantage over second place Susan Macaluso and another throw on third place Suzette Simons.  This will be a battle for second place tomorrow morning.
In the Advanced Amateur Division your PDGA Memberships Manager Sara Nicholson shot an even par 54 on the morning round to take the lead and matched it with another even par in the afternoon to increase her lead to seven throws over Wendy Boutin in second place.  Christine Barker is another two throws back in third place with Holly Finley and Victoria Pruitt tied for fourth another three throws back with Holly getting the nod onto the lead card with her 55 in the afternoon to Victoria's 57.  Close enough to get into the act by moving up in the standings in the final round are Krystin Nowicki and Kristen Chandler in sixth and seventh place, each just one additional throw back from the place in front of them.
In Advanced Masters it is a two horse race with Michelle Jones leading by three throws over Candy Roque in second place.  Eleven throws further back is Jennifer Brooks who holds seven throws on the fourth place Lisa Gallagher.
The Advanced Grandmasters contest is all but over with SueB "The Massage Lady" Lande shooting a very nice 3-over and 5-over today to increase her lead to 32 throws over Tracy Lacue in second place.  (Note: Our most sincere thanks to SueB for using her skills on the Tour Manager who had pulled his back moving a heavy crate in the cramped confines of the tour trailer.  SueB - it was 10 minutes of absolute torture, but it was certainly well worth it for the resulting ability to actually be able to walk again, thanks a million!)
In Intermediate, Sara Senkbeil shot the only sub-60 round for that division so far in the entire competition carding a very nice two-over 56 in the morning round.  She holds a 12 throw lead over Kathy Yerby who holds an 8 throw lead on Kristen Brown in third place.  Kristen holds two throws on Nicky King so there may be a battle for third place.
The Recreational division may also produce a battle tomorrow in their final round.  Robin Black leads by only four throws over Aleux Beverly McFarling in second place, who holds only two throws on Christine Coronel in third.
A special word on the only Junior playing at the 2012 USWDGC.  Victoria Scott of Charlotte, NC may be in the 10 and under division, but she's put up some pretty decent scores considering her age and experience.  Watch for her on the tour in the future.
On Sunday the ladies move over to the tough technical course at the Redstone Arsenal where all divisions but FPO will be decided in the fifth round.  The round will get under way at 9AM Central Time, so keep an eye on the 2012 USWDGC PDGA scorepage for the live scoring button as we bring you some of the fifth round lead groups scores hole-by-hole as they are played, and then the Final 9 live scores for the FPO leaders as the 2012 Women's National Champions are crowned!