USDGC: Zoo Town Open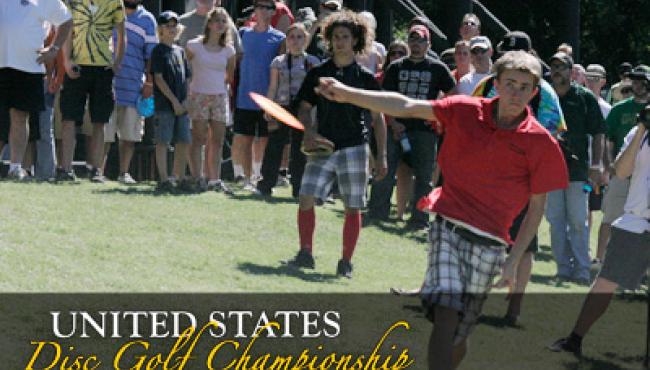 USDGC: Missoula Qualifier Adds More Pros
For the past six years the Zoo Town Open has been Montana's most well known disc golf celebration. And, this year there was plenty to celebrate. Not only was the ZTO deemed an A-Tier for the first time, but it was a USDGC qualifier as well.
At the end of the June 11-12 tournament in Missoula, Mont., 13 players (4-way tie for last spot) gained entry to one of the biggest disc golf parties, the 2011 United States Disc Golf Championship.
They include: pro Ben Squires (-13), pro Dana Vicich (-9), pro master Shane Anderson (-7), pro Tom Stephens (-6), pro Jesse Garcia (-5), pro Jered Ogren (-5), pro grandmaster Jon Graff (-5), pro Tim Vache (-4), pro master winner Ron Pannesi (-4), pro Brian Bjortomt (-3), pro Harley Robinson (-3), advanced Clyde Murr (-3), advanced master winner Craig Nielsen (-3).
Back-to-back open division winner Nate Sexton was exempt from qualifying as was tournament director Christian Dietrich, who was runner-up
The ZTO was the Region 5 qualifier, which includes Montana, Idaho, Washington, Oregon, Alaska, and Wyoming. Disc Golf United's Performance Leaderboard, adapted specifically for 2011 USDGC qualifying, is conducted separately from the tournament standings.
Look to the insert below to see how 2011 USDGC qualifying works.
Qualifying Method Explained:

The 10 disc golfers with the best "Performance" from each regional qualifying tournament receive invites to the 2011 USDGC this October.

During regional qualifiers, each player with a PDGA rating of 850 or higher who plays the same course layout as the open division is eligible for USDGC qualifying. Eligible players receive projected scores for each round through a combination of their player rating and the course's layout. After each round, players are ranked regardless of division according to how their projected score and actual score compare.

For a full listing of qualifier events and Performance Leaderboard results, visit the Regional Qualifying Results page.
Limited to only 100 players, the tournament filled in 16 hours.
"This is the tournament to come to," said TD Christian Dietrich, who was organizing the event for the fourth time.
Along with the excitement of attending Montana's first A-Tier, players were also interested in taking a shot at The Championship, he said.
"It's definitely in the back of people's minds," said Dietrich.
He said Craig Nielsen of Hillsboro, Oregon traveled more than 500 miles to take his shot. His trip wasn't in vain either. After initially missing the cut, he was awarded a spot along with the three others he was tied with when final calculations were made.
Needless to stay Nielsen was pleased with the news.
"I had a great time. I'm especially stoked that I qualified for the USDGC … It is a dream come true," said Neilsen in an email.
Nielsen was one of only two amateurs to make the cut from the ZTO - a contrast from earlier qualifiers where a strong showing of am's resulted.
Dietrich chalked that up to the tournament's final round at the Ft. Missoula temporary course, which had played tougher than expected. After giving the course a Winthrop Gold style flavor with landing zones and lots of OB - conditions not so favorable to the less skilled – am performances dropped.
No matter which divisions emerge from qualifying, Dietrich urges anyone who has the chance to check out the USDGC. After playing in The Championship three times, he's developed an appreciation for it.
The course, he says, is hard to forget with its demanding lines and swift punishment for any mistake.
"You've got to go see it because those fairways look a lot wider on TV (Web coverage) than when you go down there and see them," said Dietrich, whose best finish was 37th in 2008.
As a highly rated player (1020) Dietrich understands why pros have been slow to embrace the performance based Championship. For 11 years the USDGC attracted the best disc golf talent in the world. Just being able to qualify for the tournament was an honor, says Dietrich. So he sees how this year's change can be hard to swallow.
Still, Dietrich has an open mind about this year's Championship and he believes others should, too. He said that many pros are under the wrong impression that lower rated players have the advantage when it comes to beating projected scores. Dietrich believes it's about more than just player ratings. Once amateurs meet Winthrop Gold face to face their true skill level will be revealed, he said.
And, when it comes to the thousands of feet of yellow rope and hordes of other obstacles,"I can't imagine an amateur player playing that much above their rating," Dietrich added.
It's anybody's game, well, as long as you've got a rating of 850 or higher.
Montana will surely be represented, possibly some players from Missoula. The city craves disc golf according to Dietrich and others. After several years of producing strong events like the ZTO, more than just disc golfers have been taking notice.
The local newspaper printed a bigger headline and picture of the disc golf tournament than the Dallas Mavericks winning the NBA finals. Granted, Dallas, Texas is a long way from Missoula, but that's pretty solid for disc golf. In addition to the newspaper coverage, two local TV stations also aired spots on the tournament.
Dietrich, who now lives in Helena, said the combination of Missoula being a college town (University of Montana) and having the courses close by has helped interest in disc golf take off. Plus, they've been generating good vibrations throughout the city from The Zoo Town Open for several years now.
Those good vibrations can be felt all the way back in Rock Hill, S.C. And come October, much of disc golf will receive that exact feeling yet again at Winthrop Gold.