The Comeback Cup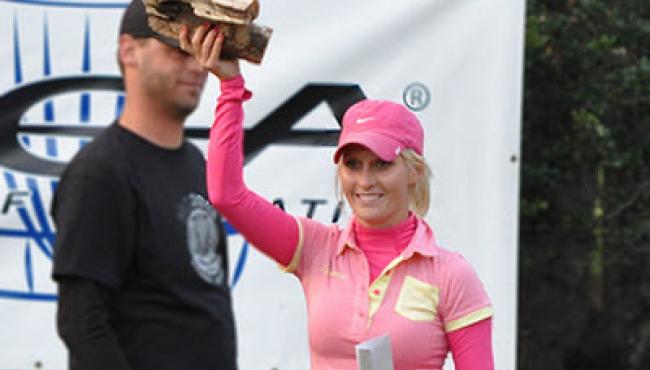 After 3 days of watching the best players in the world at the Steady Ed Memorial Masters Cup, I can tell you with confidence that DeLaveaga is truly one of the most challenging and brutal courses in the world, both mentally and physically. At the same time, it's also one of the most awe-inspiring. Everything about DeLa  is so close to aesthetically perfect that it could and should be considered a work of art. It's beauty is paired perfectly with its difficulty, and the combination brings out the best in those lucky enough to get to play it.
How difficult is DeLaveaga? A quick look at some key statistics will tell you. This year's layout was reduced from the standard 27 holes down to 24. That means fewer holes to make mistakes on, but it also means fewer chances for birdies. The unofficial average rating for an even par over the 3 days of competition was 1013. Yes…you read that correctly. Shoot par on this beast of a course and you've thrown well over a 1000 rated round. Another interesting fact...there has never been a Santa Cruz local to win the Open division at this tournament.
The Masters Cup is the 3rd event in the 2013 National Tour Elite Series, the points totals of which have already been updated to include the results from this tournament. By the time the final round started, players from all divisions had experienced a mixed bag of scores over the previous 2 days. Good, bad, great, terrible, and everything in between.  The Open Masters, Open Women, and Open division all had lead cards that were extremely close, and they would all remain that way through the last few holes of the tournament.
Patrick Brown started the final round with a single stroke lead over Micah Dorius, with two veterans right on their heels, Ken Climo and Jonathan Baldwin. Only a few holes in, Baldwin was already making big moves. He and Brown spent most of the round either tied or within a single stroke of each other. And if that wasn't exciting enough, the fight for 3rd was taking place in much the same manner as Climo and Dorius duked it out the entire round.
Baldwin led by 1 going into the final hole, after Brown took a bogey on the previous hole. Brown left himself inside the circle after a great drive giving him a chance to tie it up and force a sudden death playoff with a 25' birdie putt. Brown is an amazing putter, but he missed it this time, giving Baldwin the opportunity to clinch the victory with a 25' putt of his own, which he promptly canned. Dorius ended up in 3rd place after sinking an amazing 60' putt to take the only birdie on the final hole, edging out The Champ by a single stroke.
By the time the Open Masters division was complete the Open Women's lead card was nearly 2/3 of the way through the round. Val Jenkins started the round on top of the card with a 3 stroke lead over Catrina Ulibarri and a 4 stroke lead over Paige Pierce, both of which had meltdown rounds on day 2. After 12 holes, Catrina had tied Val for the lead and by the end of the 18th she was in the lead by 1. Paige was also right in the mix after shooting 1 down on holes 10-19, where Val shot 5 over.
It was anyone's tournament to win going in to the last hole, with Catrina still ahead by a single stroke. She played the hole wisely with a safe hyzer that would give her a manageable chance to lay up for par. None of the women had much of a chance at a birdie and Catrina was able to drop in a gimme par for her first ever victory at the Steady Ed Memorial Masters Cup.
Meanwhile in the Open division.....
If there's one guy you don't want on your card for the final round of a big tournament, it's Paul McBeth. Prior to the start of the round, he seemed to be in high spirits. Only a few throws separated him from the leader, Philo Brathwaite. Joining them would be Nikko Locastro in 2nd place and veteran Steve Rico, who started the round tied for 3rd with McBeth. While warming up, McBeth said that he would be tied for the lead by hole 10. That turned out to be incorrect, but not by much. Either way  it was a noteworthy comment in my mind. He said it with the same level of sincerity as when he told me after his record-breaking round at The Memorial in Arizona, "I knew I'd have to shoot in the 30s to catch Will [Schusterick]." He plays the game with a genuinely admirable level of confidence and self-belief, all while remaining humble and soft spoken.
Philo held his lead through most of the round and had some impressive birdies, many of which he took by himself while the other players took pars.  Unfortunately for Philo, McBeth never really slipped up. He was tied for the lead with Philo by the 18th hole, which they both ended up taking a birdie on.
Hole 19 proved to be the breaking point for Philo. McBeth left himself a 25' putt for birdie while Philo hit a tree half way down the fairway and kicked into the woods. Philo chained out a 75' jump putt that would have saved par and had to watch as McBeth stepped up to possibly gain 2 strokes on him. McBeth uncharacteristically missed the putt and would take a par. The gallery started heading to the next hole while everyone tapped in their putts. Somehow….Philo's tap in bogey….didn't stay in. From inside of 10', his bogey putt spit out, forcing him to take a double bogey.
McBeth lost 1 of the strokes back to Philo on the next hole, but by then it was too late. They both took pars on hole 26 and 26a, giving McBeth the ability to throw a safe forehand off the tee pad of the final hole, AKA The Top of the World, and drop in a parked putt for par to win his 2nd Masters Cup in a row.  
The final day couldn't have been much more exciting. A huge and well deserved thank you goes out to all the volunteers who helped make this event so amazing. That being said, it should also be noted that behind every great tournament sits an even greater Tournament Director. TJ Goodwin and his team deserve a standing ovation for running this gigantic event so well. Great work Nor Cal!
The next National Tour Elite Series event takes place at the International Disc Golf Center only a few shorts days away starting this Friday. Tune in to pdgalive.com for live scores and @PDGAlive on Twitter for live hole-by-hole coverage. See you in Augusta disc golfers of the world!