Texas Rough Drivers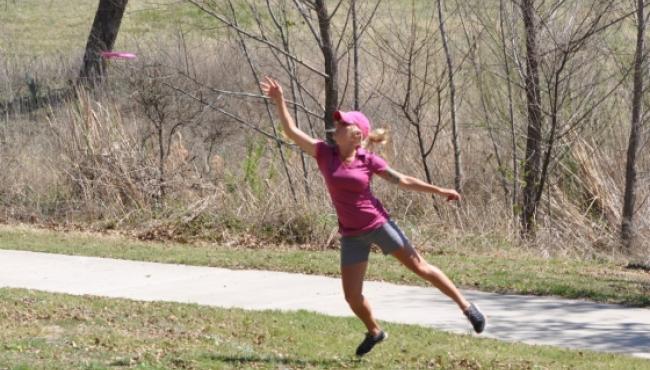 Less than 2 weeks after The Memorial Championships in Scottsdale, AZ came to an end, hundreds of players arrived in Austin, TX for the 2nd stop on the PDGA National Tour series presented by Vibram, the Texas State Championships. The pro divisions spend all 3 days at East Metro Park just outside of Austin in the town of Manor. The amateur divisions start tomorrow and finish on Sunday, playing two different courses in Austin; Roy G Guerrero DGC and Metro Center DGC.

If you've never played in Texas, or any desert course really, then you should hold your breath the next time you want to complain about how bad the "rough" is at your home course. A poorly placed shot at East Metro Park means you'll likely be playing your next shot with your leg up against the needles of a cactus or your foot covered in fireants, or both. Even well placed shots that normally would give you a good luck at a birdie can end up being very tricky.

There were 13 competitors in the pro women's division and Catrina Ulibarri ended the day in the lead after shooting a 78 (5 over par). Sarah Hokom is only 2 strokes behind in 2nd place, after taking some penalty strokes on a few diffeent holes. Des Reading finished the day in 3rd place with an 11 over par and Paige Pierce ended the day in 4th place, 2 strokes behind Des. Paige and Des will both need to play well tomorrow to catch up to Sarah and Catrina.

The Open division was all over the place. Great drives were often followed by unfortunate upshots and/or chained out putts. Paul Ulibarri jokingly said about 12 holes in, "Why is every hole on this course so hard?!". And it is. This course is extremely difficult, to say the least. Many of the fairways are tight tunnel shots and the ones that aren't make up for it with distance and cactus hazards that can quickly beat a player down mentally, and physically. It doesn't help that it's always windy....always.

Ricky Wysocki had the hot round today finishing 8 under par with a 65. Ron Convers and David Hemmeline are right on his heels, tied for 2nd at 67, only 2 strokes behind Ricky. Dave Feldberg sits in 4th at 68. It's still anyone's tournament to win at this point. Shortly after the round, Will Schusterick tweeted "I'm 1 stroke away from 6th place and 1 stroke away from 16th place." It'd be difficult to sum it up any better than that. Many of the top touring pros have their eyes on local pro Bradley Williams. He and 3 others are tied in 6th, but they're only 5 strokes off the lead. It's his course if it's anybodys, and he could easily make a run to the top tomorrow with a few lucky breaks. 

A quick congratulations goes out to Blair Nicholson, who hit an awesome ace on the final hole of the day on one of the final cards of the day. It's a 280' island hole that plays downhill to a basket protected by a group of fairly large trees. Most players opted to run a B-line straight at the basket, but he threw a hyzer around the trees and sneaked past them all to hit dead center chains for a beautiful ace in front of the gallery.

The Open division tees off first tomorrow at 8:30AM with the lead card teeing off at 10:50AM. The pro women's division starts at 11:00AM and their lead card will tee off at 11:30AM. I'll be covering the lead men's card on Twitter via @PDGAlive and we'll have live scores going for the pro women's lead card and the open division lead card as well.

Check PDGA.com tomorrow morning and click the Live Scores button for a one-stop shop of live scores, tweets, and pics during the round(s). It's only going to get windier and weirder out there for the rest of the weekend. Stay tuned disc golf world!
Be sure to check out the photos of round one on Flickr!