Ted Stoebling wins the 2012 USADGC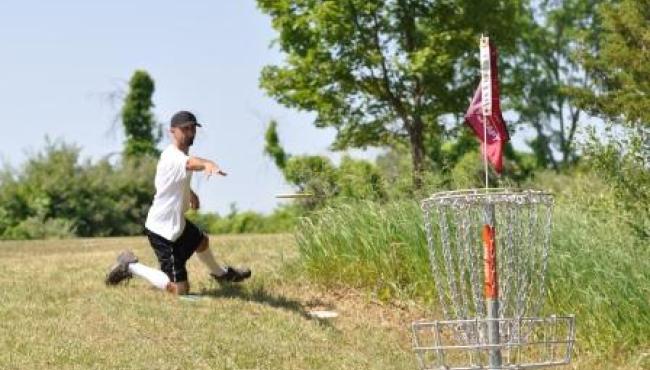 Ted Stoebling from Roseville, Michigan rose to the occasion on the final day of the 2012 United States Amateur Disc Golf Championship. Starting the day on the lead card for the first time all weekend, he sat one stroke behind day two leader Mark Huether. Stoebling, Nick Hanson, and Alex Geisinger were all tied for second place.
The lead for Huether didn't even last one hole in the final round. Stoebling drained a forty five foot putt on the big downhill hole 1 to tie it up. It could be seen then that the pressure wasn't going to affect Ted. On hole 3, Huether would take a bogey four and there was a new leader, but it wasn't just Stoebling. Alex Geisinger hit a jump putt from just outside the circle to join Ted at the top of the leaderboard. On the next hole Stoebling took the lead outright as Geisinger bogeyed and Hanson and Huether both double bogeyed.
After a couple star-par holes, Geisinger birdied to tie it up again on hole 7. Alex took the lead on hole 8 after Ted settled for bogey. Huether and Geisinger both missed 30' birdie putts there after having great drives. Nothing changed at hole 9. On hole 10, Stoebling wowed the gallery with his forehand bomb. He sailed it way up and around the green-protecting, ivy-covered trees and parked it 6 feet from the basket. Geisinger just missed a long birdie putt and it was all knotted back up at -9 again.
Hole 11 is a fairly easy two. It's a 318' foot shot straight up a steep hill. Stoebling almost aced it and sat 10' away. The rest of the card couldn't take care of business and all settled for par. Stoebling carried that lead until hole 13 where he took par and the rest of the card birdied. Again, it was tied at -9 between Geisinger and Stoebling. Stoebling wasn't going to let this slip away. He parked the downhill left turn hole 14. Him and Huether birdied, the others took par. That proved to be the last lead change on the card.
Hole 15 calls for a controlled 230' right finish drive off the tee to get to a spot to have a fairly easy look at a birdie 3. Geisinger was the only one not to give himself a good lie and he clipped the ground only 90' from the tee. Here he must have felt some pressure and tried to bomb a huge throw to the green. It didn't work out and he took a bogey and Stoebling and Hanson birdied. The lead was at two strokes. Bogeys from the top three on 16 didn't change much on the card but allowed the possibility for Mitchell Winters to have a chance to take it from the second card. Stoebling birdied the 755', par 4 hole 17 to keep a two throw lead over any challengers.
While the lead card was making its way to the 18 tee, a huge roar of applause erupted when Winters made a huge birdie putt to close out his round. The lead was down to one. All Ted Stoebling had to do was play safe, make a par and he would take home the trophy. His forehand drive slipped out a little early and faded right into the trees. Now it didn't look so definite anymore. A bogey would send it to a sudden death playoff. Stoebling was 20' into the brush and about 80' from the basket. He had a small window just right of a straight line to the target though. He threw his putter right through the middle of it and it spun down only five feet away. It was over. His competitors putted out and he was left with a drop in. The crowd of over a hundred people cheered as a new amateur national champion was crowned.
What an amazing event! The USADGC staff, the volunteers, and presenting sponsor Discraft really give it up for this tournament. Everything was seamless all weekend long. The players had a fantastic time and all of the staff had just as much fun making sure that they did. A whole year lies between now and the next USADGC, but everyone here is already looking forward to it.