Stars and Stripes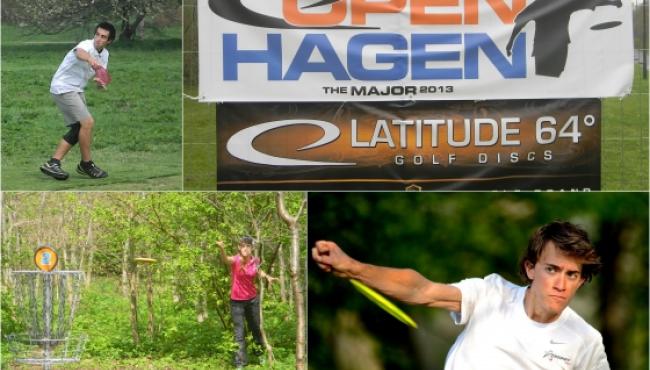 While the host Danish flag is red and white, it's the red, white and blue of Team USA that dominates the leader boards after 36 holes at the Latitude 64 Copenhagen Open – the Major. 
All told the American Tour-ists hold down the top 7 spots in the Open division, led by the 2012 World and USDGC Champs, Paul McBeth and Will Schusterisk, who are tied at 19 down. Southpaw Devan Owens is 1 throw back, with Garrett 'Double G' Gurthie, who had today's hot round of -11 (56), and Nikko Locastro, a mere 2 off the pace. 
Reflecting Valbyparken's narrow fairways, treacherous OB lines and unpredictable breezes, all told there are 11 shooters 5 shots or less off the pace. Avery Jenkins and David Feldberg are next and tied 7th at -16, followed by a pair of Flying Finns, Lassi Hakulinen and Leo Piironen. They are still in the hunt as are Germany's Simon Lizotte and Swedish veteran Anders Swärd, tied for 10th  at 14 down.
Among the ladies, it's more domination by the USA as fellow former World Champs Paige Pierce and Val Jenkins are sitting one-two, with Ms. Pierce leading by 5 at minus 2 on the strength of her World Class rated round of 65 today. Sweden's Ragna Bygde is 6 back of Val with Switzerland's Natalie Holloköi nestled in 4th.
An old fashioned Baltic Sea battle royale is shaping up in Masters, with 2 Swedes – Christer Köhler and Peter Bygde, and 2 Germans – Greg Marter and Jan Bäss, tied for first in a logjam at -3. Lastly, among the Juniors, Germany's Marvin Tetzel has stretched his lead to 9 throws over Sweden's Anton Kappling. 
It's been a real pleasure working in Denmark so far this week, from the hospitality of the deep team of København Frisbee Klub volunteers to the Scandinavian breakfast buffet and delicious øl (beer) at the Scandic Hvidovre Hotel.
With 36 holes and a smorgåsbord of shots still to be thrown, be sure to join us tomorrow as this showdown between Europe's and USA's finest players intensifies.