Shue, Hendel Earn Rookie of the Year Honors
Shue, Hendel Earn Rookie of the Year Honors
Wysocki, Pierce snag Player of the Year awards
Wednesday, March 14, 2018 - 14:25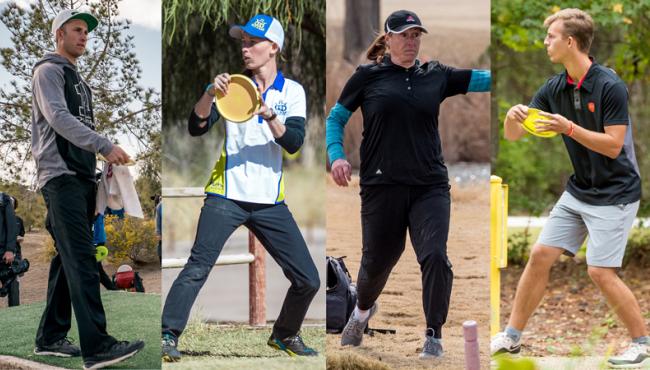 Ron Russell. Des Reading. Paul McBeth. Catrina Allen.
Before they became some of disc golf's greatest champions, they started as PDGA Rookies of the Year. Now, it's time to add two more names to the list.
North Carolina native Grady Shue and Sandi Hendel of Ontario, Canada, were crowned 2017 PDGA Rookies of the Year this week after nailing down the organization's annual points competition. Players earned points for top 10 finishes at Majors and National Tour events, top 5 showings at A-Tiers, and any B-Tier victories.
Shue, 22, joined the pro ranks with a hefty slate of 35 events in 2017. He won seven of those, including the Kentucky State Disc Golf Championships in September and the Fall Disc Golf Classic in November, which accounted for more than half of the 33 points he needed to win the Rookie of the Year competition over second-place finisher Brenden Tetloff. Though Shue admitted he didn't know he was in the running for the title until midway through the season, his late-year run of touring – he also notched an 11th place finish at the Vibram Open and a 12th place showing at the United States Disc Golf Championship – helped him gain both points and valuable experience.
"I don't know, it's weird," Shue said. "It's something that I never really thought would happen, but it just kinda ended up happening."
Hendel, 40, said she set out for the award from the jump. After dipping her toes in the Open Women's division at the end of 2016, she made the leap with 19 events in 2017 and won 12 of them. A summertime tour through the Northeast that included a ninth-place finish at the Pittsburgh Flying Disc Open, second place at the Brent Hambrick Memorial Open, and a win at the CCR Open contributed to her 124-point total. She is the first Canadian woman to win Rookie of the Year.
"It's kind of like a cherry on top," Hendel said. "I've set goals – every year I've set goals – and that was my goal last year, was to see how I'd compete against the girls in the U.S. My first year I knew what to expect – I knew I would have to pay my dues, I'd have to donate my money – but it was kind of like golf lessons from these ladies, so I had no problem."
Both Shue and Hendel trekked to the desert to start the 2018 season, with both struggling a bit at the Las Vegas Challenge before rebounding with top 10 showings at the Memorial Championship. Shue attributed his performance in Las Vegas to some rust, while Hendel admitted that making the lead card for the second round – and the nerves that came with being filmed – impacted her play.
"After the second round being with the cameras and [on] Jomez [Productions] – it was mind-blowing in my first experience," Hendel said. "I think I shot 30 below my rating, and it's documented forever now, but you know what? It was a learning experience."
Shue joins fellow North Carolina pro Jeremy Koling on the list as the second Rookie of the Year from the Tar Heel State, and he was more than pleased to be added to a list of players that includes multiple world champions. "Everyone who's gotten Rookie of the Year is amazing golfers," Shue said. "It's great to be a part of that."
In addition to the Rookie of the Year points title, the 2017 Players of the Year were also determined. Paige Pierce took her second Player of the Year title in the Open Women's division after winning 20 of the 28 events she started, while Ricky Wysocki notched his third title after taking down two Majors and three NTs.
Wysocki, who won the award in 2012 and 2016, now has back-to-back Player of the Year titles to accompany his consecutive world championships.
"Just like anything, really, you're always gonna have the people who think certain things might be a fluke, so to win something and back it up is a great feeling," Wysocki said. "That's the first thing you think about when you win something."
Pierce said this year's accolade felt different from when she won in 2015, when it was more of a back-and-forth battle between her and Allen. She ran away with the 2017 title and ultimately felt it demonstrated her long-term strength on the course.
"Player of the Year is one of the coolest awards because it shows the consistency for 365 days," Pierce said. "Most of our consistency is three to four days at a tournament, so it's nice to have the recognition of being a consistent player, consistently at the top. I think that's what it stands for. It's awesome."
Wysocki agreed with that sentiment. "People always judge an athlete's career on achievements, and Player of the Year is one of those things that people will remember for years to come," he said.