Schusterick 3-time?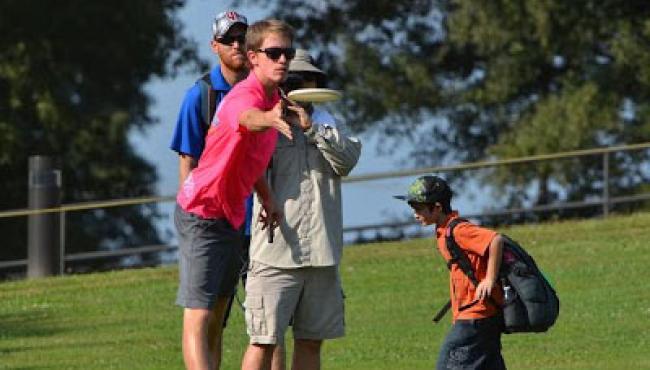 Winning the 2010 USDGC told something to Will Schusterick: disc golf is what you're supposed to being doing with your life.
He got confirmation he was on the right path last year when he won his second US Championship.
Now after another solid year including two National Tour wins and a top 5 Pro Worlds finish, he's set up nicely for another.
The 21-year-old Nashville resident likes his odds.
"If I focus on my game and nothing else I should be able to do well," said Schusterick.
Schusterick has gotten along well with the Winthrop Gold Course over the years. Winthrop Shots, like a 400-foot downhill with a mid-range or navigating through tight tunnels – he learned while growing up in Knoxville, Tenn.
"I think it compares well to where I first started playing disc golf," said Schusterick of Victor Ashe Park in Knoxville.
Schusterick's first look at Winthrop came at 15 years old, a time when most couldn't imagine squaring off against the best of a sport. He got 93rd that year, but he said just playing the Championship was valuable experience and that felt good.
The next year he felt like he and his game had matured with an impressive 20th place. He then repeated that performance in 2009 before taking it all the following year.
He said the recipe to winning that year was a combination of a lot of practice, hanging out with the right people and believing in what he was doing.
Motivated by the win, that off-season he practiced with gusto and played more during the season, propelling him to his best Pro Worlds finish (tied for 2nd) and consistently finishing among the game's best.
In recent years, Schusterick has emerged as a regular favorite on PDGA tour stops. He says it's always nice to be a favorite at any tourney he shows up at, but that doesn't mean much once the first round starts.
"In the end it is up to me to go out here and get the job done," said Schusterick.
If Schusterick wins the USDGC again he'd tie Barry Schultz for second most US Championships with three. Ken Climo tops the list with 5.
Schusterick will definitely have some competition with back-to-back World Champ Paul McBeth. When asked how he'd keep McBeth at bay, Schusterick replied that he tries not to worry about other players in the field.
"It's not really about Paul. It's about playing well. I never really focus on beating one person. You've kind of already lost the tournament if you go into it just beating one person," said Schusterick.
With two US Championships to his name, Schusterick knows what it takes to see the job through at Winthrop Gold. Count on seeing him make his way high up on the leaderboard.
— Todd Harrell