Rankings Ratings POY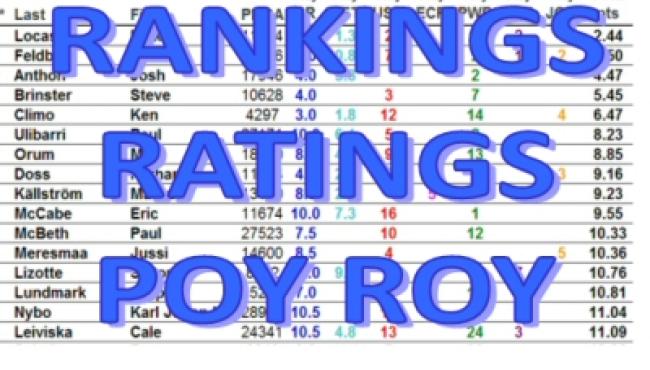 What's up with rankings and ratings as we approach yearend?
The latest World Rankings for men and women have been posted for events reported as of December 1. No change at the top since the October update with Nikko Locastro and Valarie Jenkins still leading men and women. However, some positions below the top have shifted around even though the primary difference between the October and December rankings is due to this ratings update. No new Majors, NTs or ETs have been played since then.
Most of the movement below the top was produced by an Excel mistake in the October rankings that improperly awarded credit for NT/ET play to players who had not completed the minimum number of these events for that factor to be included. This error did not occur in any earlier rankings during 2010. The October rankings for men and women were updated along with the new December rankings and are available at the following link.
The PDGA Player Ratings were also just updated for events reported thru December 1. This marks the eighth ratings update during 2010 which is more than any previous year. Including December events not yet reported, only 53 total event reports have not yet been turned into the PDGA. We hope to have all of those by mid-January so we can post your 2010 yearend ratings in the January 25th update. Please ask any of your tardy TDs to please get their reports to the PDGA pronto. Looks like we'll have 1200 medal events where players earned ratings in 2010.
At this point there are no changes in the ratings process planned for 2011 although some ideas are still being tested. For example, we would like to see if scores from players with ratings between 750-799 can be used for propagating ratings since sometimes only players at this level will be playing a layout at an event. The PDGA Board plans to review the ratings process at the Spring Summit this coming April. Although Roger and Chuck are pretty familiar with some of the concerns with the process, please send any questions you would like the Ratings Committee to address with the Board to either the Ratings Committee or David Feldberg on the PDGA Contact page.
The Player of the Year and Rookie of the Year standings for 2010 are not being published following this ratings update to retain some mystery in who the final candidates will be until all events are reported for the yearend update in January. At that time, the final candidates will be announced. Then, the additional calculations based on Worlds, percentage finish and head-to-head will be made so the winners can be announced sometime in February.
On Santa's Wishlist for the Ratings team is to see Event Ratings listed in the stats for each PDGA member. Not only will this make it easier for Rookie and Player of the Year candidates to track their performances, but everyone will be able to see how they rated on average at each event, not just by round. The PDGA Technology team indicates improvements like this will be possible during 2011 along with some other improvements that they've been preparing and testing in the "backroom." Have a great holiday season with visions of great drives and awesome putts dancing in your head.