Prez Cup DG Movie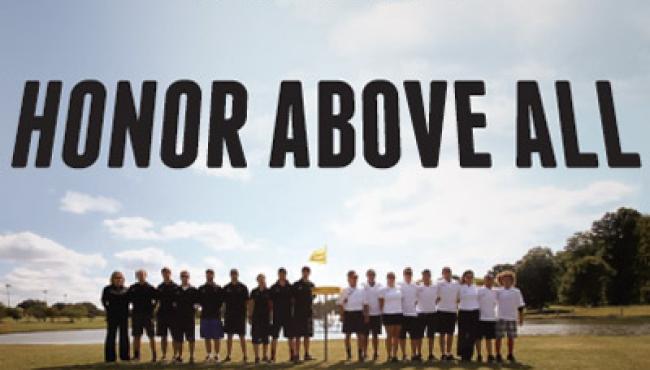 The 2010 Presidents Cup helped elevate disc golf to levels only previously ever imagined. 
The latest in a growing list of disc golf documentaries has just been released and is now available using an Internet Video On Demand distribution platform. 
Honor Above All, a movie chronicling the 2010 Presidents Cup Team Disc Golf competition, is a testament to the global growth of our sport, as well as to the professionalism that the top players exhibit in these types of circumstances.  Combining great stop-focus footage from the October 5th event, candid interviews with most of the 16 competitors from Europe and the United States, and the amazing scenery found throughout the Winthrop Gold course in Rock Hill, South Carolina, director and editor Dave Manzo harnesses all his movie-making skills to elevate the presentation of disc golf to the world.  
The interviews carry the storyline for the 2010 Presidents Cup, which was played on US soil for the first time in its four year history.  We hear from Karl-Johan Nybo on how he struggled with the abudant out-of-bounds during his stroke play round, only to redeem himself during the match play element.  Nikko Locasto is also featured in a segment, where he discusses his gradual immersion into the sport as a way to make a little extra money on the side.  Espen Mökkelgjerd seems comfortable in front of a camera, as he describes his carefree approach to the event, and Valarie Jenkins is thrilled to have had her ace in the middle of match play recorded on tape.  The tribulations of life on the disc golf course are shown too, as Des Reading unfortunatley runs head-long into a massive beehive in the rough during play. 
But it is Camilla Jernberg, who eventually captures your heart during this feature, as her infectuous smile, even in the face of hard-luck bounces on the course, is the perfect foil for the tremendous anxiety the Europeans felt while facing what team Captain Hans Tegeback called the "Dream Team" from the United States.  And while there were few surprises in regards to the outcome of this competitive event, this 2010 Presidents Cup documentary may indeed achieve noteworthy acclaim as a signpost in the history of our sport that demonstrates, when you combine the incredible talents of our disc golfers with the mutual respect that players from around the globe are capable of affording each other, it is possible to elevate our sport to levels that demand the attention from all recreational enthusiasts, inside and outside of disc golf. 
This documentary succeeds at putting disc golf on parade where only one thing matters during this International event: Honor Above All. 
Enjoy this historic movie by subscribing on the Todocast.tv distribution platform.
[node:62529 body]