Players Cup Finals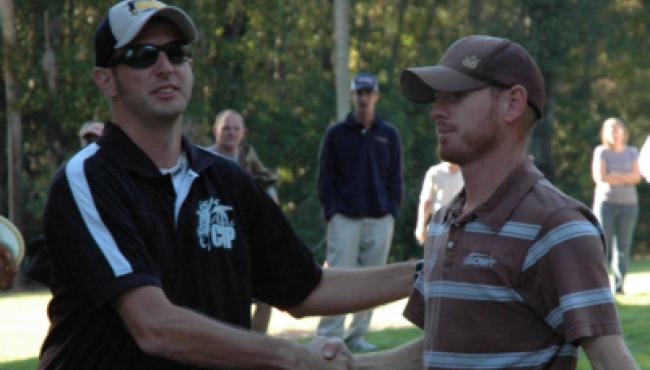 Eric McCabe grabs his first Major title and Val Jenkins runs away from the field at the Players Cup in Crystal River, Florida.
---
Finishing off his most impressive year on tour to date, Discraft team member Eric McCabe of Kansas captured his first Major Championship win this past weekend with a one stroke victory over California's Gregg Barsby. With a score of -23 after the three day tourney, Eric played a bogey free final round en route to the $3,500 first place prize and a spot in the record books. He carded a tourney best score of 54 on Sunday (tied with Nikko Locastro and unofficially rated 1076), and made some clutch shots down the stretch with 7 birdies on the back 9. McCabe and Barsby tied for 2nd at the 2006 Players Cup, losing by 4 strokes to winner Avery Jenkins, but it seemed as if this year was their year. Down by a stroke going into the final day, McCabe had his work cut out for him. Barsby was having a fantastic weekend, including a second round score of 59 that bested the entire field by 3 strokes. Gregg smashed his 59 by 3 strokes in round three, and also birdied 7 of the back 9, but it wasn't enough to fight off the heroics of Mr. McCabe. Tied after hole 5, Eric took the lead on hole 7 and held on until Gregg tied it back up with a birdie on hole 15. Gregg then carded 2 birdies on the final 3, but Eric birdied all three (with the go ahead on hole 17) to seal the victory. Nikko Locastro took the 3rd place prize with -21 to finish what has been a very impressive year for him, and Markus Kallstrom took 4th with -18.
On the women's side, Val Jenkins beat her fellow competitors by 21 strokes and captured her third Major of the year with a +5 for the weekend. Her final score of 203 would have placed her at 31st in the men's division - good for last cash and $100. She instead took $1,200 home to Ohio for the 1st place prize in the women's division. Carding a 64 (rated 1016) for round one, she held an 11 stroke lead going into round two and never looked back.
This year marks the first time in the history of the event that a Discraft sponsored player has taken the Cup. First captured by Innova sponsored player Barry Schultz in 2005, the title then went to Innova Team members Avery Jenkins in '06 and Dave Feldberg in '07. Female Innova sponsored players Carrie Burl Berloger, Des Reading, and Val Jenkins captured the Cup in '06-'08 (there was no women's division in '05). A victory by Discraft's Nate Doss at the 2008 USDGC and Eric's win over the weekend proved a solid finish in 2008 for Team Discraft.
One of the newest Majors, The Players Cup has quickly become a top notch event. The recent success of this tournament (much like the Japan Open) has been largely popular due to help from sponsorships, location and a pristine environment along with an adjacent ball golf course. Many top players have noted the benefits of these tournaments and the professional atmosphere they bring to the sport. While a similar environment is not necessary to provide the hospitality, professionalism and field to garner this type of attention and success, we have yet to see if this format will ultimately favor over small time events in the disc golf circuit. That being said, it is obvious what a professional facility, a big time sponsor and an organized TD can do for the game.
By Brian Gerhardstein, #27002 (1000rated.com)
---
PDGA Media Coverage
Scoring:
http://pdga.com/tournament-results?TournID=7281
Preview Video:
http://www.youtube.com/watch?v=HTES1Xg9bvw&eurl=http://pdga.com/
Photo Galleries: 
http://www.flickr.com/photos/[email protected]/collections/72157609604514003/
Players Cup website: http://www.playerscup.org/
---