Pierce, Barsby Start Hot in Thailand
Pierce, Barsby Start Hot in Thailand
Thursday, February 1, 2018 - 23:53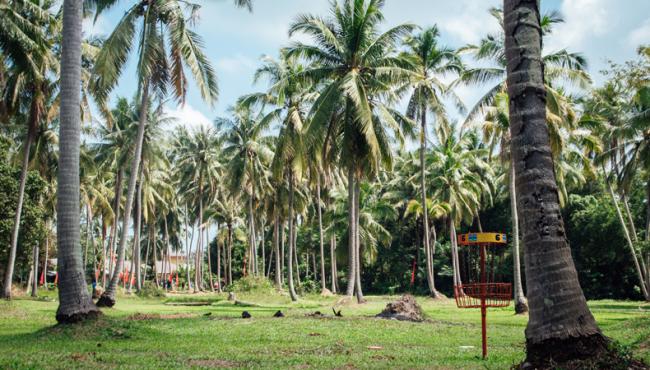 MAE NAM, Thailand – Paige Pierce's 2018 season started with a bang, as the Texas native shot a 1021-rated 10-under par 48 here Thursday during the opening round of the Samui Swine Classic V. Playing on the feature card with defending champion Philo Brathwaite, who also tossed a 48, Pierce's well-rounded game was on display with crisp backhand and forehand drives; accurate midranges and putters on almost all the short, must-get birdie holes; and consistency inside the circle. 
Her score was only bested by Open leader Gregg Barsby, whose 1031-rated 11-under has him one up on Brathwaite and two on Nikko Locastro. Canada's Casey Hanemayer and Finland's Timi Jarvenpää sit tied for fourth place at 6-under.
Thailand's finest rounded out the showcase foursome, as View Khamsriphon shot a 3-under par 55 and junior Tee Vetne carded a 4-under par 54. Khramsriphon's score landed her in second place in the Open Women's division, where she holds a four-shot margin over Finns Hannele Määttä and Tinja Väisänen, who are tied for third place at 1-over. Vetne's day put him in a four-way tie for second place in the Advanced division, where Michigan's Zac Cauchy holds the lead at 5-under.
Väisänen nailed the day's highlight, snagging an ace on Samui Disc Golf's 62-meter (203.4 ft.) hole 17.
For round two, the event staff and competitors will be treated to true holiday disc golf, taking local fishing boats to the uninhabited beach islet of Koh Som. We've just arrived, and the winds are blowing steadily at 30 kmh (20 mph). The palm trees are swaying, and it's going to be one very interesting test to keep cool between the ears when your discs inevitably sail off their desired flight path.