Pierce, Barsby Extend Leads in Thailand
Pierce, Barsby Extend Leads in Thailand
Saturday, February 3, 2018 - 09:42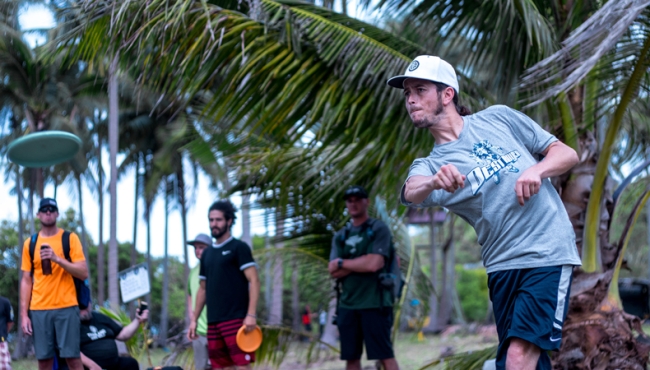 MAE NAM, Thailand -- Friday's middle round here was an absolute treat for the 108 savvy competitors who marked the Samui Swine Classic V on their tour calendars. After being transported to the tiny paradise island of Koh Som in funky local fishing boats, they tackled a short, but deceptively difficult oceanside layout through the coconut palm trees. 
The biggest challenge proved to be the holes closest to the water, which were buffeted by steady trade winds gusting up to 40 kmh (25 mph). Nowhere was this truer than on hole 1 along the beach, a mere 57-meter (186-foot) long, slight hyzer from righties that should have been a dunk for most shooters. Instead, shot after shot was hijacked by the wind, with discs sailing inland and leaving a gut check approach shot to salvage par as waves lapped just five meters from the basket.
Seizing the day, playing quietly, and maintaining his good karma was overnight Open division leader Gregg Barsby. When the cards had all been turned in, his 9-under par 45 was only matched by Jeremy Koling. Barsby had 10 birdies and seven pars to his credit until the final hole, when his 15-foot par save hit high left and landed on the ground. Both Nikko Locastro and Philo Brathwaite struggled at times to keep their cool; while they sit second and third place, respectively, they are now five and six off Barsby's stellar pace. Koling is tied for fourth with fellow American Nate Perkins and British Columbian Casey Hanemayer, whose 47 was the day's second best on the lead card.
The world's top Open Women's player, meanwhile, stretched her advantage. Paige Pierce now leads by 10 over Finland's Hanne Määttä, whose Friday 52 was the division's best. Local favorite View Khamsriphon slipped to third place, seven back of Määttä. Khamsriphon will be hard-pressed to claim second place and will likely vie with Finland's Tinja Väisänen and Canada's Brianna Ainsley for the last two spots in the Open Women's cash.
In Masters, Torontonian Bryan Motley, who now calls Brisbane, Australia, home, shot the low round of a 4-under par 50 to lead German veteran Martin Doerksen by one and fellow Canadian Glen Oliveiro by two.
The event reaches its climax tomorrow, with 18 holes and an Open Final 9 back on the Koh Samui circuit. A mix of sun and showers are in the forecast, just another day in paradise. But it will also be a feast for the tastebuds when our humble tournament director Nigel Mills lays out a pig roast and other barbecued morsels for the participants when the shooting is down and the celebrations begin.