Outdoor Retailer Trade Show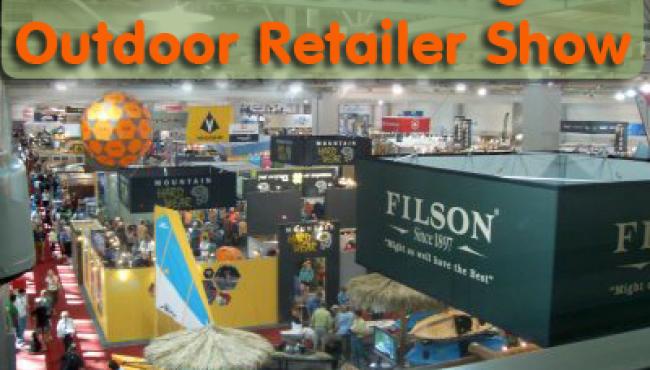 Disc Golf Industry Showing Great Promise as Evidenced by Strengthened Presence at OUTDOOR RETAILER Exhibition and Trade Show 
by Dr. John G. Duesler, Jr.
Most people involved in this sport appreciate the enormous potential disc golf has as a sporting outlet, as a refuge from stressful days, and as an aggregator of friends.  As a result, disc golf continues to grow in popularity, along with the fledgling manufacturing base that supplies the equipment and apparel to those who play.  

This growth enjoyed by the disc golf industry will be on full display during the biggest outdoor and action sports exhibition and convention in the United States, Outdoor Retailer, in Salt Lake City from January 20-24.  

Innova Champion Discs, disc golf's largest manufacturer, has been attending OR for a few years now, and will be in Salt Lake City again this year.  Innova's product line ranges from its most popular line of flyers, to the targets found on the courses, to disc golf bags and apparel.  Company representatives from both the west and east coast offices will be manning the booth at OR, and we will be visiting them for comments on their impression of the show, as well as their goals for the rapidly approaching disc golf season.  

While the disc golf community certainly welcomes the presence of "one of their own" at the biggest outdoor show in the nation, it is the entry of the apparel and footwear manufacturers who are now embracing the sport's marketing power that has the disc golf community believing the time is near for more rapid and widespread growth.  

Keen Footwear (Portland, Oregon), while not the first company to directly market a disc golf shoe (Bite had a model available in the mid-2000's), does appear to have a long-term commitment to the disc golf market with their introduction of the Milo disc golf shoe.  We will be interviewing Keen Director of Events and Marketing, David Munk, on Saturday in Salt Lake City to get his initial impression on the success of the Milo.  
Columbia Sportswear (Portland, Oregon) too is attracted to the demographics of disc golf, as evidenced by the enhanced advertising presence on the Professional Disc Golf Association Web site, pdga.com.  Columbia has not yet designated any one product as a "disc golf" piece, but they are intrigued by the game's strengthening emergence within the action sports community.

PDGA Director of Marketing, John Duesler, will be reporting from Salt Lake City at Outdoor Retailer this week, as well as serving up live interviews throughout his visit Friday and Saturday on DiscGolfPlanet.tv.  Check back for more reporting on this outstanding development, as disc golf becomes a greater force within the outdoor and action sports industry.