2008 National Tour Champions Crowned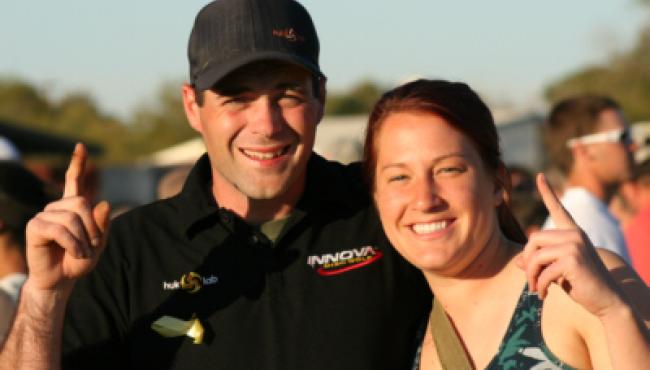 David Feldberg and Valarie Jenkins are crowned champions of the 2008 PDGA National Tour Points Series, presented by Woodchuck Cider.
---
The PDGA National Tour represents the top tier of professional disc golf events and was established in 2003 as a means of showcasing the sport of disc golf to the general public. The 2008 Tour consisted of a series of nine events held across the country starting with the Memorial in Scottsdale, Arizona in March, and ending with the Vibram Open at Maple Hill in Leicester, Massachusetts in July. Competitors in these series events earned points based upon their place of finish, with the results of their top four finishes used to qualify for the inaugural Drive for the Championship, presented by Woodchuck Cider.
The Drive for the Championship consisted of the PDGA Pro Disc Golf World Championships, the United States Disc Golf Championship (or) United States Women's Disc Golf Championships, and The Player's Cup. The top 30 Men and top 10 Women points leaders from the NT series are qualified and the series points from their four event qualifying total is carried forward and added to the three Drive events to determine NT cash bonuses and the title of PDGA Tour Champions for 2008.
Going into the series ending event this past weekend at the Players Cup in Crystal river, Florida, Valarie Jenkins had an insurmountable lead and needed only finish the event to claim the Women's title. Valarie did more than just finish. She made a strong statement by completely dominating the event to win by 21 throws over second place. Her +5 total would have cashed in the Open division and her 64 (-2) in the first round, rated at 1018, was the highest rated round in history by a woman on a course with a Scratch Scoring Average (SSA) over 66. 
David Feldberg held a narrow lead over Nate Doss for the Men's points title going into the Players Cup and it was a very tight race down to the final hole between these good friends and fierce competitors. In the end, David finished the event tied for 12th place, while Nate finished tied for 7th place, giving Feldberg a very narrow eleven point win in series points.
The top ten men and top five women were presented with bonus checks totaling $8,000, with the top five men and top three women also taking home National Tour trophies. The PDGA would like to extend our gratitude and thanks to Woodchuck Cider for sponsoring the 2008 National Tour Points Series and the Drive for the Championships.
2008 PDGA National Tour Points Series - Final Standings
 Payout
Place
First
Last
PDGA
NT's
Majors

Total

$1,500

1

 David

 Feldberg

12626

383

257

640

$1,000

2

 Nathan

 Doss

11794

356

273

629

$750

3

 Avery

 Jenkins

7495

376

243

619

$600

4

 Eric

 McCabe

11674

370

222

592

$500

5

 Barry

 Schultz

6840

376

211

587

$450

6

 Steven

 Rico

4666

374

157

531

$400

7

 Cale

 Leiviska

24341

338

187

525

$350

8

 Geoff

 Bennett

24962

341

159

500

$300

9

 Ken

 Climo

4297

255

235

490

$250

10

 Paul

 McBeth

27523

324

162

486

 

11

 Matt

 Orum

18330

198

239

437

 

12

 Jay Yeti

 Reading

15864

306

122

428

 

13

 Nikko

 Locastro

11534

204

203

407

 

14

 Josh

 Anthon

17946

247

147

394

 

15

 Kris

 Orrick

20020

209

175

384

 

16

 Adam

 Olsen

26100

283

72

355

 

17

 Steve

 Brinster

10628

245

109

354

 

18

 Will

 Schusterick

29064

244

101

345

 

19

 George R.

 Smith

4034

237

100

337

 

20

 Markus

 Källström

13150

161

173

334

 

21

 Kevin

 McCoy

9453

206

102

308

 

22

 Paul

 Ulibarri

27171

228

68

296

 

23

 Chris

 Sprague

16425

220

67

287

 

24

 Philo

 Brathwaite

26416

243

30

273

 

25

 Kyle

 Crabtree

25596

229

39

268

 

26

 Ken

 Franks

25447

247

0

247

 

27

 Robbie

 Bratten

21541

198

42

240

 

28

 Kevin

 Babbit

11110

164

33

197

 

29

 Chris

 Boro

23490

164

0

164

 

30

 Scott

 Rief

26039

162

0

162

 
 
 
 
 
 
 
 
Payout
Place
First
Last
PDGA
NT's
Majors

Total

$800

1

 Valarie

 Jenkins

17495

400

295

695

$500

2

 Angela

 Tschiggfrie

16594

369

279

648

$300

3

 Carrie Burl

 Berlogar

13815

365

256.5

621.5

$200

4

 Liz

 Lopez

31162

358

237

595

$100

5

 Des

 Reading

15863

395

95

490

 

6

 Courtney

 Peavy

18835

274

180

454

 

7

 Melody

 King

29858

328

66

394

 

8

 Katy

 Schreder

25238

254

72

326

 

9

 Lesli

 Brinster

15638

227

68

295

 

10

 Kristine

 King

27725

227

0

227