Next Generation Championships Day 2
Next Generation Championships Day 2
Moving Day Creates Tight Race
Sunday, November 19, 2017 - 00:53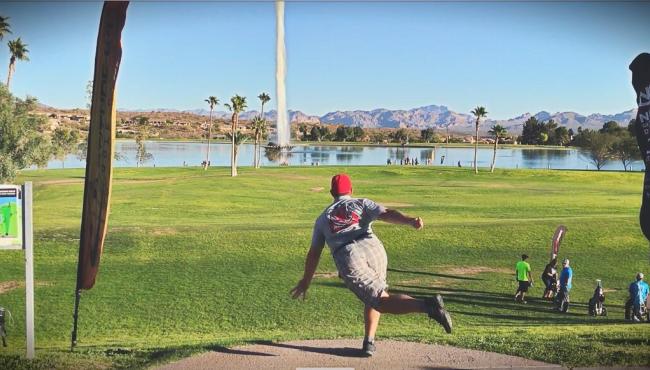 Photos and Authored by Kolte DF Breck #61538
Day two of the Next Generation Tour Championship was another exciting day for Amateur disc golf. The day began and ended with with Joseph Rawling sitting in the lead. However, he would struggle through round 3 shooting his worst round of the tournament dropping him down to 8th place. Joe didn't let that stifle his grand pursuit for victory, as he would follow his worst round with the hot round of the entire day shooting a 48, eight under par, giving him a 1018 PDGA rating and catapulting him back into the lead along with two other competitors.
Young gun Silas Schultz would continue his quest for the 2017 Next Gen title through rounds 3 and 4, playing consistent smart golf moving up from 2nd place into his share of the lead. His smooth and consistent play has justly earned his reputation as one of the favorites in the field.
The third competitor has been silently sneaking his way up the ranks since round 1, but it was after round 4 that he would finally strike and shoot a solid 50, six under par, and take his fair share of the lead. Another unique fact about this player is that he is the only international participant, hailing from British Columbia, Canada. Stewart McIsack has proven all year long that he is a fierce competitor on the verge of breaking through into the OPEN division. He is 980 rated with 8 PDGA career wins and today he showed exactly why!
Christopher Keseloff's journey continues after missing his tee time on day 1 shooting above his player rating in rounds 2, 3, and 4 charging his way back into the hunt and is currently sitting in 11th place. Chris has the gas pedal mashed and expect him to keep climbing the ranks. What an impressive display of determination; battling back to not only make the semi-finals, but contending for the Final 5 after handicapping the field 12 strokes right out of the gates.
Another breakout performance came by way of Andrew Cornwell who is the Region 4 champion and he laid down a hot 48, eight under par to put him back in the hunt!
At this point, the coveted 2017 Next Generation Tour Championship is still up for grabs for many competitors as scores are getting tighter and tighter amongst these top amateurs. However for a lot of players, their journey has ended as championship Sunday will commence at 9 AM for the top 36 competitors only.
Check PDGA live scoring along with the live broadcast from SmashBoxx TV. Broadcast links and times will be posted at the Next Gen Facebook page. If you're in the area, come join us as history is made at the famed Fountain Hills disc golf course!