Wysocki Works To Top Of Masters Cup Leaderboard
Wysocki Works To Top Of Masters Cup Leaderboard
Brathwaite shoots best round since March to land on lead card
Saturday, May 19, 2018 - 03:10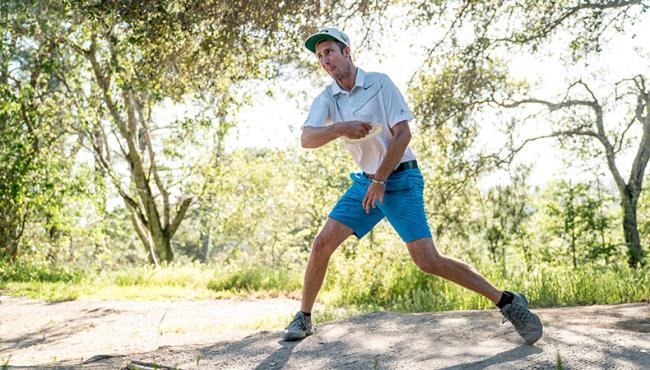 SANTA CRUZ, Calif. – After taking a moment to stare pensively out toward the sea, Ricky Wysocki took to the tee on DeLaveaga's famed Top of the World hole ready to walk in an opening round performance that would find him double digits under par at the Santa Cruz Masters Cup. He then launched a forehand drive that rode the wind like the red-tailed hawk that was circling the course earlier in the day, but it sailed mercilessly out-of-bounds, a late blemish on an otherwise impressive showing.
"It was a little bit of a bummer for me," Wysocki admitted. "I just wanted to – my goal was at least to play safe on the last hole. I threw a good shot and the wind gusted up and turned it over a little bit."
Though the miscue shaved a shot off his lead, Wysocki still emerged at the top of the leaderboard through 24 holes of the season's third PDGA National Tour event. His 1071-rated 10-under par 62 finds him up on local Dylan Evans, whose 9-under par 63 put him in second place on his home turf. Philo Brathwaite jumped into contention for the first time since his trip to Thailand in January with an 8-under par 64 to take sole possession of third place, while Josh Anthon, Noah Meinstma, and Austin Hannum are tied for fourth at 7-under.
As is customary for the two-time PDGA World Champion, Wysocki's round was kickstarted by a big putt. After driving out-of-bounds on hole 6 and carding his first bogey of the day, the Ohio native bounced back with a 50-footer for deuce on the 395-foot 7th. That paved the way for a four-birdie run that helped him start to pull away from his feature card contemporaries. He went on to lead the field in a number of statistical measures, including parked shots (21 percent), circle 1 putts (100 percent) and circle 2 conversions (75 percent).
"I hit a couple nice putts, but I was throwing good drives, too, so it was a good combination of both," Wysocki said. "My game's feeling good right now. Even with the bogeys I was able to still score very well. I'm excited to change some mistakes I made today and have a smooth sailing round tomorrow and maybe shoot a little better."
Evans, who lives just south of DeLa in Aptos, was plenty comfortable on the course's hard-packed fairways and hit them at the same rate Wysocki did (54 percent). The 26-year-old attributed much of his performance to a small change in approach from his usual tournament rounds: He allowed a friend, Matt Patterson, to caddie at the last minute.
"He's one of the better putters at DeLa, in my opinion…so I look up to him," Evans said. "I think he just kinda kept me in an even keel mood. It felt like a normal round at DeLa for me, a round with my friends."
Like Wysocki, Brathwaite feasted on the course's midsection with his own run of four-consecutive twos. The Southern California native had hit a cold stretch after connecting on a 60-foot jump putt for birdie to open the round – he was one of only eight players to card a deuce on the 306-foot uphill shot – and was looking to rally.
"Once we got to 8 I thought, 'Alright, we've gotta get something going here. These are the holes to score on,'" Brathwaite said. "Thankfully I needed those four in a row to really get my score going. That felt good. It did feel good to pick those up. They aren't the hardest holes, but you've gotta hit some pretty thin lines, for sure."
The hot scoring helped Brathwaite, a self-described "emotional" player, to a 1057-rated round, which was his best single-day performance since he won the B-Tier Surf City Open in March. He was lighthearted with his cardmates, taking time during a backup to share some Red Vines with James Conrad, and dispensed plenty of jovial, positive self-talk. That mentality is something that hasn't always come easy for the Southern California native, but he said he's making a concerted effort to improve.
"It's been rough [this season] man," Brathwaite said. "It's been a roller coaster of some good moments and some bad, and it seems like the bad has been outweighing the good. I think a lot of it is kinda self-inflicted, maybe. I think I'm, I don't know, expecting too much from my game now that I've had a breakthrough in that top 10 and I just feel like, 'Oh, its gonna show up every week.' And it hasn't been the case, you know?"
Other opening round action saw upstart Kevin Jones get the most out of his distance – he hit circle 2 in regulation on 70 percent of his opportunities – to land in seventh place with a 6-under par 66. Six players are tied for eighth place at 5-under, including Washington pro Kyle Crabtree, who bagged the day's lone ace on the 348-foot 8th.
Defending Masters Cup Champion Paul McBeth canned two long putts but struggled to keep his shots in the fairway through DeLa's backside and finished at 1-under par. That put him in a 29th place tie with Garrett Gurthie, Gregg Barsby, Seppo Paju, Nate Perkins, and Thomas Tomaselli.
With one more day to take on DeLa before moving down the hill to the golf course, Brathwaite said it would be important to continue to "survive" the daunting track.
"I need to play a similar game tomorrow," he said. "I need to be aggressive on the holes I feel like I can score and be happy with my pars on the other ones."
Evans, meanwhile, is taking the if it ain't broke, don't fix it approach when it comes to his caddie: "He's coming back out tomorrow."
The Open lead card tees off at 2:30 p.m. Pacific, with real-time scoring and statistics available throughout the round via UDisc Live.