World Titles Up for Grabs as Action Kicks Off in Emporia
World Titles Up for Grabs as Action Kicks Off in Emporia
2021 PDGA Junior Worlds - Day 1 Recap
Thursday, July 8, 2021 - 11:49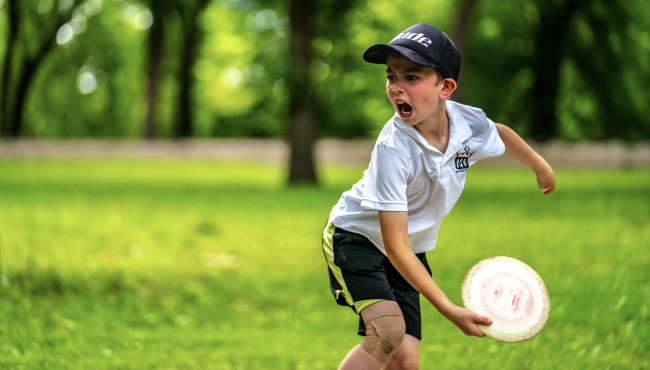 Two hundred fifty-one junior disc golfers began their pursuit of a PDGA World Championship title Wednesday as the 2021 PDGA Junior Disc Golf World Championships got officially underway.
Emporia has played host to the last three Junior Worlds dating back to 2018, and the multitude of courses that dot the East Kansas town provide the ideal venue for an event that includes players ranging from 7-year-olds like Marcelino Cisneros, playing in their first PDGA Major, to returning World Champions like 18-year-old Melody Castruita, who is on the verge of the professional ranks.
Castruita, the 2019 Junior Girls ≤18 champion, began her title defense where she left off—blazing her way through the Peter Pan and Jones West courses to stake a one-stroke lead over Stacie Hass at 12-under par.
"Very exciting," Castruita said about stepping onto the first tee as the defending World Champion. "I actually wasn't nervous like how I usually get on the first hole. I knew this year there was much more competition and I knew my game needed to be on. I needed to be more focused and make sure I get the right lines.
"I was very happy and proud of how I played. I threw some shots that I didn't know I could do so well. On my putts, I missed a few birdie opportunities that I should have gotten. I had a few spit outs but I was still happy with what I got overall."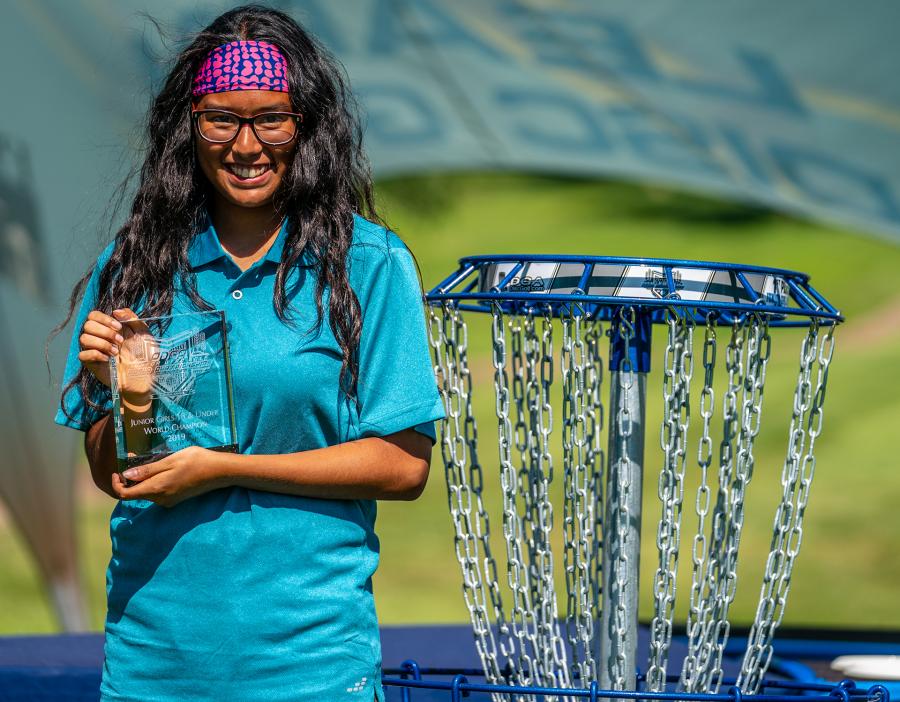 In the Junior ≤18 division, Shoreview, Minnesota's Peter Calabrese put together a pair of sterling rounds to open up a five-shot lead over the field, but Micah Groth of Woodruff, South Carolina, posted the hot round of the day with a 1038-rated (unofficial) 13-under 43 on Peter Pan Longs to get one back on the leader.
"I was extremely nervous. It was my first world championship for Juniors, and I've been looking forward to it for two years," Groth said.
"The morning round, I had a birdie to start but then it was super slow. I had a triple bogey on 16. I was super nervous on the putt and three-putted, which is not ideal. So I knew going into the second round I had to make something happen. Peter Pan is almost a birdie or die course and the wind picked up so I knew the scores were going to be harder so I knew I had a chance to make a comeback."
Groth said that support from friends and family back home was key to getting back on track after his opening round.
"I had so many messages from our home club—the Hub City Disc Golf Club. They're always so supportive. A bunch of my friends were sending me messages to keep focused, play your game and leave everything out on the course.
"I started out pretty slow there, too. But I got the birdie on 8 and 10, and then the last eight holes I ended up birdieing out. So, a slow start but then a super-hot finish.
"Definitely during the second round, I put myself back in position to attack. There are four or five rounds left — I'm not worrying about any lead until the final round."
Other division leaders after day 1 include Caden Wright, who holds a one-shot lead over three players in the Junior ≤15 division; Aria Castruita — Melody's younger sister — who finished 2nd in the Junior Girls ≤15 division in 2019 and has a 3-shot advantage over Cadence Burge; Wyatt Mahoney, who leads Caleb Burch by one in the Junior ≤12 division; Shelby Birdy Cowen in the Junior Girls ≤12 division; Kaidin Bell in the Junior ≤10 division; M.J. Gager in the Junior Girls ≤10 division; and Nathan Brewer, who holds a one-shot lead in the Junior ≤8 division.
Play resumes Thursday for day 2 of the four-day event. See full results here or visit our scores and coverage page for complete coverage.